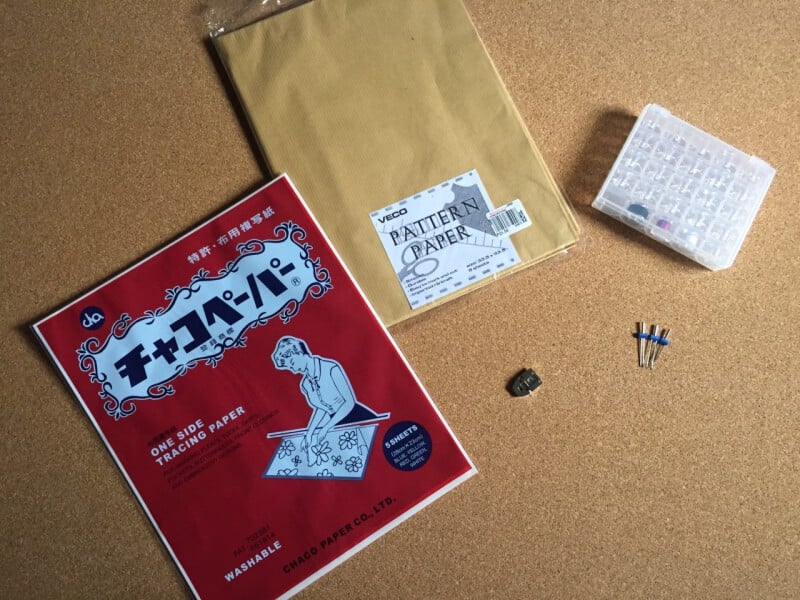 Update as of August 2020: This was originally posted on my now defunct tumblr blog. I am consolidating all of my old posts for posterity and updating the posts as I see fit for the new layout and style of this space.
You may view the original post here.
Ever since I started sewing, I was on the look out for supplies and fabrics. I have amassed quite a lot and I wouldn't have if it weren't for the lot of helpful blogs that I regularly consult. So instead of rewriting everything that was already beautifully and meticulously written, I would like to share a list of the blogs I consult plus some summaries. I will also include in the list online alternatives for those other hard to find sewing supplies.
UPDATE 08/31/2017: I recently found some FB groups that sell commercial patterns! Also added some stores from Shopee and FB where I have ordered new tools!
UPDATE 11/27/2015: I found out recently that Carolina's SM Megamall now carries rotary cutters and replacement blades. Will update this again when I have the prices. I have also added online fabric stores found on Instagram and Facebook. Scroll down for the list :)
Sewing Machines
Sewing Machine Haven at the Manila Port Area by The Foxy Lady Thinks out Loud

shows a map of where to buy secondhand sewing machines from Japan at the Manila port area
recommended stall: Stall 1-IJ
includes prices/price range for sewing machines

Buying Sewing Machines in Manila by We Love Sewing

where to buy brand new Brother and Singer sewing machines
Lazada sells Singer and Juki sewing machines and some cheap machines
"Stay away from the P1000 machines as they are not worth the money if you want to sew anything more than 2 layers of thin fabric together."
basic sewing machine requirements for beginner sewers: straight stitch, a zigzag and an automatic buttonhole
Manila port area for second-hand sewing machines

Sewing Machines at OLX

I got my sewing machine, Lola, from an OLX seller. Read my experience here.
If you look at OLX, there are a lot of sewing machines being sold both for industrial (high-speed) and domestic (ordinary/portable). There are also some overlockers/sergers. Varying prices depending on the seller.
Helpful tip: choose the seller nearest you, read reviews about the seller and try the machine before buying. If you can pick it up yourself, please do.

Lazada

carries Brother, Singer and Juki sewing machines, including overlockers/sergers
carries cheap, toy looking, sewing machines
offers installment payment for up to 24 months for BDO and RCBC
Fabrics and Sewing Notions
Online Sewing Supplies
Manila Fashion Supplies

Olfa Rotary Cutter
C-THRU and Fairgate rulers, french curves and ruler sets
Dritz seam roll, tailor's ham, loop turner, sleeve board
Pattern notcher
Muslin, kraft paper for pattern making, garment bags, ruler tote, etc

emerald197 from OLX

low shank snap-on presser foot: invisible zipper foot, zipper foot, roller foot, quarter of an inch guide foot, blind hem foot, button hole foot, satin stitch foot, flower stitch foot complete set of 25 different presser feet
bias tape maker set, iron on patches, buttons, studs, lace strips
plastic bobbins (sold by the dozen), bobbin case/organizer
Note: This seller is heaven-sent, she sells really hard to find items and offers sewing advice as well. I requested for an invisible zipper foot months ago because I couldn't find one everywhere. Then a week ago, I went back to her OLX page and there it was. *tears of joy* I also got myself the 25 pcs plastic bobbins with case and a set of twin needles.

Fabric sellers on Facebook:

Fabric sellers on FB use groups. Most of the fabrics they sell are for preorder. Most of the fabrics are sourced in Taytay
Here are the groups that I'm part of and order most of my fabrics from:
I also ordered sewing materials from Fabrix Unlimited

Fabric sellers on Instagram:

Find them using the hashtag: #fabricsph
There are lots of sellers, but I have only transacted with these sellers:

Sewing patterns and notions

Sewing Haven PH

pre-order sewing patterns from McCall, Butterick, Vogue, Simplicity, New Look, Kwik Sew, and Burda
also sells notions like KAM pliers and snaps, presser feet sets, quilting rulers, Organ needles, bobbins

K&S Sundries And Haberdashery (Your Sewing Pattern Store)

pre-order sewing patterns from the US - McCall, Butterick, Vogue, Simplicity, New Look, Kwik Sew, and Burda
onhand items can be found in Shopee

Fabriholic Momma

I ordered replacement blades for my rotary cutters, loop turner, wonder clips and button head pins from this store
Other items: rotary cutters, KAM snaps, bodkins, elastics, bobbins, presser feet, bias tape maker, polyfill, and lots of fabric types
If you have an online store that sells fabric and sewing notions, please comment below so I can add you to the list as well.