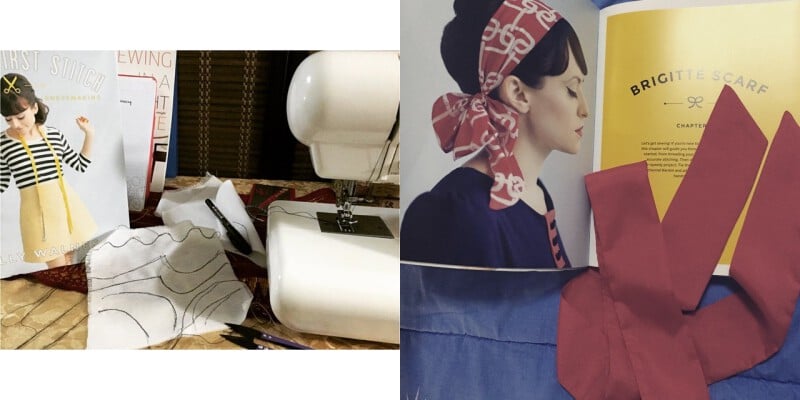 Update as of August 2020: This was originally posted on my now defunct tumblr blog. I am consolidating all of my old posts for posterity and updating the posts as I see fit for the new layout and style of this space.
You may view the original post here.
I've been wanting to sew ever since I started this blog which was way back in 2012. I've been telling myself that I would get a sewing machine. But I never did (oh gosh, why I waited this long, I wouldn't know). I posted a lot of sewing tutorials on Pinterest, read a lot of blogs, envied a lot of other bloggers for more then 2 years and finally, I'm not just going to dream anymore. It's finally here! I have a sewing machine! *tears of joy*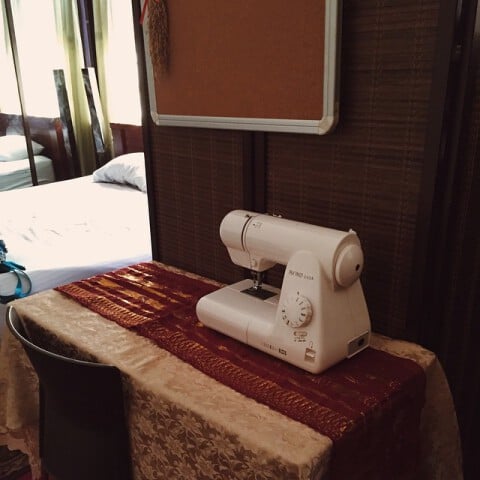 Everybody, meet my sewing machine, Lola.
Lola is a sewing machine from Japan. Lola came in a worn out box and a set of unopened tools. I think it's not secondhand, just an old stock, because she's really clean. As with all electronics from Japan, we bought a step down transformer (110V to 220V) so I can use it here.
We bought this beauty from Mr Bong Chan who we found via OLX. He sells more secondhand sewing machines from Japan which you can find here. We picked my sewing machine from his shop in Fairview which was a relief because I thought we had to go the the port of Manila to get something this cheap. He also showed me how to thread it and use it. Really good demo.
After that I also got myself some test fabric from Fabric Warehouse: cheesecloth/katsa at P55 per yard and Gina/Geena cloth at P30 per yard and some spool of thread to start.
And because I couldn't help myself, I grabbed two books: Sewing in A Straight Line by Tilly Walnes from National Bookstore SM Megamall and Sewing in A Straight Line by Brett Bara from Fully Booked BGC.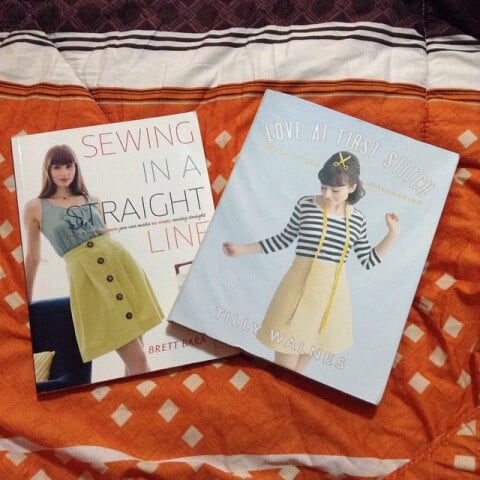 It was love at first sight for me when I saw Tilly's book, Love at First Stitch. I just had to buy it even it was sealed and I haven't seen any page. I just loved it. When I opened it and saw the patterns, I fell in love harder. Tilly's style is right up my alley. I just love everything in this book. Sewing in A Straight Line features a lot of patterns from home to clothes to bags. And yes, all of those use straight stitches. I already have certain patterns in mind that I want to work on. I wish I had more time!
To learn more info about sewing aside from my books, I have found more learning resources online:
Learn to Sew Series by Tilly and the Buttons - okay, I actually found this gem of a blog years ago. I used to have the Learn to Sew linkie at my sidebar. This blog is owned by Tilly Walnes. I actually squealed when I realized that she wrote the book I fell in love with. 
Sewing 101 Series by CraftyAmy - this series of videos are really fun to watch and really easy to follow.
Tutorials by Sew Inspired - very detailed and full of helpful photos. I really learned a lot about threading  a sewing machine from her 3 blog posts about it.
I'm so excited to start learning. I'm also looking into joining a class or a workshop for beginners. I hope I can find one near me. I'm looking at Sew Easy for Kids Manila's workshops but they're so far away. If you have any ideas, shoot me up a comment below :)
Here's to a more a crafty year!