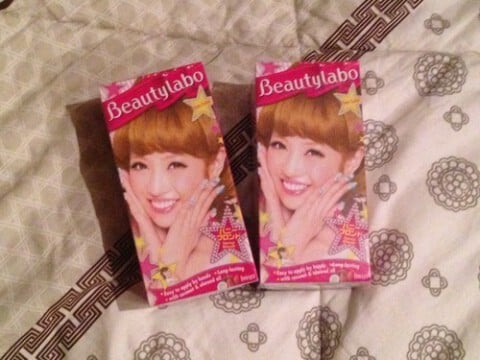 Update as of August 2020: This was originally posted on my now defunct tumblr blog. I am consolidating all of my old posts for posterity and updating the posts as I see fit for the new layout and style of this space.
You may view the original post here.
Hi guys, I've been MIA for the past week because I went to Hong Kong to celebrate my birthday with my family! BUT I'm back and I can't wait to share with you my trip's itinerary and highlights in the upcoming posts. Anyway, before I share my travel adventure, I'd like to share another adventure: going blonde-ish.
I wanted to go blonde again before but my go to hair color, Etude House's Bubble Hair Color in Golden Blonde, was out of stock everywhere. I searched in their Eastwood and SM Megamall branches, but all the sales ladies said that there would be no stock for a month. Again. I think this was the second time in 6 months that it was out of stock when I went searching for it. (Note to self: haul Golden Blonde when it comes back in stock for future use).
Defeated, I decided to just drop by at Watsons to get myself a box of Palty's Bubble Dye. Then something new caught my eye, rows and rows of Beautylabo hair dyes in a lot of colors with lots of stocks. And the best part: they're worth P239 a box. That's half the price of any other Japanese dyes out there. According to the box, 1 kit is enough for shoulder length hair. So I grabbed two boxes, just to be safe.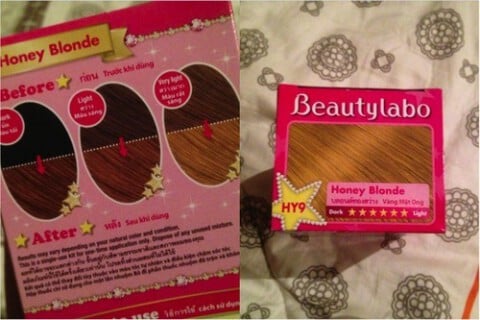 Beautylabo is relatively new in the Philippines. They formally launched last July when they popped up some stations featuring free hair color application in several SM branches. I can't really find much about the variant of the hair dyes that they're selling here except that it's same with the ones in Thailand. When you Google Beautylabo, the packaging and the color codes are so different. This is my first time to try out a product without any reviews.
I chose the lightest blonde shade they have, Honey Blonde, because I was going for the bright blonde look. The golden shade in the photo is a little scary but based from previous hair coloring experiments, my hair doesn't really turn up as bright as in the photos. Or maybe this time it will. Oh well, on with the coloring.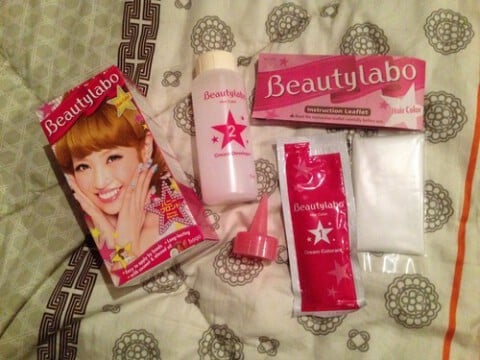 The kit contains 1 cream colorant pack, 1 cream developer bottle, 1 nozzle, a pair of protective gloves and an instruction leaflet. (Note: no free cape and after color treatment!) I decided to just cover myself with an old towel in lieu of the missing cape.
The steps for applying this hair dye is the same with other Asian hair dyes. Mix the colorant with the developer, shake well, apply to dry hair from roots to tips, and leave on for 20-30 minutes. I ended up using the two boxes because one wasn't enough. But I only got halfway through with the second one. I also did not follow the time required. I had it on for like more than an hour before I rinsed it off. Anyway, here's how it looks like after, compared to my before hair.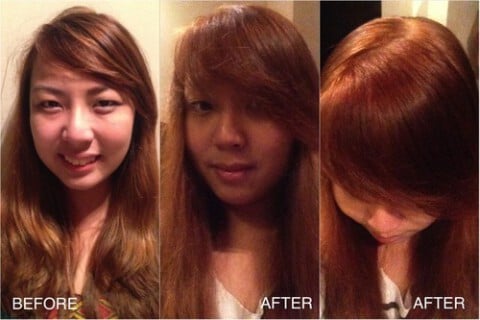 Gasp! It looks really scary orange at home and the after photos are crappy. My black roots are goooone.
2020 editor self to 2014 self: Yes that is waaaayyy too orange for you. Stay away from the box dyes!
To compare the results more, let me show you some before photos. Photo on the left below was taken inside the office with white light, photo on the right was taken "outdoors" with natural light from the big windows beside me.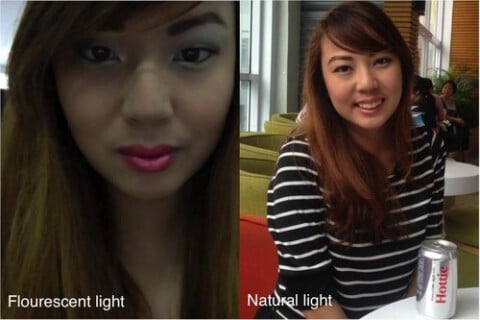 My hair used to be yellowish indoors and light brown outdoors. The upper half is darker than the lower part because I can't get it to lighten as much. So what I have is like a gradual ombre color. Hahaha.
Here's a photo of my hair, 8 days after applying it.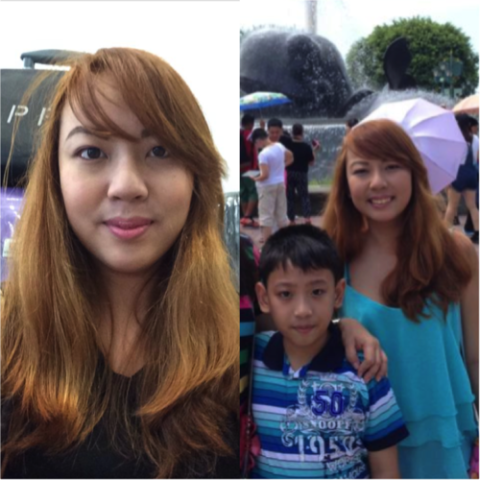 My hair is significantly lighter! Photos above are taken from Hong Kong (look at that cute mini me beside me! Hahaha)
My ultimate goal when coloring is to achieve the same shade of color all throughout. Did I achieve it with this dye? No, but the top is significantly lighter than before. But I still like the gradual way it lightens to the bottom. If I could only just lighten the tips more I'd have a three tone ombre. Haha.
What I like:
Affordable - At P239 per box, this is probably the cheapest Japanese hair dye in the market
Easily accessible - They are available in Watsons and SM Department stores and hopefully they won't run out of stocks easily.
Easy to squeeze bottle with nozzle is so much easier to apply than those with pumps or spatulas
Smells great
Great color payoff!
What I don't like:
No free cape - It does not come with a free cape so I used a towel. My towel looks yellow now.
No after color treatment included - One of my favorite thing about Asian hair dyes are the free after color treatment packs because they make my hair feel better after coloring.
There is one thing I didn't add up there but my hair felt super damaged days after I used it. I guess it wasn't the product's fault because my roots felt super soft but the bottom part of my hair felt so brittle after. Must be because of all the dyeing my hair endured.
Will I repurchase? I think for its price, this one worked better than Palty. So yes I will. It's great for covering the roots. I might just use one bottle next time for that and soak half of my hair in that color. And remember not to keep it on for 20-30 minutes only! If I do want to try a change in color, I might try Creamy Ash using two bottles.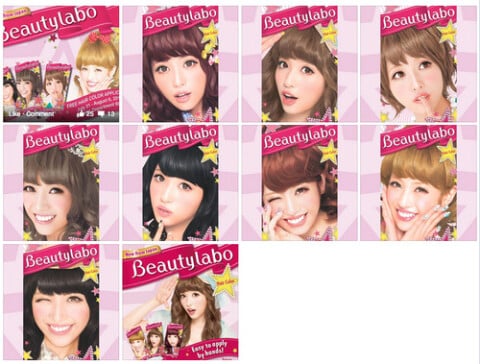 Beautylabo hair dyes are available in 8 colors: Raspberry Pink, Pure Beige, Natural Blonde, Creamy Ash, Natural Back, Candy Apricot, Honey Blonde and Dark Brown. They are available in Watsons and SM Department Stores. Like their official Facebook page for more updates!