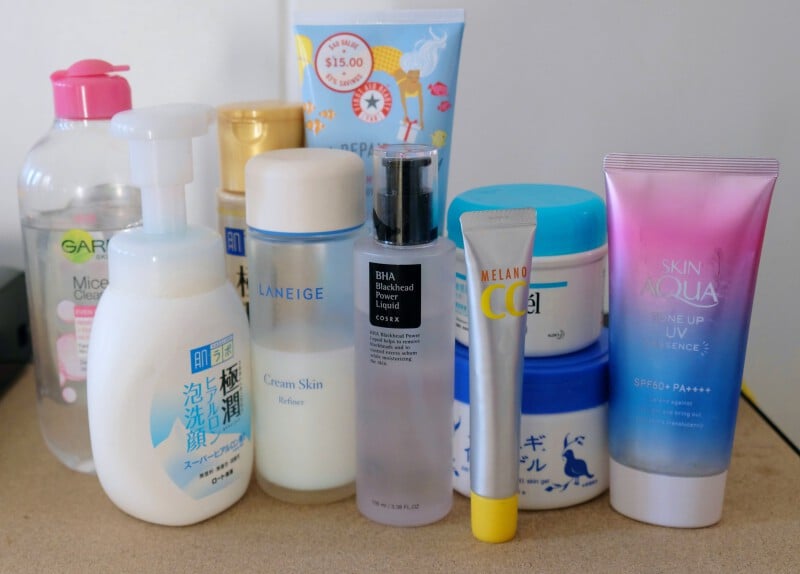 It's been quite a while since I posted anything here in my blog. Let's be honest, the past few months was hard for everyone. The uncertainty of the situation, the abrupt change in lifestyle, and the impact on health and the livelihood of most people are not something we can ignore. It affected all of us. I felt that writing about any of the things I like to write about: beauty, skincare, and my crafts were just so petty. And in all the stress of this, I kind of let myself go. I was more worried about balancing working full time from home again and still spending enough time with my husband. Or doing things to "escape" the stress like watching Kdramas or playing games non-stop in my free time. Makeup and skincare were probably the last on my list of things to think about.
But after realizing that I also needed to take care of myself, I decided to pick myself back up last month and restart my skincare journey. I now think of my dedicated skincare time as a "reward" for staying strong and doing my best given the situation. The amount of dry, flaky skin and clogged pores, and the fact that I am almost in my last year of my 20s was a wake-up call. I present to you, dear reader, my current list of products and my skincare routine.
Products I use
For removing makeup, I tried experimenting with cleansing balms. I've tried the Banila Co Clean It Zero (samples are the best) and The Face Shop Herb Day Cleansing Cream and didn't enjoy those. I guess I'm a micellar water + makeup oil kinda girl. For makeup removal, I currently use the Garnier Micellar Cleansing Water [For Sensitive Skin] (pink cap). I purchased this bottle pre-ECQ (it arrived March 15!) and haven't used it that much because I rarely wear makeup these days. This big bottle came with a free travel-sized bottle, which was probably why I purchased this. I also got the Garnier Micellar Cleansing Water + Argan Oil – [Waterproof Makeup Remover] and haven't used that variant as well. I guess I'm all set with micellar water for the next 2 years. Haha.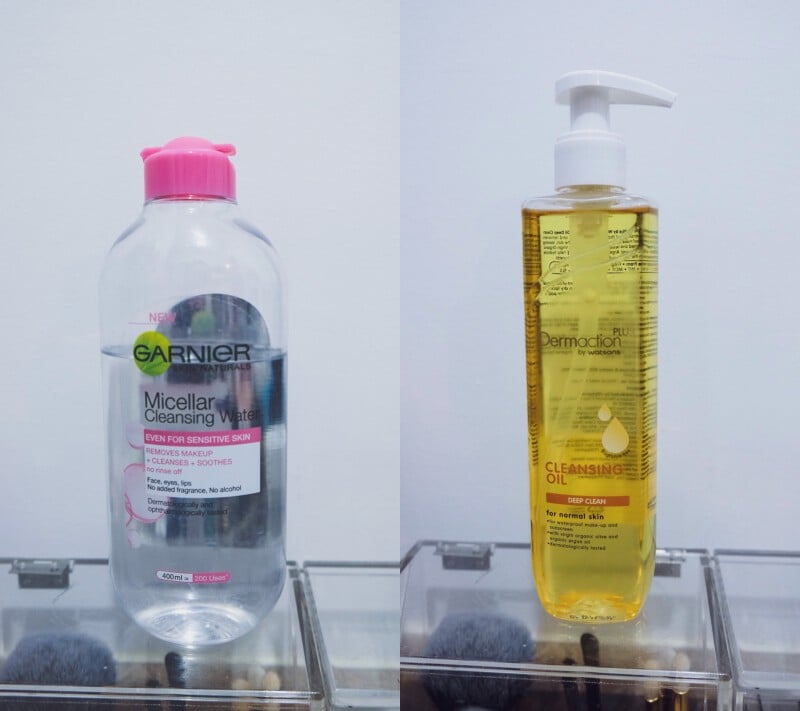 Aside from makeup remover, I also double cleanse at night. This step, I rarely skip because I still try to wear sunscreen. I did run out of the Kose Softymo Deep Cleansing Oil and forgot to stock up on it during my last trip to Tokyo. I decided to try something locally available since I'm sure I'll always need an oil cleanser and found the Dermaction Plus by Watsons Deep Cleansing Oil in Watsons. This kind of a bust because it's quite expensive at around Php 499, and it leaves a heavy film on the face. The instructions do say you need to wash it off with a cleanser, which might be expected.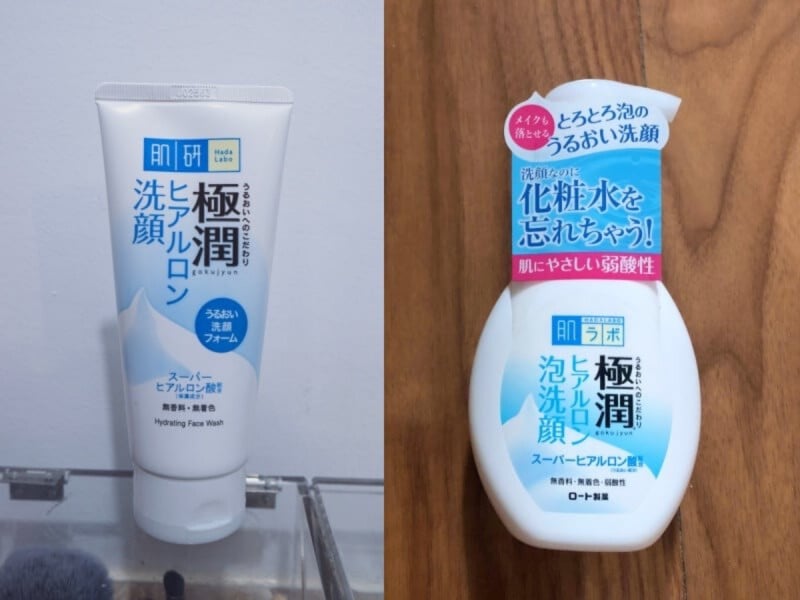 My new go-to cleanser is from the Hada Labo Hydrating line. I've fully used up the foaming version (purchased in Tokyo). It creates the softest bubbles! It's not stripping and very light on the skin. I'm actually sad to run out of it. Still, it's a good thing that Hada Labo Gokujyun Hyaluronic Acid Face Wash is now locally available in Watsons! It still feels and performs the same without the foam. The other cleanser I keep in my travel bag is the Human Heart Nature Nourishing Facial Wash. I own two of the tiny bottles in my bags on hand in case we needed to travel (this was before the new normal.)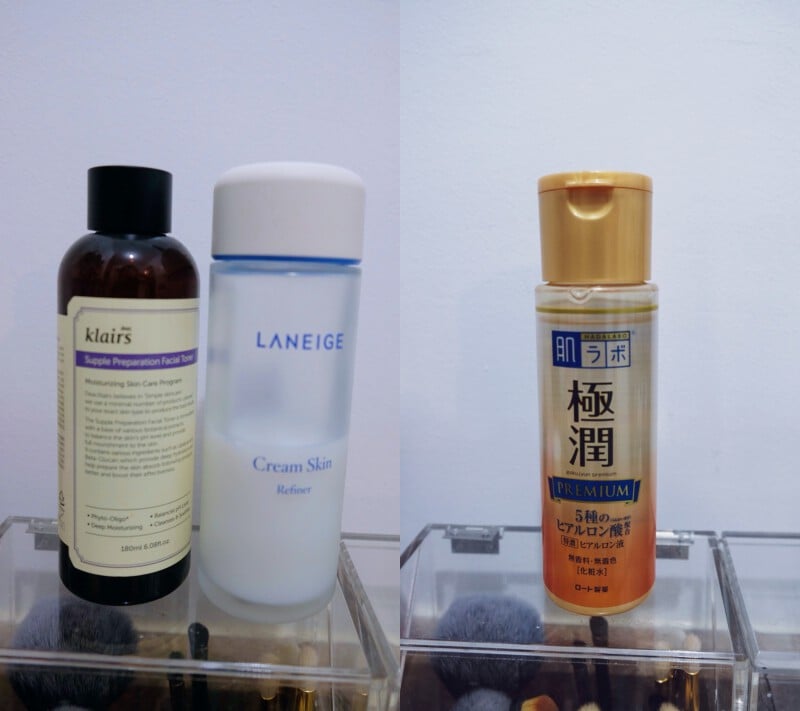 For toner, I alternate between the Klairs Supple Preparation Facial Toner and the Laneige Cream Skin Refiner. I use Klairs on days when I feel like I have good skin and Laneige on days when I feel so dry. The Hada Labo Gokujyun Premium Lotion is a staple in my routine since 2018. I don't use this as a toner but more of as an HA serum because it's quite thick. I have used up 3 bottles of this (which is a lot since this is around 180ml/bottle). Hyaluronic acid is probably one of the game-changing ingredients for my dry and dehydrated skin. It works as a hydrator and locks in the water on the surface to keep your skin hydrated.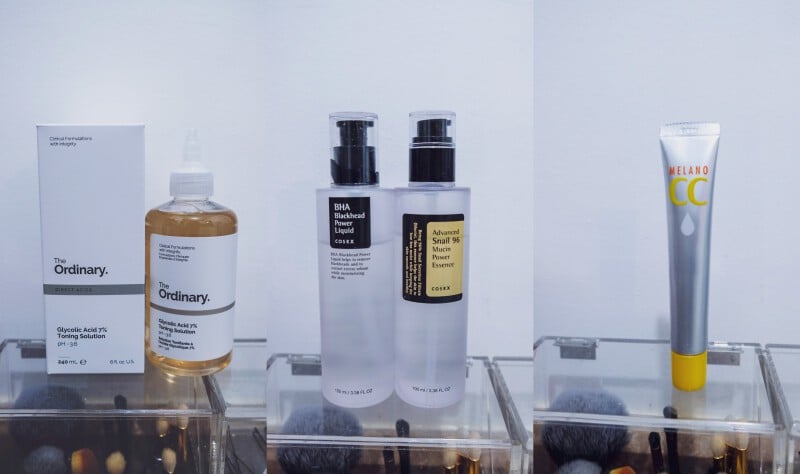 This part of my routine is probably the part I skip whenever I feel like I have good skin. Acids and essences are targeted for specific skin concerns. I am not an expert on active ingredients. I've probably spent way too much time watching videos from Beauty Within to grasp what the different active ingredients are for. Here's when I currently use the following and what I use them for:
Melano CC Vitamin C Essence (AM - daily) - for brightening acne scars and diminishing redness. I am still confused about which step this should be applied because it feels a little bit oily and watery at the same time. It also has a weird scent that eventually goes away. I have used and prefer the moisturizer from this same line.
The Ordinary Glycolic Acid 7% Toning Solution (PM - twice a week) - this is an exfoliating toning solution used for combating dullness and uneven texture. This is my 2nd bottle of this because my skin needs exfoliation, and if I don't, I end up with a lot of dry, flaky skin. I stopped using this for quite some time (around a year) and ended up over-exfoliating my face by using it daily as I used too. Note to self: if you stop using AHAs your skin loses its tolerance to acids. I'm still purging and currently experiencing some hormonal acne. Hopefully, I can restore my skin barrier soon and build up my skin's tolerance to daily use.
COSRX BHA Blackhead Power Liquid (PM - when I remember) - for clearing up clogged pores. I use this on days when I don't use the TO Glycolic Acid. I don't use this continuously, though, and just forget to use it for months.
COSRX Snail Mucin Essence (AM & PM) - I use this when I need an extra boost of hydration. I used to use this when I was still using the Cosrx Oil-Free Ultra Moisturizing Lotion because that wasn't moisturizing enough. This felt a little redundant for a time because I have way too much moisturizing layers. I do use this when to combat redness when I experience hormonal acne. This is currently helping the redness from purging and compromising my skin barrier.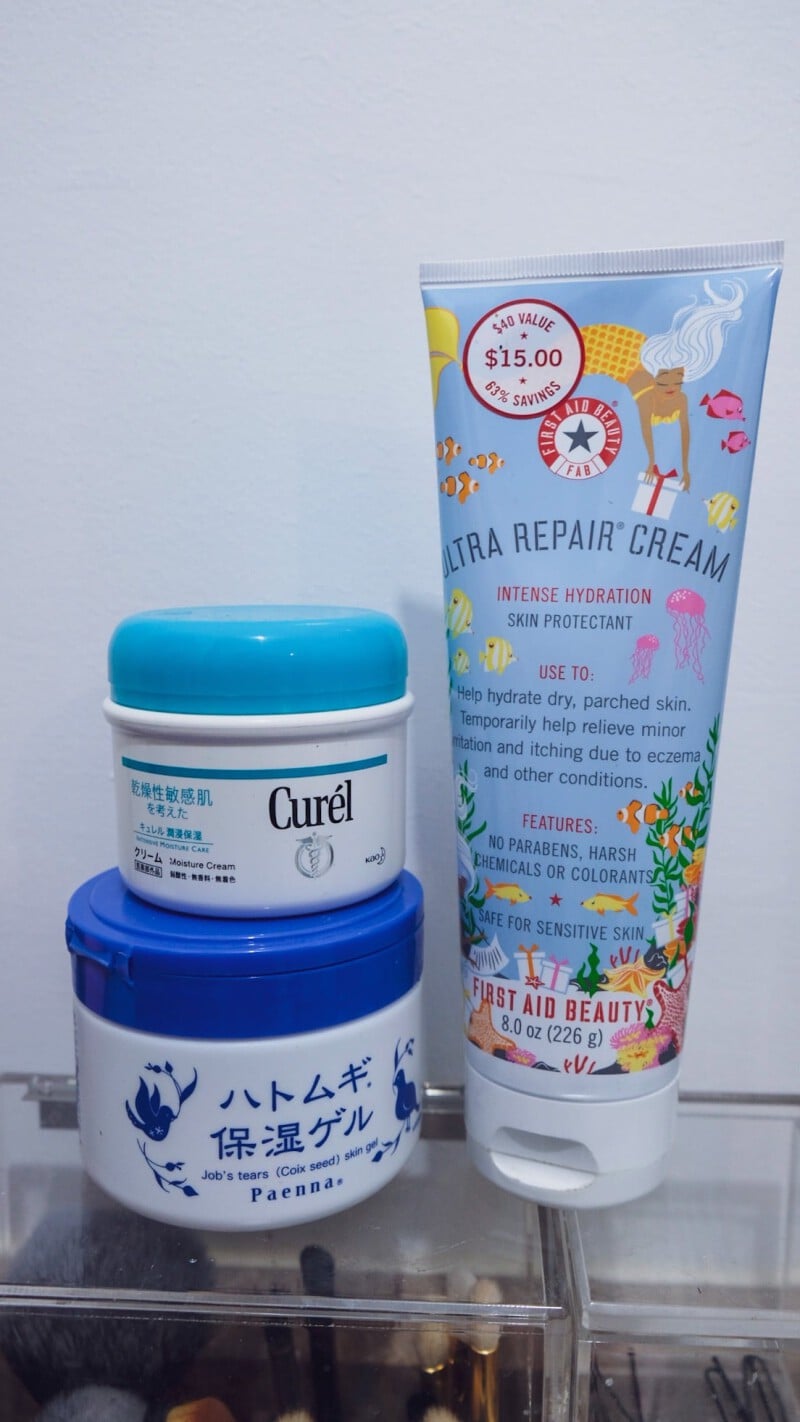 I currently rotate three moisturizers, depending on my skin needs for the day. All of these were purchased abroad, and once I run out of these, I'll try to use something more locally available. I'll share the moisturizers from the lightest to the heaviest.
Paenna Job's Tears (Coisx Seed) Skin Gel is a gel-type moisturizer for days when I have good skin. My husband, who has oily skin, also uses this in the morning. I use this in the mornings only when I won't be wearing makeup because this takes a while to sink in, but it's very lightweight. Since COVID-19 and the lockdown, this has been my go-to moisturizer. I enjoy gel-type moisturizers during the summer.
First Aid Beauty Ultra Repair Cream - this is probably my HG moisturizer. I purchased in the Sephora in the US for $15, which was such a steal! I use this both morning and night. It's easily absorbed by the skin, it's not too heavy, yet it's very hydrating. This is recommended for people with sensitive skin as well. This is the only moisturizer that my skin can tolerate right now since I wrecked my skin barrier this month.
Curél Intensive Moisture Care Moisture Cream - this is my go-to moisturizer when I'm really, really dry. I took this with me when we went to the US and Japan last December. It saved my skin from the cold weather. I find that it's too heavy to use here in the Philippines, so when I use it, I use a tiny, tiny amount.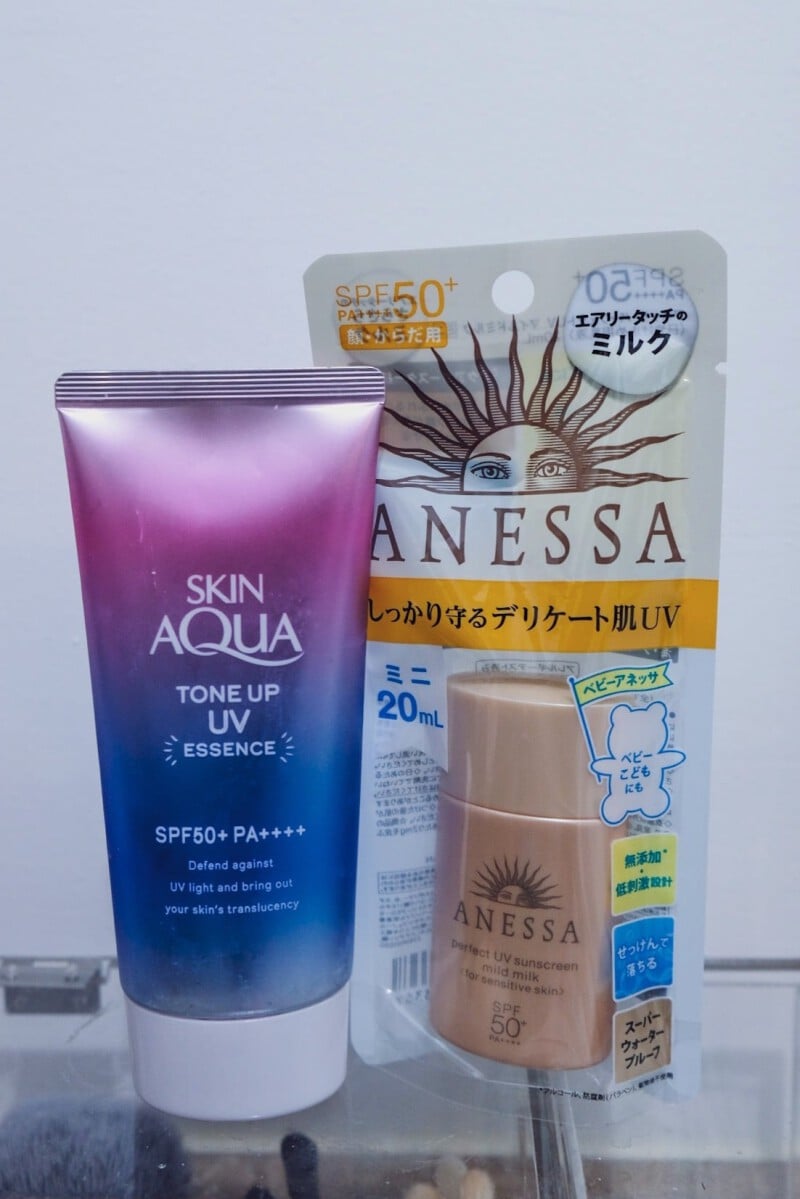 For sunscreen, I swear by the SKIN AQUA Tone Up UV Essence SPF50+ PA++++ because it works as both a sunscreen and color correction cream. I purchased 2 bottles of this during my 2018 Tokyo trip and repurchased another bottle last year. Since I am on my last bottle, I did buy the Anessa Perfect UV Mild Milk (for sensitive skin) SPF50+ PA++++ as a backup. Yes, I still wear sunscreen, even at home.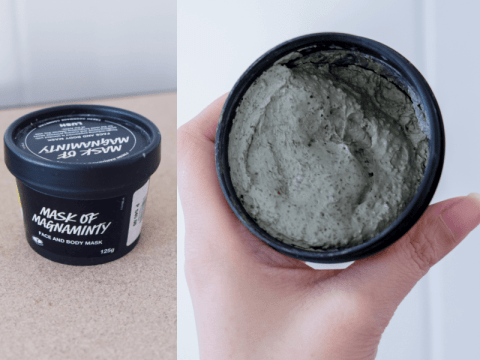 I have never enjoyed sheet masks, and even if I have a lot of those stored, I still prefer using wash off masks. My current favorite is the Lush Mask of Magnaminty. It's made with Kaolin clay and peppermint oil. It smells soooo good and feels really cool on the face. It's my alternative now to going to a spa.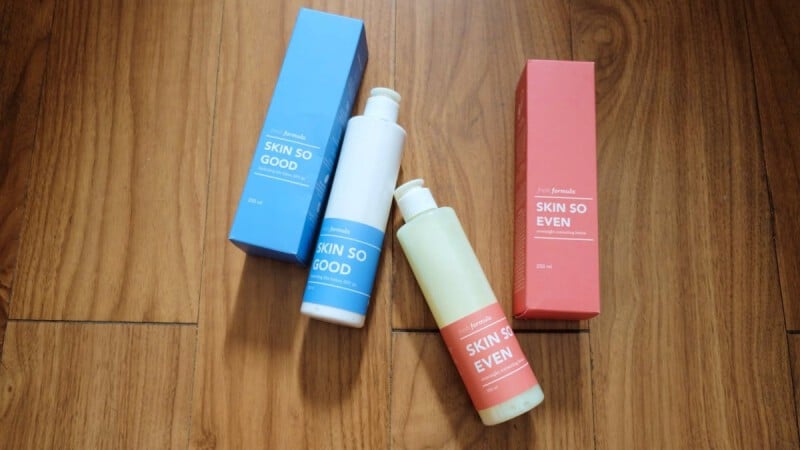 For some things I did purchase from the recently concluded 7.7 sale, these body lotions from Fresh Formula: the Skin So Good Hydrating Lite Lotion SPF 30 and the Skin So Even Overnight Correcting Lotion. I got these for Php 359 each instead of the Php 599. I've used these once because I just got them yesterday but these smell so good! Skin So Good is for morning use, and Skin so Even is an overnight exfoliating lotion. I hope I find the time to actually use these and possibly review them in the future!

Things I have stopped using
Eye cream - this might be too much for me because I've noticed some milia around my undereye area.
Sheet masks - yes, it's soothing, but I don't see the long term benefits of using it. I'm also trying to cut down on single-use products. This seems to be the worst offender because of the individual foil packaging and the disposable mask.
Face oils - I've been using heavier cream moisturizers lately, and I think I get all the oil I need from those products. Although oils feel luxurious when applied, I also can't be bothered to wait for my moisturizer to dry to layer on the oils.
Things I'm thinking of adding into my routine
Niacinamide - for brightening and removing acne scars. I'm looking at getting the Deram Natufian Niacinamide 10% + Zinc or the Cos De BAHA Niacinamide 10% + Zinc 1% Essense Serum because it's quite cheap. It's obviously copied from The Ordinary, but TO is way overpriced by local resellers nowadays.
Retinol - because retinol/retinoids are the only scientifically-backed ingredient for anti-aging. Still researching heavily about this because it's quite potent. I guess now is the right time to try out skincare because we're at home most of the time, no one can see the purging! I'm looking at ordering the Cos De Baha 2.5% Retinol Serum with Niacinamide & Vitamin E probably in 3 months, once I'm used to TO Glycolic Acid again.
Peptide - another ingredient for anti-aging (we're seeing a trend here!). I'm actually interested in Cos De BAHA Peptide Cream for Wrinkles and Anti Aging with Argireline, Matrixyl 3000 because it has Hyaluronic Acid which I absolutely cannot live without!
Whew, that seemed like a lot of products. Honestly, I also haven't been purchasing a lot of new skincare items nowadays. Finding out which ingredients I like, which products work best for my skin, and actually spending the time to use them helped curbed the insane appetite to try out every new release. I just usually purchase backups of my faves, find a replacement once my products run out, or buy products that are missing in my routine.
Current Routine Breakdown
As they say with skincare, consistency is the key. But sometimes, it's just so hard to do all of these steps, and I think having a "base" skincare routine is better than having nothing. So, I'm presenting two versions of my routine.
The complete routine
| Step | Product | AM | PM |
| --- | --- | --- | --- |
| Cleanser | Water | ✓ |   |
| Cleanser | Garnier Micellar Water |   | ✓ |
| Cleanser | Dermaction Plus by Watsons Deep Cleansing Oil |   | ✓ |
| Cleanser | Hada Labo Gokujyun Hyaluronic Acid Face Wash |   | ✓ |
| Toner (1 only) | Klairs Supple Preparation Toner Facial Toner | ✓ | ✓ |
| Toner (1 only) | Laneige Cream Skin Refiner | ✓ | ✓ |
| Chemical Exfoliant (1 only) | The Ordinary 7% Glycolic Acid |   | ✓ (twice a week) |
| Chemical Exfoliant (1 only) | COSRX BHA Blackhead Power Liquid |   | ✓ (twice a week) |
| Essence/Serums | Melano CC Essence | ✓ |   |
| Essence/Serums | Hada Labo Gokujyun Premium Lotion | ✓ | ✓ |
| Essence/Serums | COSRX Snail Mucin Essence | ✓ (as needed) | ✓ (as needed) |
| Moisturizer (1 only) | Paenna Job's Tears (Coisx Seed) Skin Gel | ✓ |   |
| Moisturizer (1 only) | First Aid Beauty Ultra Repair Cream |   | ✓ |
| Moisturizer (1 only) | Curél Intensive Moisture Care Moisture Cream |   | ✓ |
| Sunscreen | SKIN AQUA Tone Up UV Essence | ✓ |   |
The lazy girl routine
AKA, the routine I've been doing for the past few months. This routine is quite okay, but there's no exfoliant here, hence the dry, flaky skin and clogged pores.
| Step | Product | AM | PM |
| --- | --- | --- | --- |
| Cleanser | Water | ✓ |   |
| Cleanser | Dermaction Plus by Watsons Deep Cleansing Oil |   | ✓ |
| Cleanser | Hada Labo Gokujyun Hyaluronic Acid Face Wash |   | ✓ |
| Toner | Laneige Cream Skin Refiner | ✓ | ✓ |
| Essence/Serums | Hada Labo Gokujyun Premium Lotion | ✓ | ✓ |
| Moisturizer | First Aid Beauty Ultra Repair Cream |   | ✓ |
| Sunscreen | SKIN AQUA Tone Up UV Essence | ✓ |   |