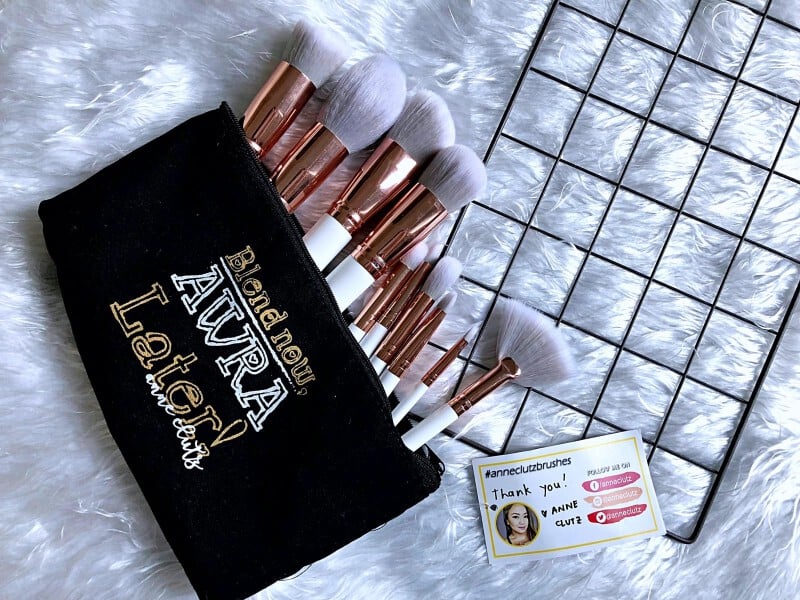 Update as of August 14, 2020: They released a new set of brushes with better handles and embossing on the handles. This review is for the original set of brushes released in 2018. You can view the new and updated brush set in Anne Clutz's video here.
Yey, I finally got my hands on these! These brushes get sold out real fast once released on Lazada or Shopee. It just shows how much love and support Anne Clutz receives from her followers!
I pre-ordered my brushes from their official Instagram page last July 2018. I have been using these for almost a year now. Read on to read my thoughts about these brushes.
Anne Clutz Brushes Ultimate Beginner Brush details
Available at

The whole set retails for 500 for 10 brushes and a brush bag. It is only available for sale on their Shopee page and Lazada. You can wait for re-stocking announcements from their the Anne Clutz Brushes Instagram page.

Description

The ultimate beginner brush set.

10 Piece Brush Set Includes :

Fan Brush
Blush Brush
Powder Brush
Contour Brush
Flat Angled Kabuki Brush
Eye Shadow Shader Brush
Big Blending Brush
Small Angled Brush
Small Eye Shadow Blender
Concealer Brush

*With Free Blend Now, Awra Later Pouch

Source

Cruelty-Free

Yes

The brushes are made with soft synthetic hair.

Source
Packaging
The brush comes in a free brush canvas brush pouch. The pouch itself is big and roomy, you can use it to carry brushes and makeup.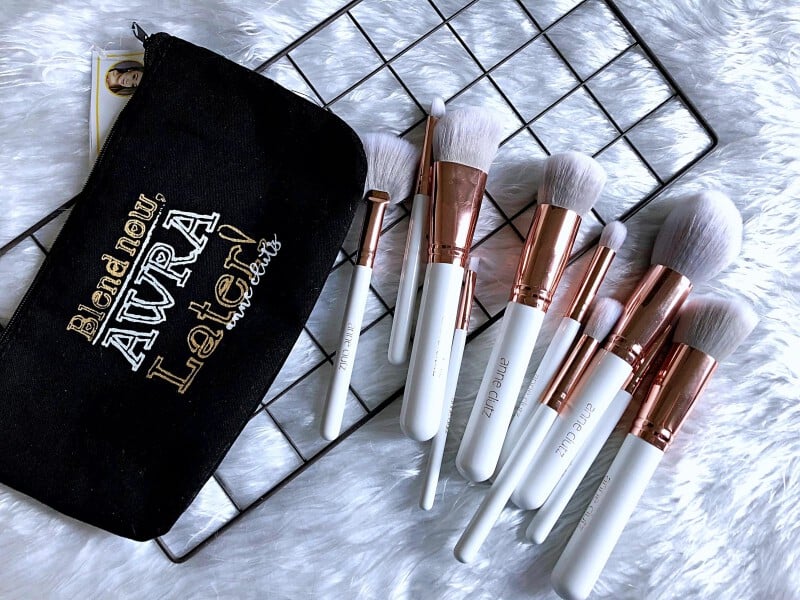 The brushes are individually wrapped in plastic. The powder brush came in mesh brush guard. The fan brush came in a fan-shaped brush plastic holder.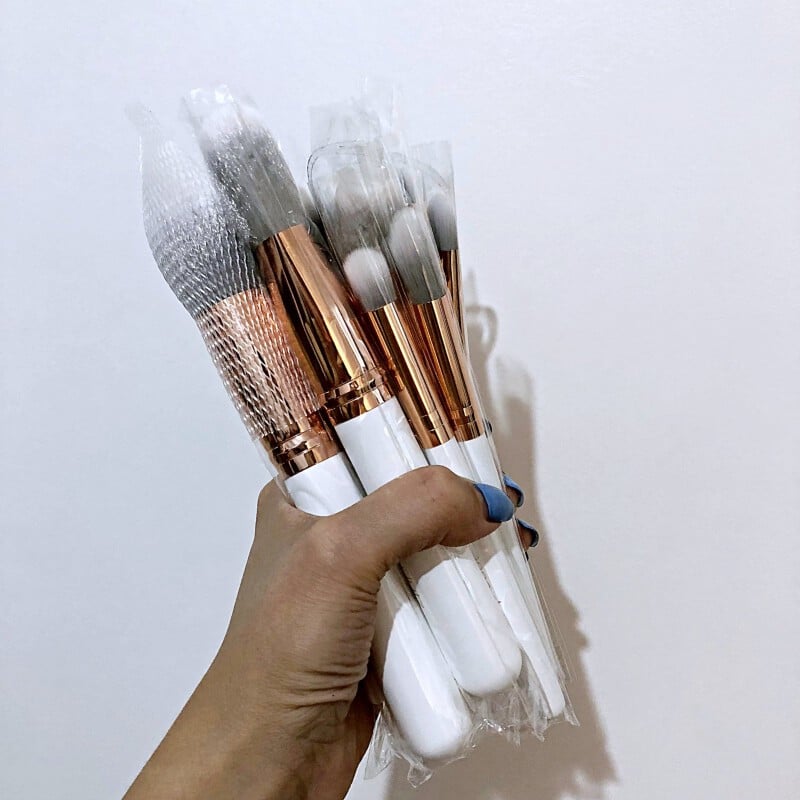 The brush handles are made of wood that is painted white with gold "anne clutz" embossing. The ferrule is rose gold. I really like the look of these brushes, they're minimal and clean looking (if you can remove the stains on the brush hairs really well).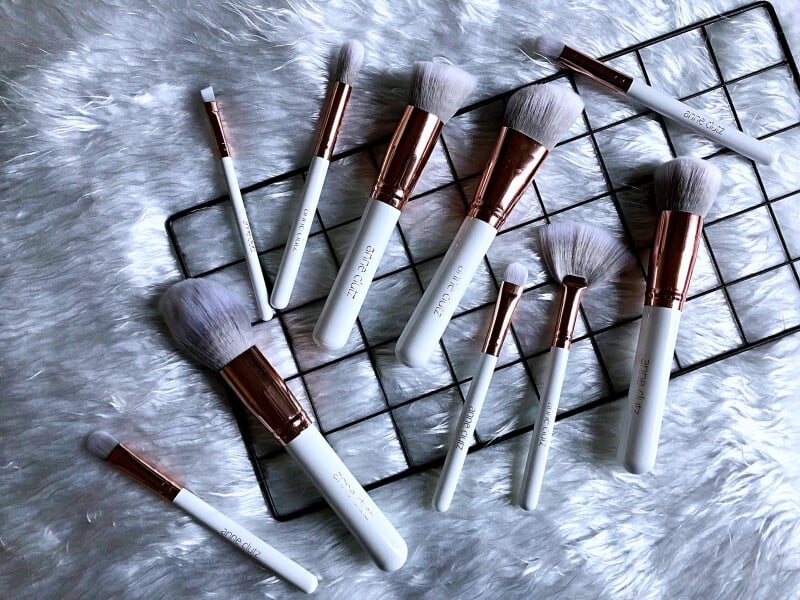 There are no brush names on any of the brushes, which I thought was odd, considering this is a set targeted for beginners. The pouch comes with a small card with pictures and names of the brushes. However, having names on each brush will help to remove the guesswork of which brush to use when you're actually using it rather than having to reference a small card.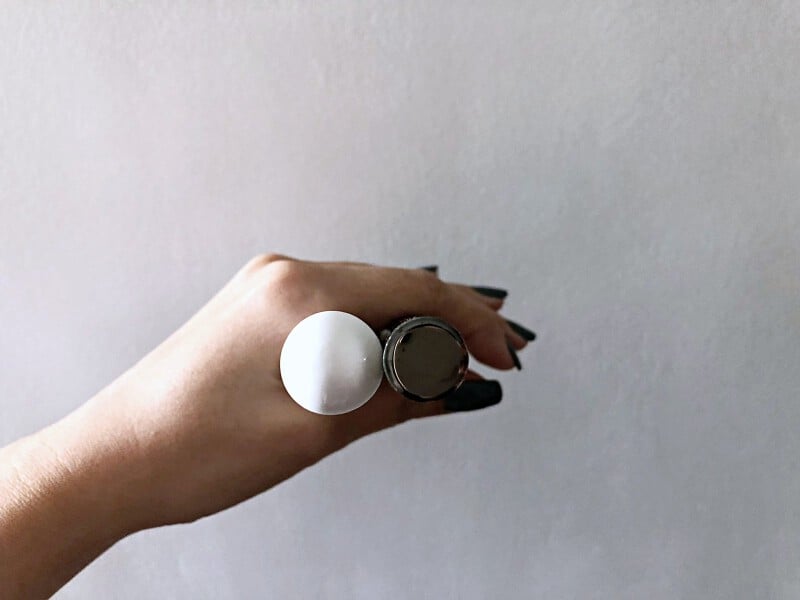 The handles are quite thick and might be hard to grab for those with smaller hands like me. The brush handle length is just right, and the handles are very lightweight.
Washing
Before using these, I washed them using the Brush Cleaner from Daiso. There was no shedding during the initial wash, but a few hairs did come off as expected on some brushes in future washes. You can watch Anne Clutz's guide on cleaning the brushes here.
If you use the Flat Angled Kabuki to apply foundation, it is hard to keep these immaculate. The product sinks right into all the bristles and needs about 2-3 washes to completely clean.
Experiences and comparisons
In this section, I'll go through each of the brushes. I'll discuss what each brush is intended for based on Anne Clutz' intro video for it), and my experience using them compared to my other brushes.
Fan Brush

What to use it for

For applying highlighter or removing eyeshadow fallout

My experience

This is my most used brush from this set. It's also one of the reasons I bought this set. Fan brushes aren't usually included in brush sets and this one is really really good.

I love it for applying a really light dusting of powder highlighter on my cheeks and nose bridge for a natural looking highlight.
Blush Brush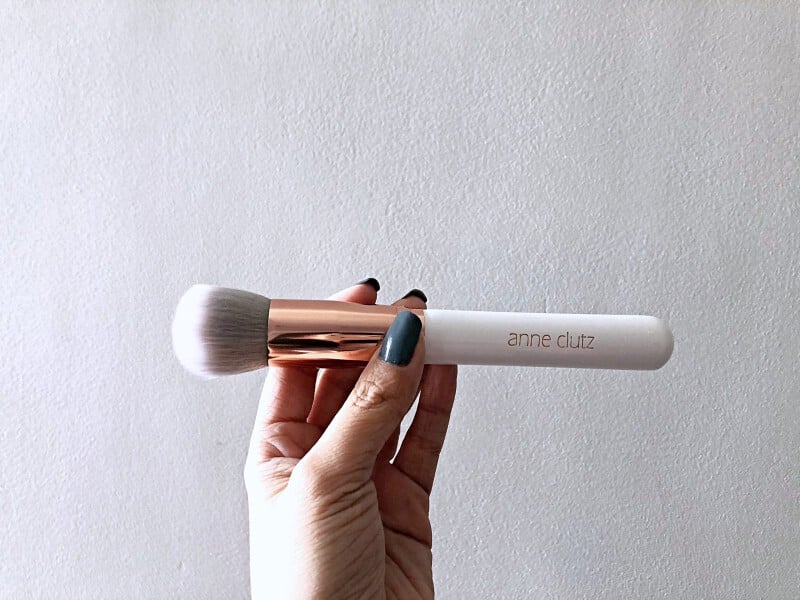 What to use it for

For applying blush

My experience

This blush brush is too dense for me. I like applying really light blushes and just building it on. This just deposits too much product on the cheeks and is quite stiff to use for blending out.

Powder Brush

What to use it for

This tapered powder brush can be used for applying powder, blush, bronzer, or contour

My experience

This is one of the brushes that I really liked. It is super soft and fluffy. I use this to apply finishing powder all over my face. I also use this when I want to apply my bronzer really light and diffused.

It is, sadly, the worst shredder of all these brushes. These photos were taken when this set was new. Now, it's not so big and fluffly when compared to my RT blush brush as in the photo below.

Contour Brush

What to use it for

For applying contour our brush

My experience

This brush is too big for my face. Because it is angled, I prefer to use this for blush. I prefer using a smaller brush like the one from Miniso for my contour because that gives more precision.

Flat Angled Kabuki Brush
I don't have a photo of this brush, as of writing this blog post. I will probably try to add a photo of it in the future.
What to use it for

Applying liquid foundation

My experience

This is my least favorite brush. The brush is too soft and not dense enough to evenly distribute foundation. It felt like it ate up most of my foundation and I ended up with a streaky face. I used this once and never tried it again.
Eye Shadow Shader Brush

What to use it for

For packing on eyeshadow color all over the eyes

My experience

This brush is too wide for my eyes. This is also too tightly packed and stiff for eyeshadow application. I prefer using looser packed brushes for my eyes (they are quite sensitive). I sometimes use this for spot concealing and cleaning up my eyebrows (but I prefer a flat brush for that).
Big Blending Brush

What to use it for

For blending out eyeshadow all over the eyes

My experience

I may start sounding like a broken record, but this brush is too big for my eyes. I have a really small lid space with uneven monolid eyes (one more hooded than the other, weird) and this simply does not fit.

I use this for blending out concealer around my nose or for applying Colourpop super shock highlighters on my cheeks.

Small Angled Brush

What to use it for

For drawing on eyebrow using pomade or wax

My experience

I tried using this for my eyebrows but because the hairs are too long and thick, I had a hard time controlling the product.

I, however, love this for eyeliner. Because the brush is stiff, it can withstand my fatty(?) eyelid and lets me draw a straight line without having to tug my eyelids. I use this to smudge out pencil eyeliner or just apply eyeshadow as liner.
Small Eye Shadow Blender Brush

What to use it for

For blending out eyeshadow on the outer corner of the eyes

My experience

Again, this is too big for my eyes. This is even bigger than my other round blending brushes that I use for overall blending. It is also too stiff that it hurt my eyelids when I tried using it for eyeshadow.

I did like it for blending out nose contour. I only contour my nose for special events so this is not a brush that I would reach for a lot.

Concealer Brush

What to use it for

Applying concealer on the under eye or spot concealing blemishes

My experience with it

This concealer brush is too big for precision work like cleaning up lipstick or defining the edges of my brows. I do, however, use it sometimes for applying foundation all over my face before blending it out with a sponge.
Overall impressions
These brushes are super soft and perform as they're expected. They're excellent brushes, but they're not all for me. I've had these brushes for almost a year now, and only three of these made it to my daily brushes: the powder brush, the fan brush, and the small angled brush.
If you've noticed, I rarely use the other brushes for their intended purpose. I do have a lot of other brushes that I really like and those suit my preferences more. If I didn't have those brushes, I would use these too because they do work, just not as good as I want them to.
Personally, though, this a set of face brushes because the eye brushes are just too big. If you have a small-ish face and looking to buy this as your only set of brushes, you might be disappointed. With that said, I still enjoyed this purchase because I found three brushes that I liked. If these were sold individually, I'd probably repurchase a backup powder and fan brush.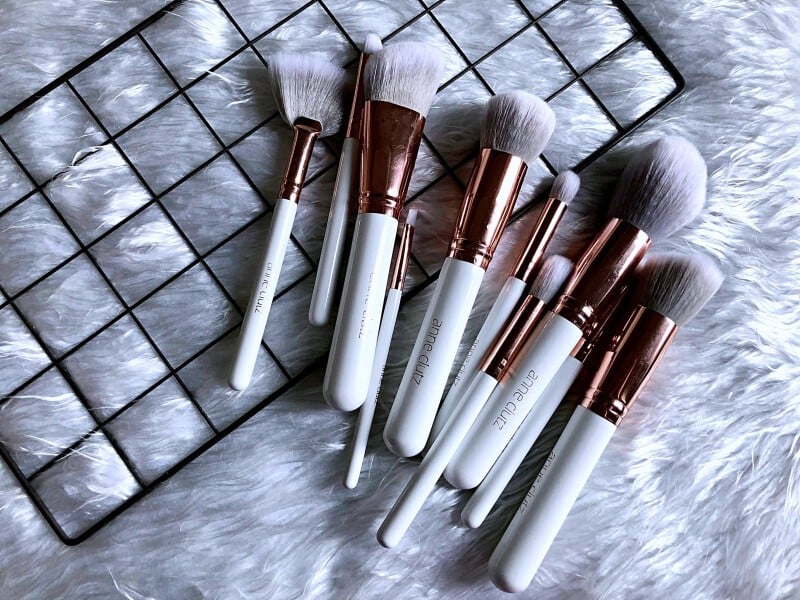 Verdict
PROS

Very affordable at only 500 for 10 brushes
The set has enough brushes to apply face makeup
Bristles are very soft

NEUTRAL

No brush names on the handle
Light grey and white brush hair stains easily and might be hard to clean

CONS

Too difficult to buy
Handles for the face brushes are fat and hard to grip
Most of the brushes are too big for my face and eyes
The brushes shed easily when washed
Anne Clutz Brushes Ultimate Beginner Brush
Availability

Packaging

Performance

Price
Final Thoughts
I'm not wowed by the quality and performance of these brushes. Out of ten, there's only three that I really like and almost reach for daily. But for its price, this is the best set out there. For P500, you get a set of 10 brushes and a pouch to carry these when traveling. This is, as the name says, is a perfect brush set for beginners.
Were you able to get this set? Or are you still waiting to get your hands on this?