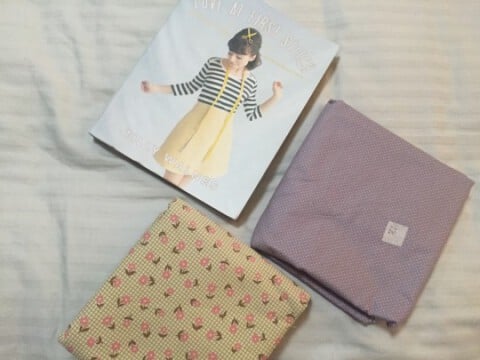 Update as of August 2020: This was originally posted on my now defunct tumblr blog. I am consolidating all of my old posts for posterity and updating the posts as I see fit for the new layout and style of this space.
You may view the original post here.
In my previous post, I shared my latest yarn haul. This time I'll be sharing my fabric haul.
When I first started learning to sew back in December 2014, I went to Fabric Warehouse to get some basic fabrics. I got yards of Gina cloth at P30/yard and katsa (cheese cloth) at P60/yard.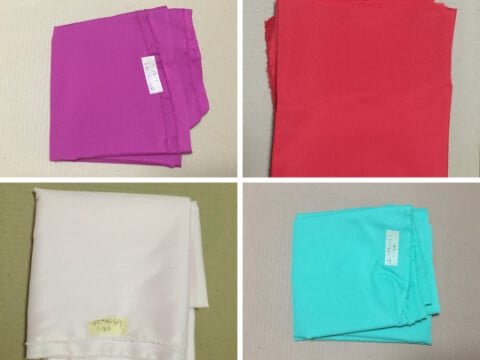 Looking back, it was actually a bad move to buy Gina cloth as a "test" fabric because it is lightweight and silky. It kept on sliding on my machine. I couldn't figure the right tension. I went mad for about a month. Then I tested sewing on the cheese cloth and then everything went well after.
I then went to Taytay to check out the fabric market. I have a confession, I used to live in Taytay (my parents still live there) and I knew about all the sewing going on in. It is called the "Woodworks and Garments Capital of the Philippines" for a reason. But in the 21 years that I lived there, I never went to any of the fabric stores, ever. I just bought clothes made locally but never fabric, so I had no idea what to find.
On my first visit, I went with my dad and looked around for 5 minutes. He was getting paranoid about the car getting hit. There was no parking available so we parked along the street with the tricycles, the pedicabs, the jeepneys and the pedestrians all moving beside the car.
I got these two cotton (I think they are cotton-blend, might be polyester blend) fabrics for P175 per fold. Each fold of fabric was 2 yards long and 60″ wide.I can't remember the name of the store, or if it even had a name, but when I go back, I'll still remember the store. They had lots of pre-cut fabric, folded and piled on top of each other. They have a lot of pretty prints and the fabrics are super cheap. Haul worthy. These fabrics will be good for home projects and dressmaking (although, they tend to wrinkle a lot).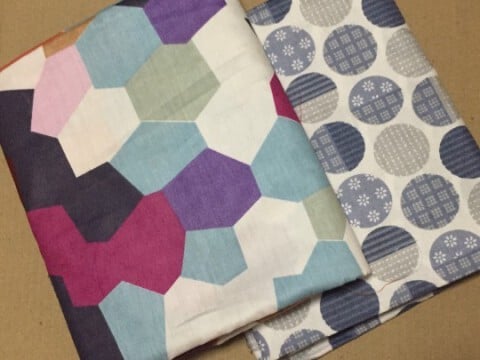 On my second visit, I went with the husband (wrong choice, because he gets impatient while shopping.) Maybe next time, I'll take my mom with me. Anyway, just to be safe and not cause any heart attack with our car, we parked at SM Taytay and rode a tricycle to the fabric market. Just say "sa Telahan po" and the triciycle driver will drop you right in the middle of the fabric market.
What I failed to mention earlier is that because Taytay is known for garment making, almost all of the fabrics in the fabric market are sold by the kilo. The price ranges from P150 to P220 per kilo. I know, super cheap. A kilo of fabric is around 5 to 6 yards long, which is a lot (or too much) for a home sewer but enough for business. Most of the fabrics are sold by bolt and you can actually see people carrying bolts of fabric with them in the tricycle.
I think, I went a little crazy because I was unprepared to buy that much fabric. They sell it at 1 design per kilo. I know it was super cheap but I got overwhelmed. Also, most (if not all) of the fabrics sold by the kilo were stretch fabric for making tops, children's clothes, etc. Well, I wasn't really able roam around because the husband was getting impatient already and my allergies were starting to kick in (because of the dust from the road) so I have no idea if there are other fabrics to find. I also found zippers sold by the kilo.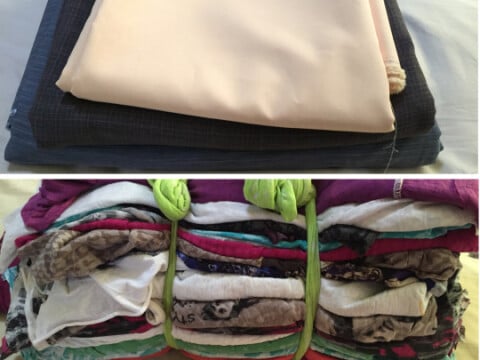 Anyway, I found a store selling retaso (scraps) by the kilo. And seeing that it was the only store who would sell different fabrics as a bunch, I went there to get some fabric. The woven fabrics were sold at P100/kilo and the stretchy fabrics were sold at P80/kilo. I got around 4 kilos of each. These fabrics were leftovers from sewing shops but these are long cuts. The woven fabrics are 3 to 6 yards long. The stretchy ones vary, some were a quarter of a yard to 3 yards long. Some were really small and dirty so I put them in the reject pile.
I use the woven fabrics as toile or muslin for my sewing projects. As for the jersey ones, I'm thinking of my making myself a whole new set of house clothes and sleepwear with them. And maybe some crop tops too, they work really well for tops. I just need ballpoint needles!
I think I have around 50+ jersey fabrics with different designs and it will take a lot of time to go through all those. Maybe I should venture on to children's wear so I can use them all up. Haha.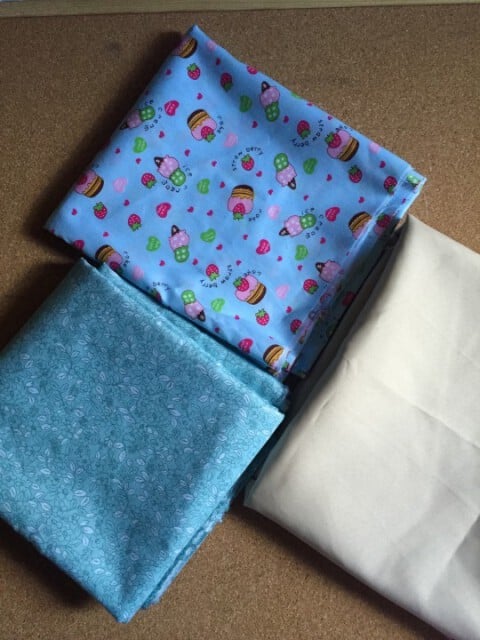 After the whole buying fabric without a project in mind fiasco, I actually stopped acquiring fabric until I actually have a project in mind. Pictured above are 3 fabrics I got from Cloth Connection found in SM Megamall Buliding B basement. I got 2 yards of a green leafy print cotton at P120/yard for a dress, a yard of the cupcake patterned cotton at P120/yard for a lining, and a yard of Gina cloth at P35/yard also for lining.
Recently, I visited Cotton Depot in Glorietta 5 to check it out. Oh gosh, I love that store. Everything was so pretty and I had a hard time choosing what to buy. I settled on the two fabrics below, both at P180/yard (discounted!). I got around 3 yards each of the 45″ fabric for future dress projects from my Love at First Stitch book.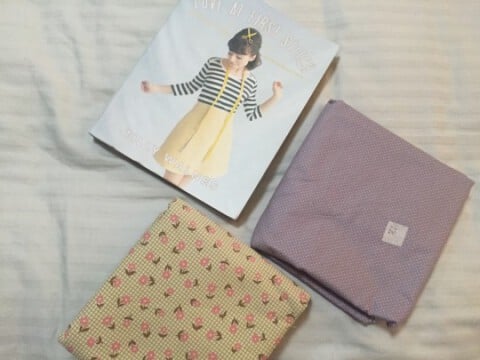 I have also been eyeing some fabrics from Heartfelt by Emskie but I have been stopping myself from buying anything until I finish all my lined up projects! Honestly, I have a big box filled with fabrics that I still need to get through before I need to purchase more fabrics. Or not. Let's see.