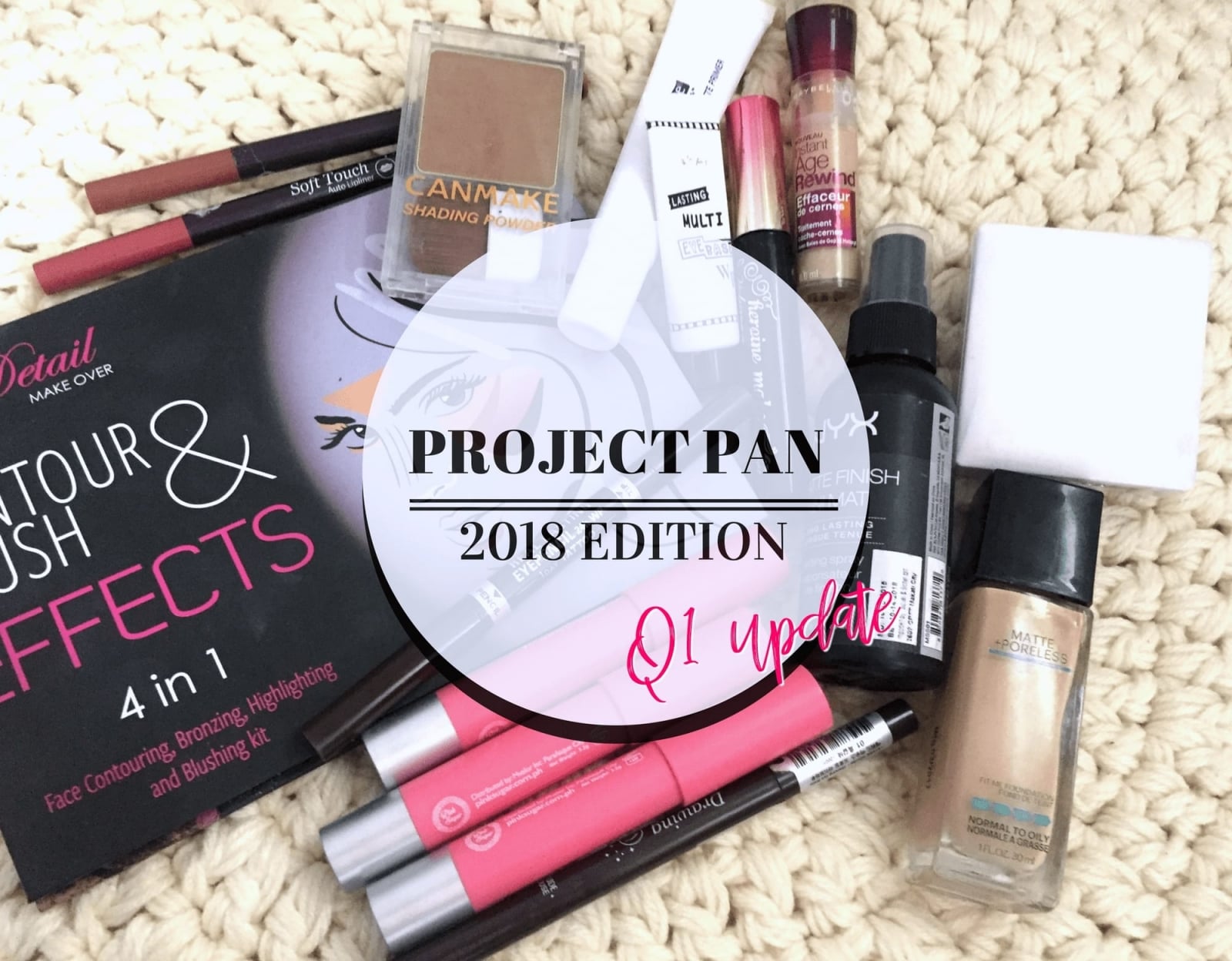 As promised in my first Project Pan post, I would be doing quarterly check-ins and now it's time for the first update. Overall, I've been very good about using up the products on my list. I've been wearing makeup to work three times a week, as I work from home for two days. I've learned a lot of things about these products, and I have made some progress on emptying and panning them.
Let's revisit my personal rules:
Try to reach the goal I have set for each product in the list. This doesn't mean I'm not allowed to use other products. These are just priority products. PASS. I am still on track with this.
No more buying of another item of the same type until they run out. Once used up I can either repurchase or try another product I've been dying to try. In the case where I have lots of other backups, I should use up whatever I have on hand first before buying. FAILED. I bought a new face powder.
If a certain product irritates my skin or breaks me out or it simply just doesn't work for me, I shouldn't force myself to use it. Giving it a good chance is the best thing I can do for this product. PASS. I have decided to retire a product or two.
No cheating by breaking or "losing" the product. SEMI-FAILED. I didn't intentionally lose a product. It was just gone. Hmmh.
Try to update the status of each product by doing monthly or maybe quarterly check-ins. I should also try to mention what I replaced them with and if I finish those up as well, then good! PASS. That's why we're here!
It's okay to not finish everything, but I should really do my best to try. Let's save this for the end of the year.
Face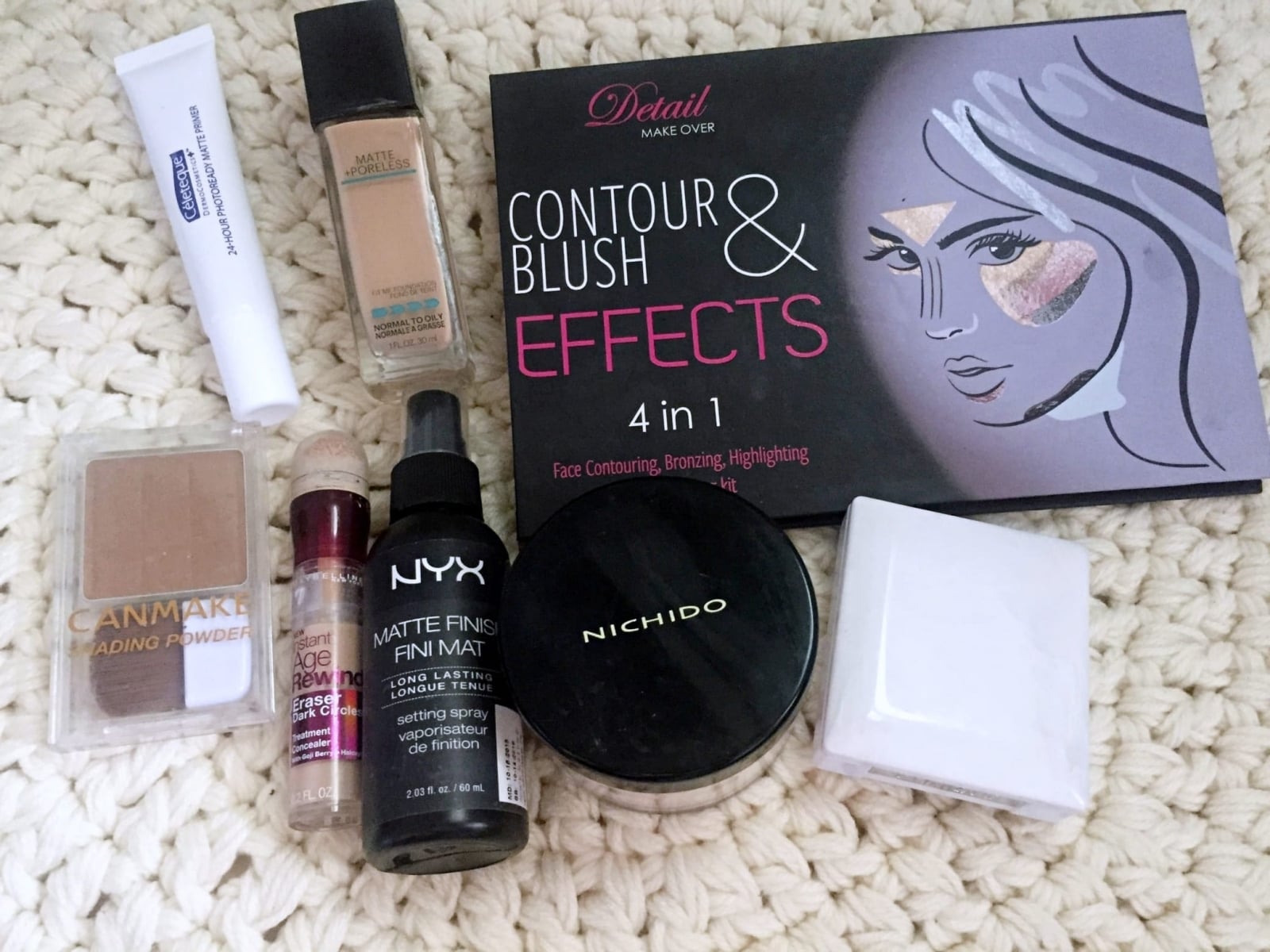 Celeteque 24-Hour Photoready Matte Primer

Goal: empty Status: semi-retired

I stopped using this quarter as I'm already using a matte foundation and didn't need to make my skin more matte. I'll probably start using it again because the new foundation I'm using is not matte.

Maybelline Fit Me Matte + Poreless Foundation in 128

Goal: empty Status: empty

Woohoo! My first ever finished face product. I know, I'm that bad, I've never even used up my old BB creams. Anyway, after using this almost daily, it may have lost it's HG foundation status. This shade used to match me really well but it just oxidizes too much that my face is orange next to my neck. It's also not long lasting, maybe around 6 hours before it starts to separate. The best thing about this foundation is that it's always on sale and there are a lot of shades.

After this ran out, I turned the bottle upside down so I can get all the remaining product. I still got around two weeks worth of foundation in the bottle cap.

Replaced with: Wet n Wild Photofocus Foundation in Soft Beige (littlejajabeautybar, P420)

Maybelline Age Rewind Concealer in Neutralizer

Goal: empty Status: retired at around 50%

This is a really good concealer, but it's too bright and in your face. I used this try to cover up my dark under eye circles, but because this shade is too light for me, they just ended up looking grey. The sponge applicator is not the most sanitary thing, and the cap is wonky. I lost the cap while traveling and didn't bring any backup concealers. It was a nightmare.

Replaced with: Colourpop No Filter Concealer in Light 20 (now Light 18) and Medium 30 (now Medium 28) (Colourpop, $6)

Nichido Final Powder in Creamy Glow

Goal: 50% Status: retired

This is just too drying. It made my skin look patchy and emphasized all dry areas on my face. I tried to use it as an under eye setting powder, and it just sucked out all the moisture.

Replaced with:

Clinique Stay-Matte Sheer Pressed Powder in a Dermawhite Double Decker White Marble Compact - for all-over the face
Wet n Wild Contour Powder Palette (littlejajabeautybar, P305) - for brightening the under eye area

Detail Makeover Contour and Blush Effects Palette

Goal: hit pan on one contour shade and both blushes Status: some use?

Powder products are the hardest thing to pan, and honestly, I wasn't reaching for this palette as much as I want to. I have another Clinique blush that I use more often. And I didn't even take a closeup picture of the pans when I started, so I have no way to compare the progress.

Here's where I currently stand on this product:

The blushes are the best thing about this palette. But what are those white dots? Those are making me scared to use this. I tried removing them with scotch tape and tried to scrape them out, but they're still there.
The darker contour color is too dark for me (and I've been using this before, whyyyy). The cooler contour is the perfect contour color for my skin tone. I'd try to use this more.
The bronzer is too stiff and highlighter is too powdery. Meh.

Canmake Shading Powder in 01 Danish Brown

Goal: hit pan Status: some progress

Still my HG contour! I've been neglecting the DMO contour palette because this one is just perfect. I have managed to fade out the indentions of the pan this time. Yes, progress!

ELF Cosmetics Baked Highlighter in Moonlight Pearls (not in photo)

Goal: hit pan or stop using when it breaks me out (which might never happen) Status: some progress

It didn't break me out, whew. I scraped the top part, and the product just glides on to the brush now. This highlighter is so lovely. It gives a wet, blinding highlight. I like looking like extra glowy.

NYX Professional Make-Up - Make Up Setting Spray - Matte finish

Goal: empty Status: around 30% left

I bought this when I was on a make-everything-matte phase. I prefer a more dewy finish now, so I haven't been reaching for this. I do use this to for wet eyeshadow application.

Replaced with: Mac Fix+ Prep + Prime - I know this is not a setting spray, but it's a spray I use at the end of makeup. I've realized that I do not need a setting spray because my makeup doesn't even move.

Clinique Stay-Matte Sheer Pressed Powder in a Dermawhite Double Decker White Marble Compact

Goal: hit pan or stop using when it breaks me out (which might never happen) Status: hit pan!

I stopped bringing this around to touch up powder and started using this as my 'setting' powder instead. I got another pressed powder to replace it because it's bothering me that it's expired, but I can't get myself to throw it out. It still works, and it's lovely.

Replaced with: Maybelline Fit Me Matte + Poreless Pressed Powder in 130 Buff Beige (Lazada, P299 on sale or P399 regular price)
Eyes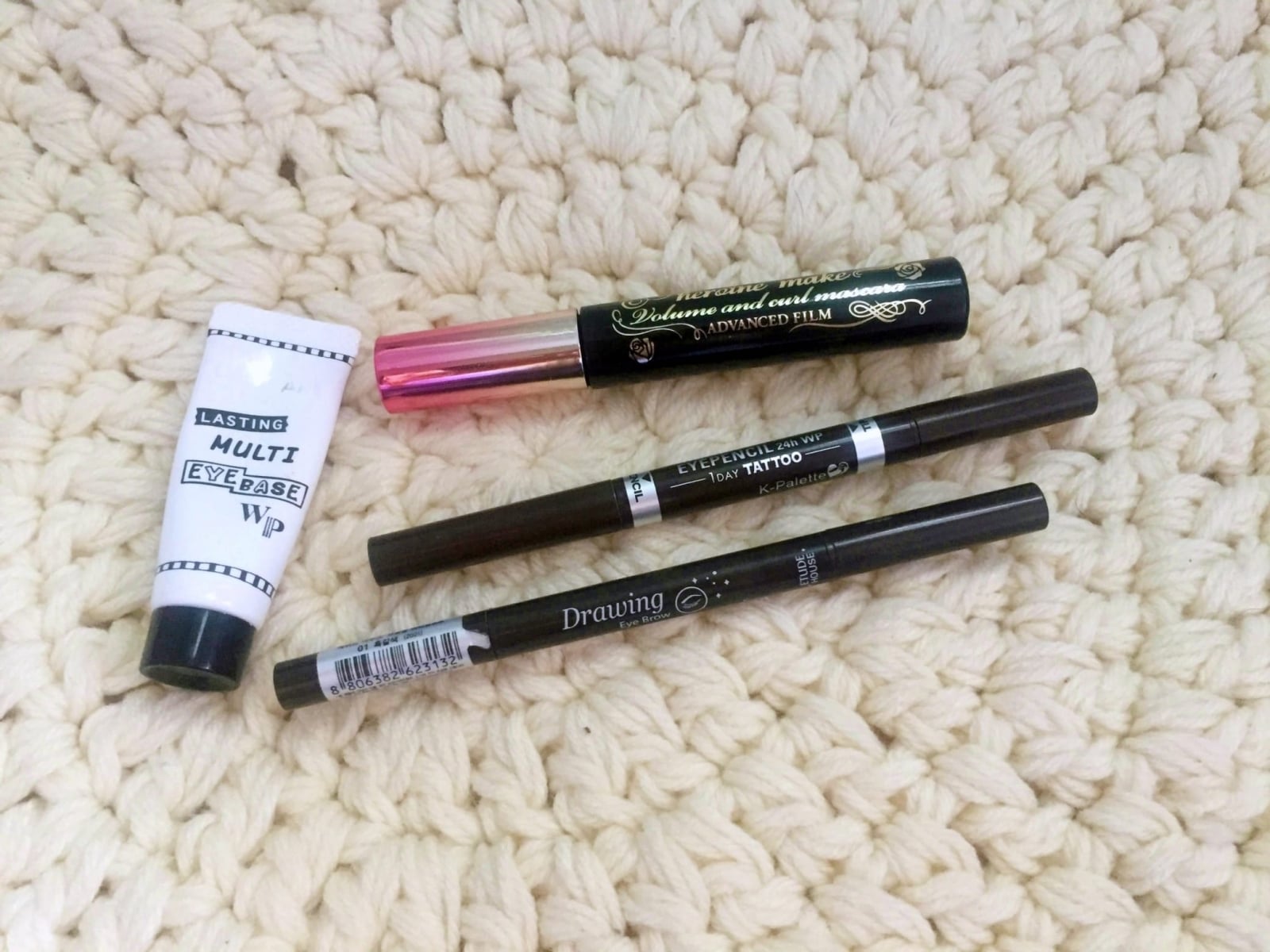 Canmake Lasting Multi Eyebase WP

Goal: empty both tubes
Status: emptied one tube

I finally finished one. I've been using this even when I just wear eyeliner.

K-Palette Real Lasting Eye Pencil 24H WP in Natural Brown 01

Goal: empty and repurchase immediately Status: empty (but haven't repurchased, yet)

Still my HG eyeliner but I still have one black pencil eyeliner here, so I started using that instead. Also, it's expensive, and if I used this every day, it would be all used up in a month. I need a cheaper alternative!

Replaced with: Koji Spring Heart Long Lasting Eyeliner in Black

Dolly Wink Liquid Eyeliner in Dark Brown (not in photo)

Goal: empty or use it until it dries up Status: used it once or twice, I think

It's still a really good eye liner, but the problem is with me. I don't have enough time to line my eyes every day with this. Heck, I don't even have enough time to use pencil eyeliner.

Etude House Drawing Eyebrow in Shade 01

Goal: empty Status: around 40% left

I used this every day until February because the color is way too dark, so I temporarily switched to another brow pencil. I'll get back to this eventually.

Replaced with: Colourpop Precision Brow Pencil in Black N' Brown

Heroine Make Volume and Curl Mascara in Advance Film

Goal: empty Status: retired

I don't have time to curl my lashes and put on mascara every day. I used this once or twice in the last three months, and I'm thinking, mascara is just not for me.

Replaced with: none yet
Lips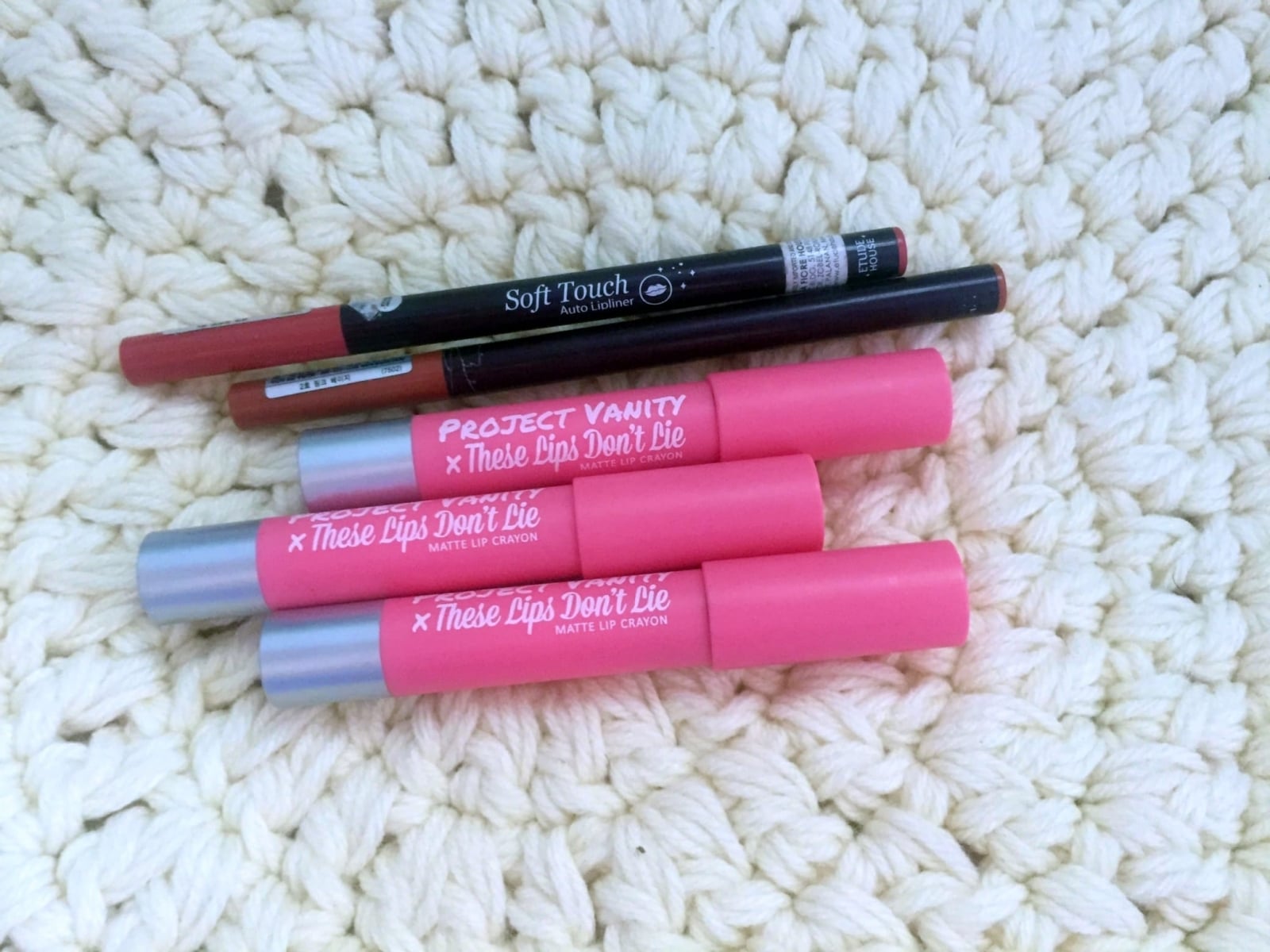 Etude House Lip Liners

Goal: empty Status: empty

These are surprisingly really easy to empty!

Replaced with:

Colourpop Bumble Pencil
Colourpop 951 Pencil

Project Vanity x Pink Sugar These Lips Don't Lie Matte Lip Crayon

Goal: empty at least one Status: some progress

Again, I have no before and after pictures, but I'll try to update this post with the current levels.
Empties
Aside from those mentioned above, I don't have a lot of empties this quarter. I also don't have a group photo because I don't like keeping empty bottles. Maybe I'll do a collage of all the empties next time. Anyway, here are my other empties:
Daiso Brush Cleaner - 2 bottles
Daiso Puff Sponge Detergent - 1 bottle
Human Heart Nature Nourishing Facial Wash - 30ml bottle
Bifesta Moist Cleansing Lotion
Decluttered Items
Detail Makeover All Matte Eyeshadow Palette in Day and Night

I really didn't like the formula of these palettes. They're really powdery and not pigmented enough. They were also a little hard to blend out.

Colour Yes Please! Eyeshadow Palette

I tried out the Double Entendre first before trying this one out. If the browns and soft oranges in that palette were a little too warm for my taste, this is way too warm for me.

Detail Makeover Autumn Eyeshadow Palette

Also destashed this because it's too warm. I was looking forward to the green, but it's patchy. I prefer the Ecru Squad Palette as the browns are more neutral, and it also has some pops of golds and coppers.

The Ordinary Serum Foundation in 1.2YG

This is way too light for me.
Are you doing a Project Pan as well or do you have empties and decluttered items you'd like to share? Let's discuss more in the comments below.