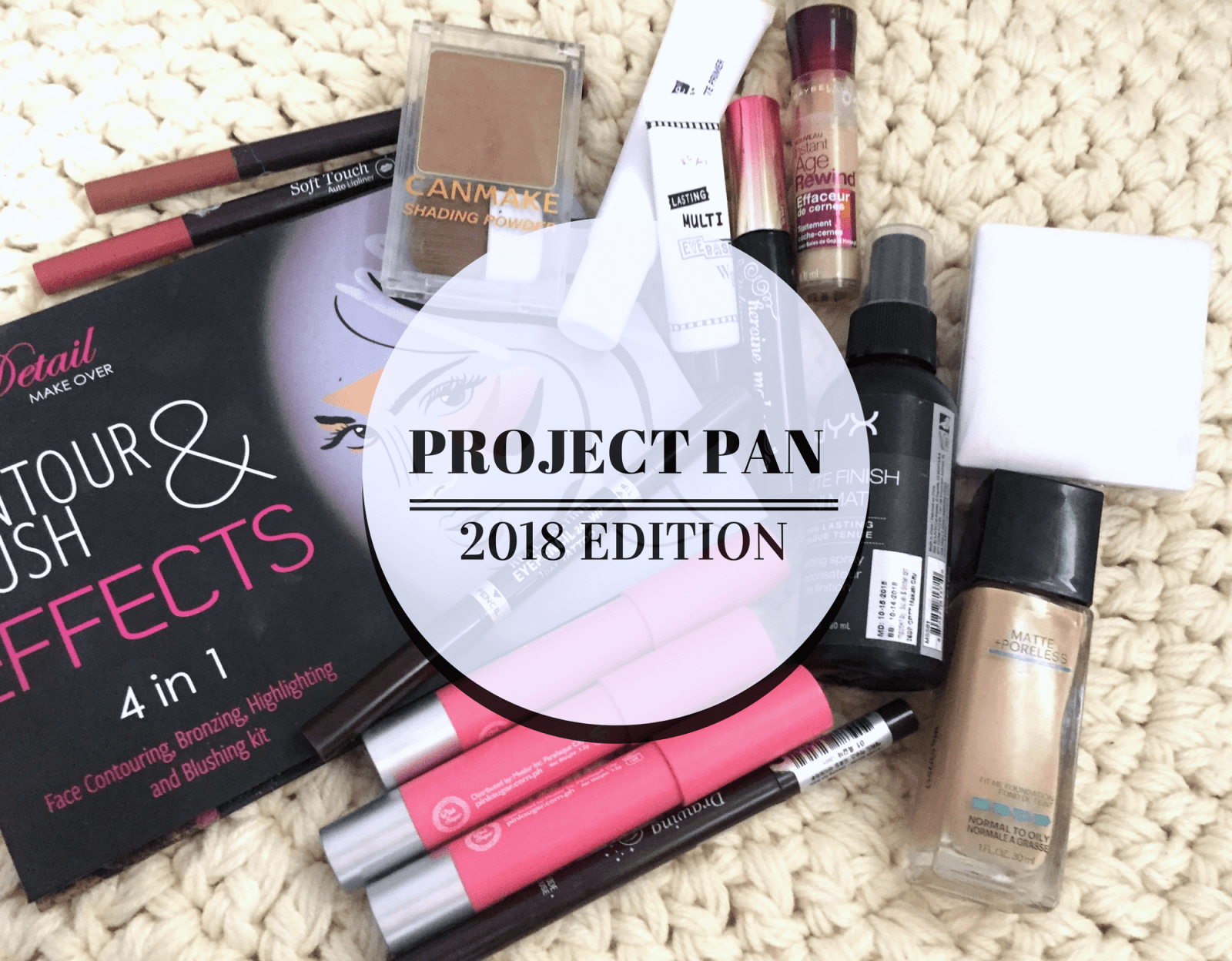 For years now, I think I've been collecting makeup, just because I like buying them but I don't really get to use them that much. At the end of the year, I started to declutter and throw out some very old products, some of them I haven't even used yet. Then I felt bad for all the money I spent and lost on these things. I decided I'd finally force myself to use up my makeup.
I got inspired by Andréa Matillano's Project Pan video video on Youtube. She used up around $500 of makeup. Woah. Hers is more of a challenge but since I'm new into actually using my makeup, I'm doing a relatively easier challenge. My personal rules for my own Project Pan 2018 are as follows:
Try to reach the goal I have set for each product in the list. This doesn't mean I'm not allowed to use other products. These are just priority products.
No more buying of another item of the same type until they run out. Once used up I can either repurchase or try another product I've been dying to try. In the case where I have lots of other backups, I should use up whatever I have on hand first before buying.
If a certain product irritates my skin, or breaks me out or it simply just doesn't work for me, I shouldn't force myself to use it. Giving it a good chance is the best thing I can do for this product.
No cheating by breaking or "losing" the product.
Try to update the status of each product by doing monthly or maybe quarterly checkins. I should also try to mention what I replaced them with and if I finish those up as well, then good!
It's okay to not finish everything but I should really do my best to try.
Note: Some of the products I own don't have the use by date on their containers so I'll be using this guide for the appropriate shelf life.
Face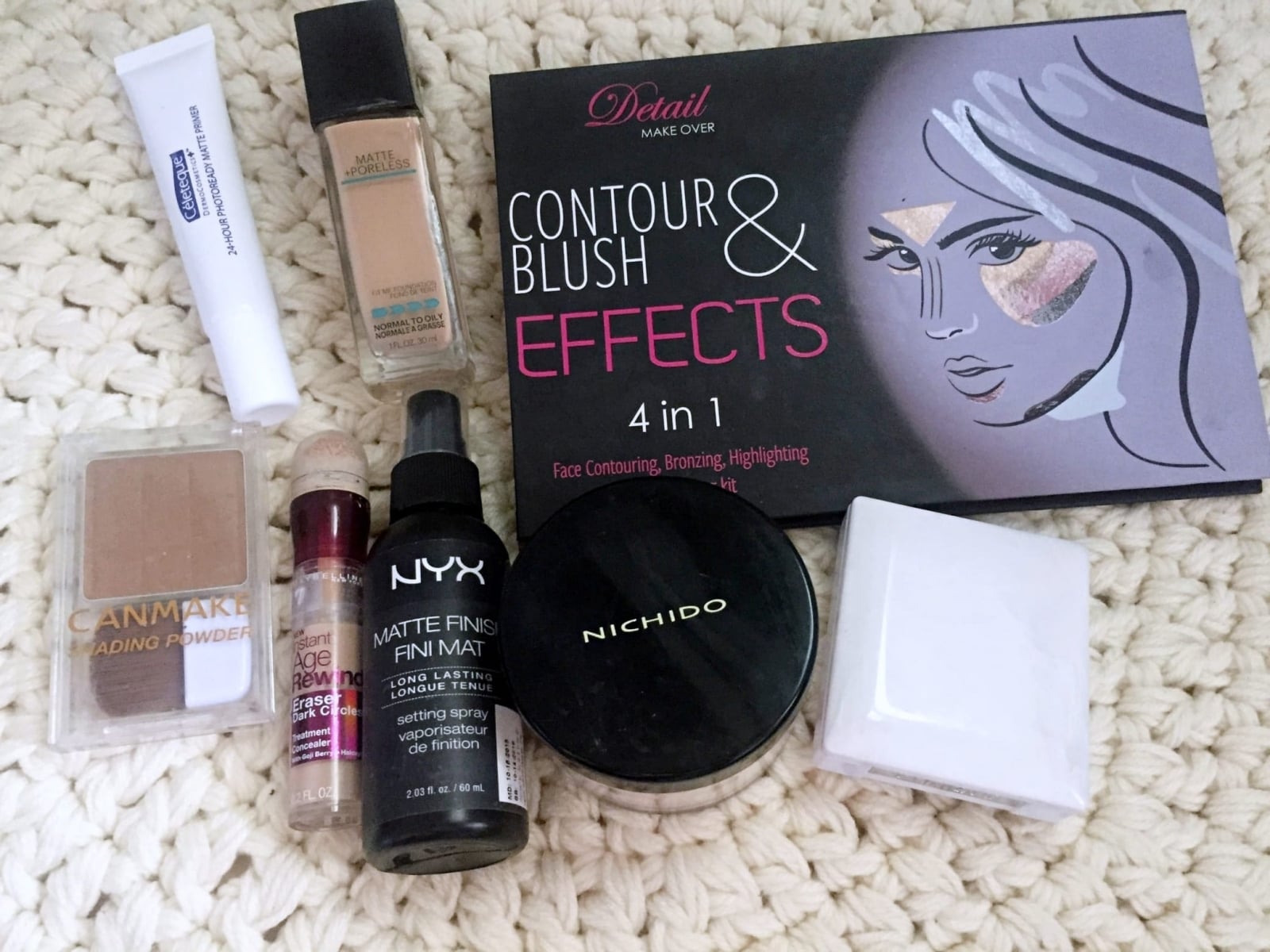 Celeteque 24-Hour Photoready Matte Primer

Expires by: 09/2019 Opened on: 12/2017 Goal: empty

I got this on sale during Lazada's 11/11 promo because I was looking for a new primer for my T-zone (mostly, my nose really). I just started using it and I feel like it kinda works. I'm a noob on primers, though. There's only 15g of product here. I'll probably find out if I like this in a few months or when this runs out.

Maybelline Fit Me Matte + Poreless Foundation in 128

Expires by: 08/2018 Opened on: 08/2017 Goal: empty

My current HG foundation for everyday. I like that it doesn't stick to my dry patches or flakes. The coverage is quite nice and the finish is not super flat matte. The color match is also good. Plus it's really cheap especially when Maybelline's on sale, which is like every month or two.

Maybelline Age Rewind Concealer in Neutralizer

Expires by: 03/2018 Opened on: 03/2017 Goal: empty

The race is on for this one. I bought this in Sasa HK and did not swatch it. This shade is so light, it makes my dark under eye circles look ashy. I'll probably use this as an under eye brightener, which means I need to find a good concealer that matches my skin tone to actually conceal. I still have like 75% of this left and I have so little time to use it up.

Nichido Final Powder in Creamy Glow

Expires by: I don't know. Does loose powder ever expire? Opened on: Sometime late 2015 Goal: 50%

I don't have oily skin so I don't use that much powder. I just use this mostly to set my under eye concealer and dust my nose (which is the only spot on my face that oils up, weird). My goal is to reach around 50% of this and then I'd probably try the Coty Airspun powder.

Detail Makeover Contour and Blush Effects Palette

Expires by: 10/2018 Opened on: 10/2016 Goal: hit pan on one contour shade and both blushes

I bought this palette so I can try contouring and for the price. I'm not really a fan of the bronzer and the highlighter and the other contour shade is too orange. The blushes are okay: there's a peach and a pink (the only two colors I really use). I've already thrown out all of my other blushes because they're all expired, so I think I'm good. If I can manage to hit pan on 3 out of the 6 pans, I'll be very happy.

Canmake Shading Powder in 01

Expires by: 06/2018 Opened on: 06/2016 Goal: hit pan

This is my HG contour/shading powder. The shade match is awesome. I always use this when I wear makeup but my pan still looks untouched. How is that possible?

ELF Cosmetics Baked Highlighter in Moonlight Pearls (not in phot)

Expires by: Is this expired already??? Opened on: 09/2014 Goal: hit pan or stop using when it breaks me out (which might never happen)

I used this for the first time on our civil wedding and it's beautiful. I use this all the time and it still looks untouched. Again, how is this possible??? This might be expired but it's not funky yet. I've read somewhere that powder products don't really expire. Is that real?

NYX Professional Make-Up - Make Up Setting Spray - Matte finish

Expires by: 10/2018 Opened on: sometime late 2015 Goal: empty

I feel like I've had this forever as well. I only use this when I do full face of makeup, but maybe I should change that. I actually really like this and would probably purchase the Dewy version after I finish this up.

Clinique Stay-Matte Sheer Pressed Powder in a Dermawhite Double Decker White Marble Compact

Goal: hit pan or stop using when it breaks me out (which might never happen)

I feel like I have been using this for forever and this might be going bad already. I'm not really a powder user as I only touch up my nose when it gets oily. I have no comments or any idea about powder so I just use whatever's available. I've thrown out powders I've had for like 5 years or more and they all look like I haven't used them. I'm almost close on hitting pan on this and might actually get to use it up. I might repurchase a refill because I really like this compact, although not a priority.
Eyes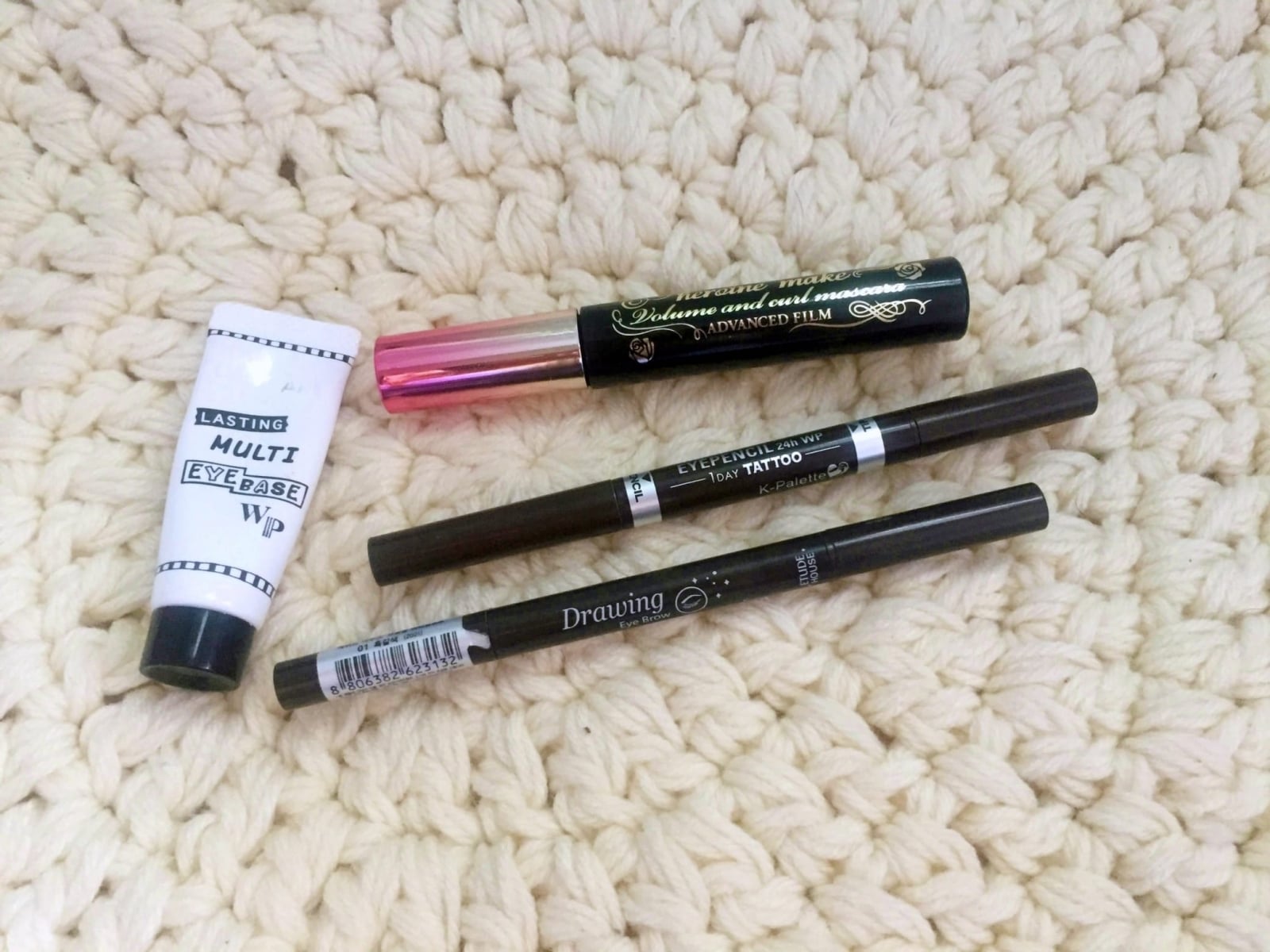 Canmake Lasting Multi Eyebase WP

Expires by: 06/2016 Opened on: 06/2016 Goal: empty both tubes

I have two of these and the first one looks almost used up. How does one finish eye primers if they don't put on eyeshadow everyday?

K-Palette Real Lasting Eye Pencil 24H WP in Natural Brown 01

Expires by: 12/2018 Opened on: 12/2017 Goal: empty and repurchase immediately

This is my HG eyeliner. I've tried numerous eyeliners and this is the only one that doesn't make me look like a raccoon at the end of the day. My eyelid eats up eyeliner. I have to line half of my eyelid for it to show up when I open my eyes. The goal here is to find out how fast before I can use this up and if I should find an alternative because this is not cheap.

Dolly Wink Liquid Eyeliner in Dark Brown (not in photo)

Goal: empty or use it until it dries up

I know, I know. You're supposed to use up the eyeliner in 3 months but I rarely use liquid eyeliners and this one's not yet dry! I actually like this but I still prefer the K-Palette 24HR Real Lasting Eyeliner WP. It's very beginner friendly and the the liner doesn't flake when it dries. I'm not sure if I want to repurchase another liquid eyeliner (in this price point) after this. Maybe I'll just have to find a cheaper alternative after. One where I won't feel to bad to throw in 3 months even if it's not used up yet.

Etude House Drawing Eyebrow in Shade 01

Goal: empty

I got this I think around 2016 and stopped using it because I went blonde at the end of the year. I picked it up recently again when I decided to grow my black hair out and this is the only eyebrow product I had that wasn't blonde. I probably used up around 40% of this already. Like eyeliner, eyebrow pencils is one of the two products I only ever empty.

Heroine Make Volume and Curl Mascara in Advance Film

Expires by: 03/2018 Opened on: 12/2017 Goal: empty

This mascara is expensive. I should probably stop buying mascara if they go bad in like 3 months. I'm not really wary over the expiration dates on face products, but eye products I'm really concerned about. So I'm going to be a really good girl and try to use this up in 3 months time. Or if I haven't, I'll just have to toss it up (goodbye, money).
Lips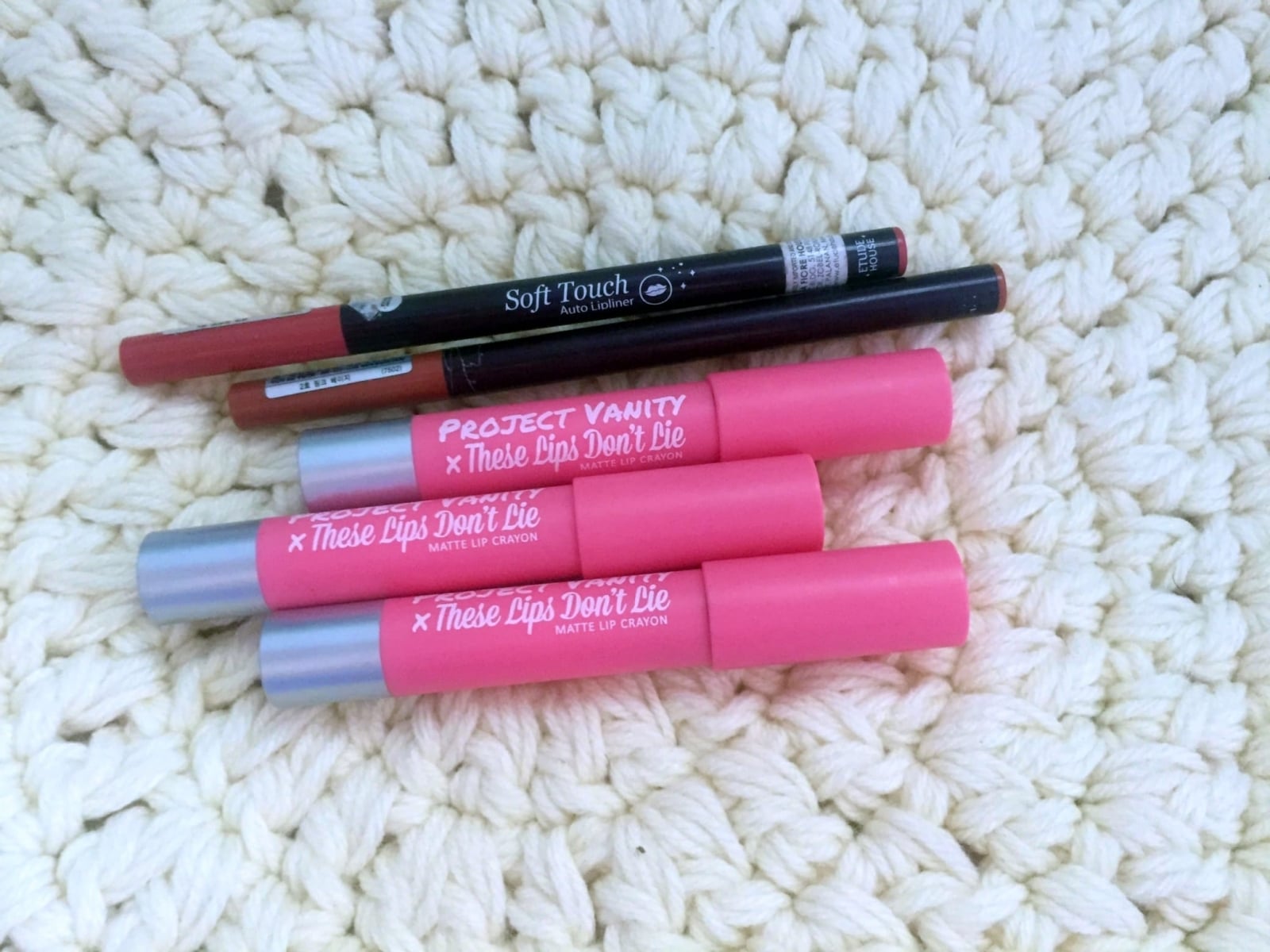 Etude House Lip Liners

Goal: empty

I can't remember when I exactly got these, but it's around 2017 for sure. I don't know why I've never purchased lip liners before. I cannot, for the life of me, put on liquid lipstick or bullet lipstick properly without them. One of them looks so used that the packaging has already faded. The nude one has around 20% left and pink one has around 80%. I really liked these, I hope these are still sold in stores here.

Project Vanity x Pink Sugar These Lips Don't Lie Matte Lip Crayon

Expires by: 07/2018 Opened on: 07/2017 Goal: empty at least one

I don't want to set myself up for failure but I should at least try to give this a try. This will either be the hardest or the easiest to finish up. I have 3 of these and I've been using these whenever I wear makeup.
Aaaaand that's all of the products. Oh, I also wanted to add how much I actually spent on these ALL of these items as motivation to actually use them up. Most of the products listed are drugstore or local and, originally, I thought I'd end up at with 2k to 3k. But no, the total is a whopping P7,629. I added some items by their sale price and did not include those that were gifted. OMG.