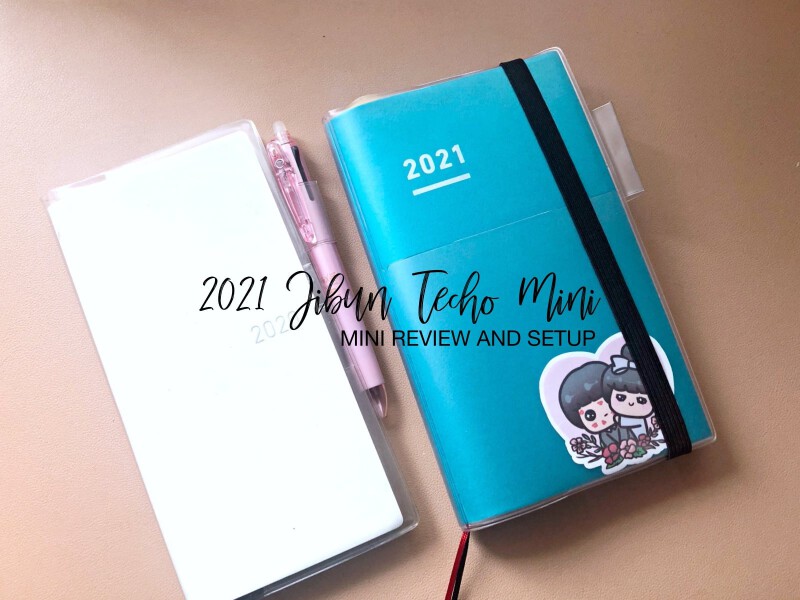 Out with the old and in with the new! As is usual at the end of the year, I'm really excited about moving into a new planner! I posted my planner and journals set up for 2018 before, and if you've read that, you would know I am such a sucker for Japanese planners. Once the new planner lineup for the different brands was announced, I was ready to just order another Hobonichi Weeks. Then I had the weirdest idea to try out the Jibun Techo. I knew it was quite popular. I almost grabbed one in Loft (Tokyo) back in 2019, but I wasn't fully informed about it then, so I decided to do a little research. I watched the JetPens videos below for research. I liked what I saw and ordered the First Standard Mini Kit B6 Slim.
From the above video, I actually fit in the Perfectionist personality description. The line ** "Kokoyu's Jibun Techo planners have all the little details that event the most persnickety perfectionist happy "** really got me. Persnickety: check! Perfectionist: check!
Review of Previous Planners
WARNING: This section is a bit long and rambly. You may want to skip it to the actual review part.
When I did bullet journaling back in 2016 and 2017, I enjoyed having the freedom of choosing or adding which pages I needed. But, I also hated having to draw all my layouts. I always just end up with a weekly layout variation: a week on 2 pages, or a full week on 1 page, and a blank grid on the other page.
2018 was the year I went a bit crazy. I knew I wanted to plan, and I knew I wanted to journal, so I got many different ones. I ended up ditching the Hobonichi A6 halfway through the year because I couldn't keep up with journaling. I ended up using a full-sized Traveler's Notebook and a Free Weekly Planner with Memo refill for most of the year (it wasn't on this list, haha).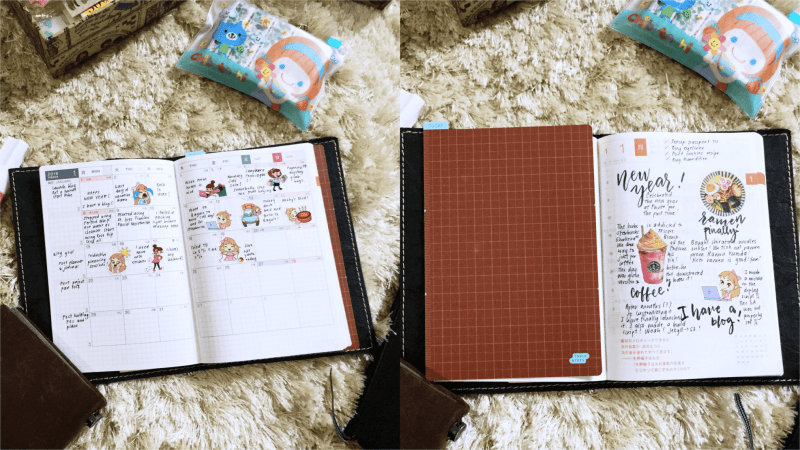 For 2019, I exclusively used the Hobonichi Weeks. There's something about having just the monthly spread, a weekly layout, and a blank grid page that just calls to me. After a few years of trying to be a creative planner, I have finally accepted that I am a functional planner through and through. The size and thickness were perfect. It was very lightweight and handy. The paper, oh my gosh, Tomoe River paper is just beautiful to write on.
For 2020, I decided to try digital-first but had a Hobonichi Weeks as a backup. I did purchase a few digital planner packs, and sadly none of those really worked. The size of having a full page really just overwhelmed me, even when it was the same weekly layout. I tried using it on my laptop, it didn't work. I tried using one on my iPad with an Apple Pencil to make it feel more analog, it didn't work. I fell back on the Hobonichi Weeks and used that exclusively for the rest of the year.
Here is a sample of how I had been using the Hobonichi for the past 2 years. I don't do much future planning or scheduling on my weekly views because I prefer a digital calendar. So I would use the monthly layout as a memory-keeping page. I would use stickers that depict how I felt or an event for that day. Sometimes I would write about special events or occasions. I would also sometimes use the bottom part to list a few tasks for the month.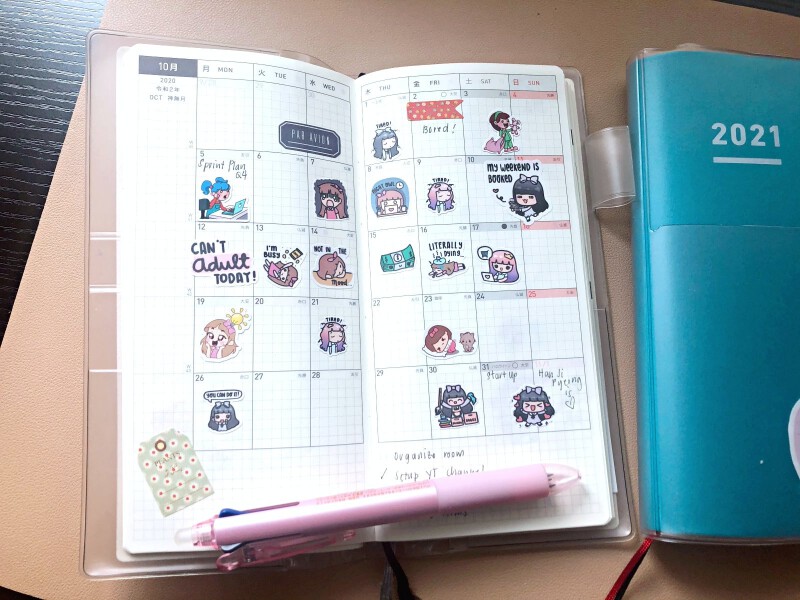 For my weekly layout, it's a bit of a mess. On the left-hand side, I would sometimes write important events/meetings. I would sometimes fill it with snippets from my day. I would add stickers as well. For the right-hand side, I primarily use it to write and track my to-do list. I would sometimes add a few trackers on the bottom: in the sample below, there's a package tracker, sometimes there's a habit tracker, sometimes there's a project tracker. It really depends on the week.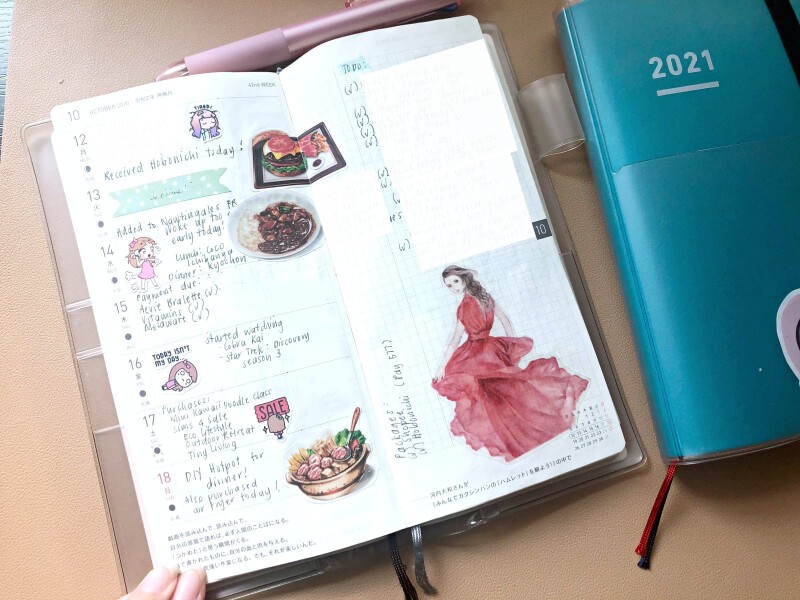 I also use a to-do list sticky note from Muji for repetitive tasks. That way, I just move it from week-to-week or month-to-month and erase the checkmarks (I use Frixion pens). I also use the blank grid pages at the back for notes and other lists.
I've been using it for almost two years, so why would I want to switch?
I hate doing repetitive things. Sometimes just writing down "TO DO" makes me crazy.
I hate having to draw down the habit tracker layout, so I just skip it most of the time. I tried doing monthly and weekly habit trackers, and I just can't stick with it.
Even though I love the size, sometimes it feels cramped. I need more "space" to write down or just put my hand on.
The blank pages at the back are perfect for setting up some "bullet journal collections," but they do end up mixed up with regular notes and just forgotten.
2021 Jibun Techo First Kit Standard Mini B6 Slim
JetPens has a very comprehensive post about the Jibun Techo line and goes into detail about each variation you can get. Here's a quiz from JetPens that will help you decide which one to get: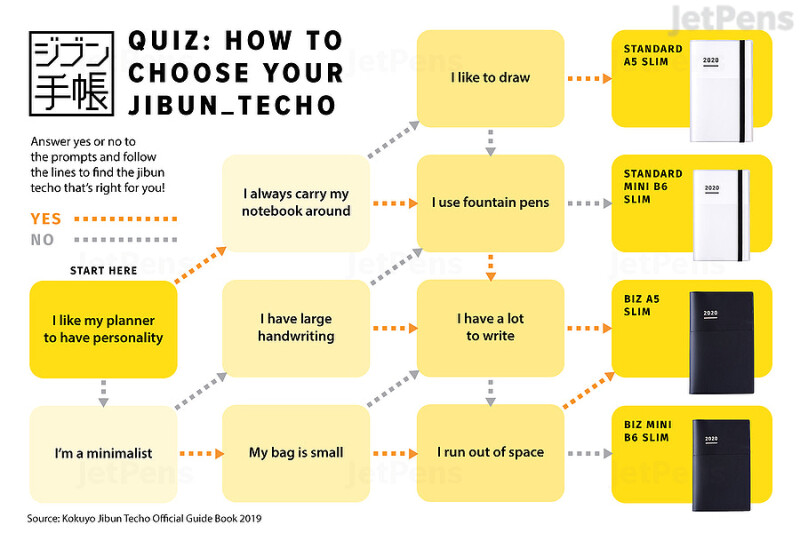 I took this quiz and ended up ordering the First Kit Standard Mini B6 Slim size. It comes in 3 colors: White, Pink, and Green. I had a white Hobonichi last year, and the pink cover was too bright, so I got the green one.
If you're just starting out with the Jibun Techo, this kit has everything you need: all three booklets (Diary, LIFE, and IDEA) and a matte clear softcover. It also includes a shitajiki (writing board) with an elastic band that slides into the back vertical pocket to keep the cover closed. The shitajiki can be used as a ruler.
Comparing it to the Hobonichi Weeks, they are almost the size height. The Jibun Techo Mini is a bit wider by around an inch. The photo below on the left has skewed proportions. They are the same height when compared using the Hobonichi Weeks pencil board.

In terms of thickness, the First Standard Kit is obviously thicker because it contains 3 books. This setup reminds me of the Traveler's Notebook, where you can choose the refills, but instead, you can choose to use just the Diary or all 3 books.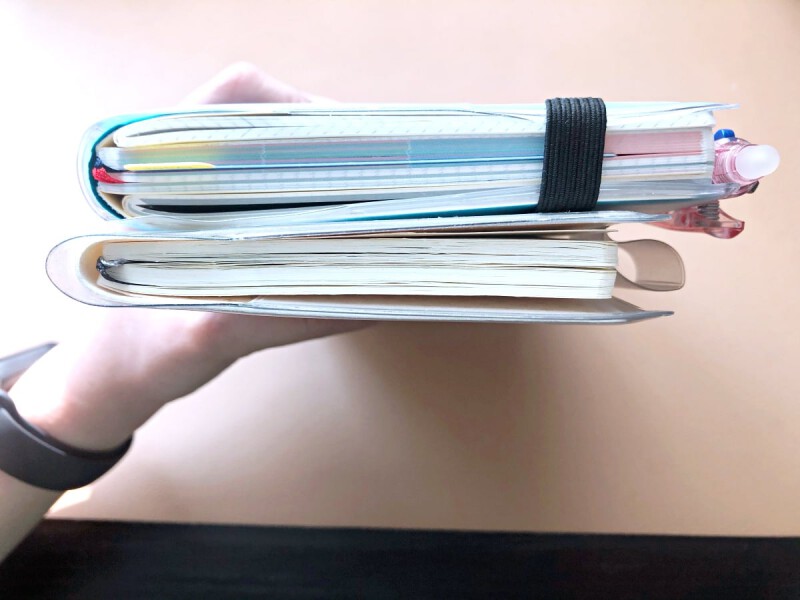 The LIFE book is used for recording your life and personal details, future planning, and goal setting. The Diary is the actual planner that uses a vertical weekly layout. The IDEA is a grid notebook where you can write or draw. The LIFE book is a book you can keep forever. The Diary is meant to be replaced yearly, and the IDEA book is something you can replace any time you run out of pages. I haven't really set up the LIFE and IDEA books yet, so I won't talk about those yet and just focus on the Diary.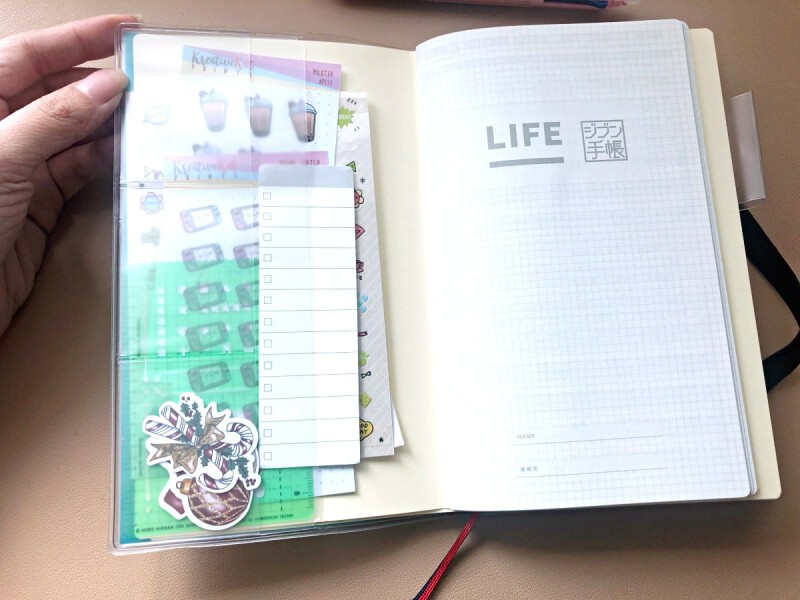 The kit comes with a clear cover. I have added my Hobonichi stencil, a few stickers, and my Muji list sticky.
The grid for Jibun Techo is smaller than the Hobonichi. You would need an EF nib for fountain pens or a very slim pen to write things. I use the Pilot Frixion Slim (0.38mm) pens and found that my small handwriting fits perfectly. I also noticed that erasing the Frixion pen writing on the Kokuyo Thin paper is easier than on the Tomoe River paper. It doesn't leave as many marks.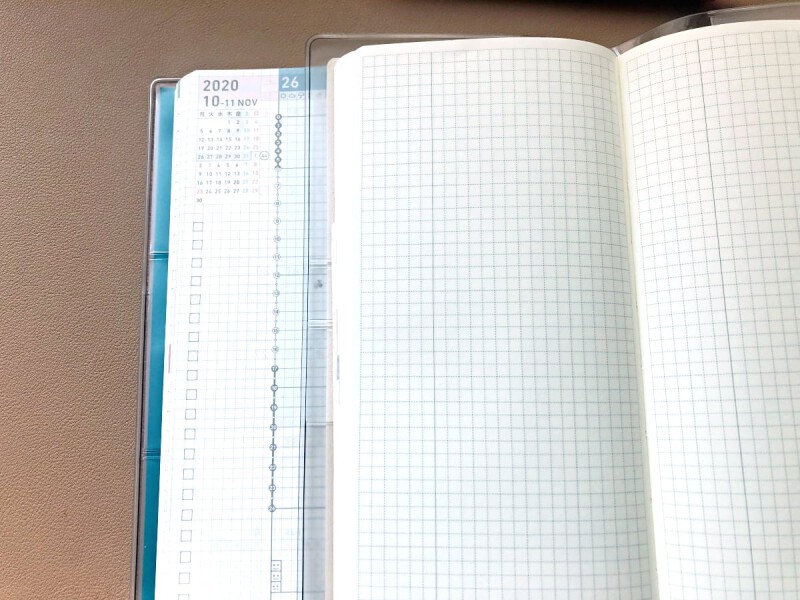 If you have big handwriting, the B6 grid might be too small for you.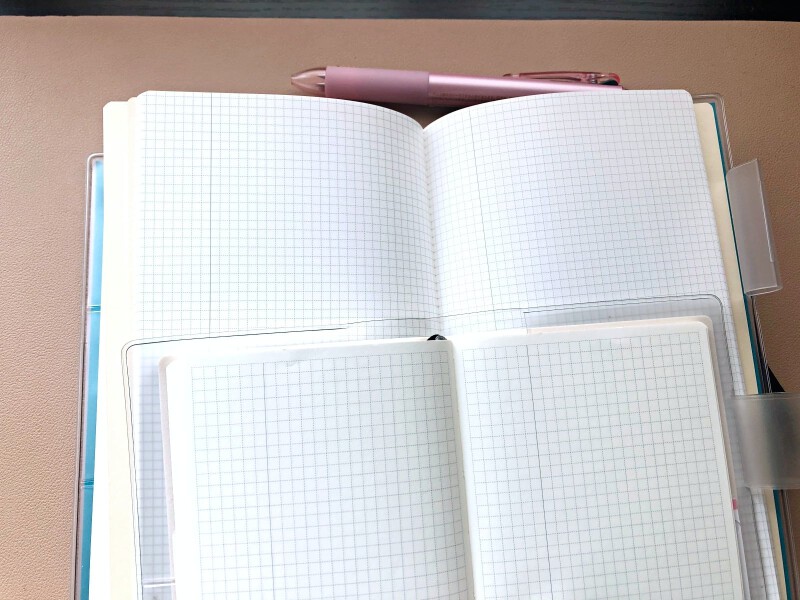 Jibun Techo Standard Mini Diary pages
When you open the Diary book, a How to Use page opens up. The page titles are in Japanese and English, but most of the descriptions are in Japanese. A translation guide is available at [JetPens] if you want to read the texts.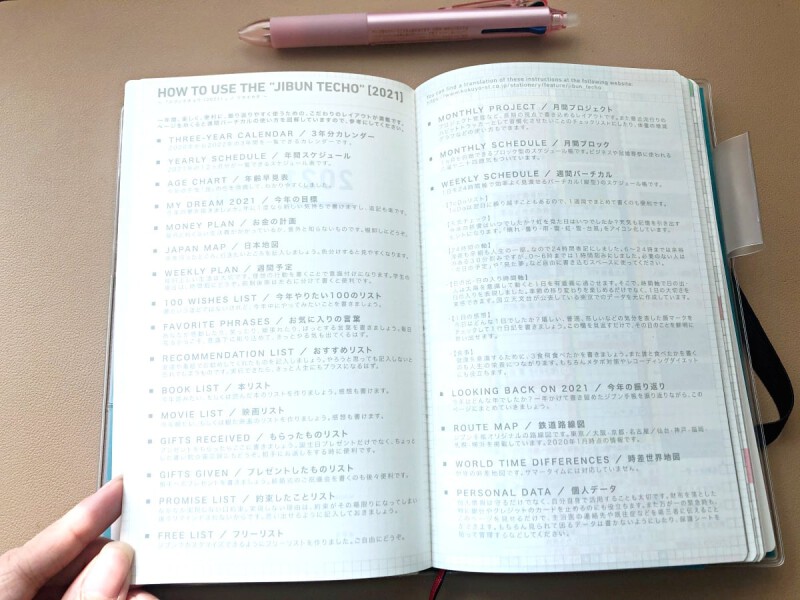 There is also a sample weekly spread. It has samples of how you can utilize the weekly layout. I haven't checked the translations yet.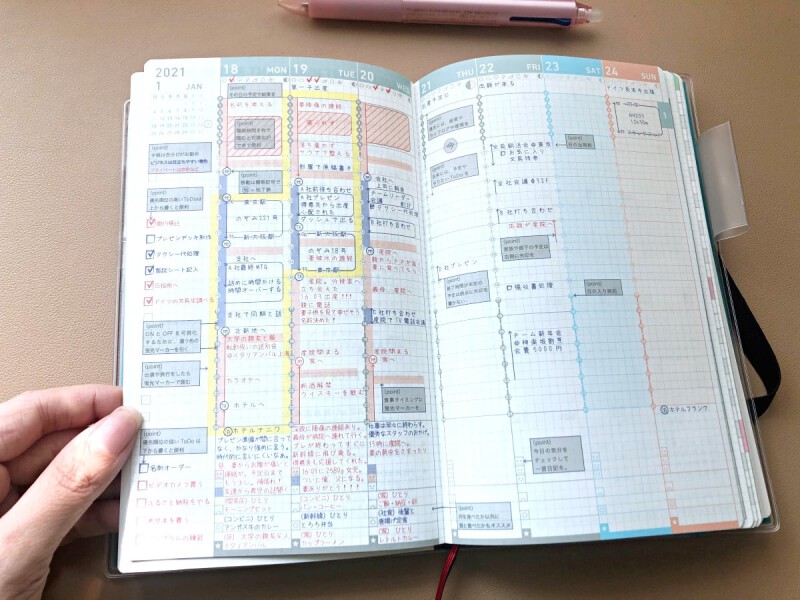 Here are some photos of the pages included in the planner and how I plan to use them: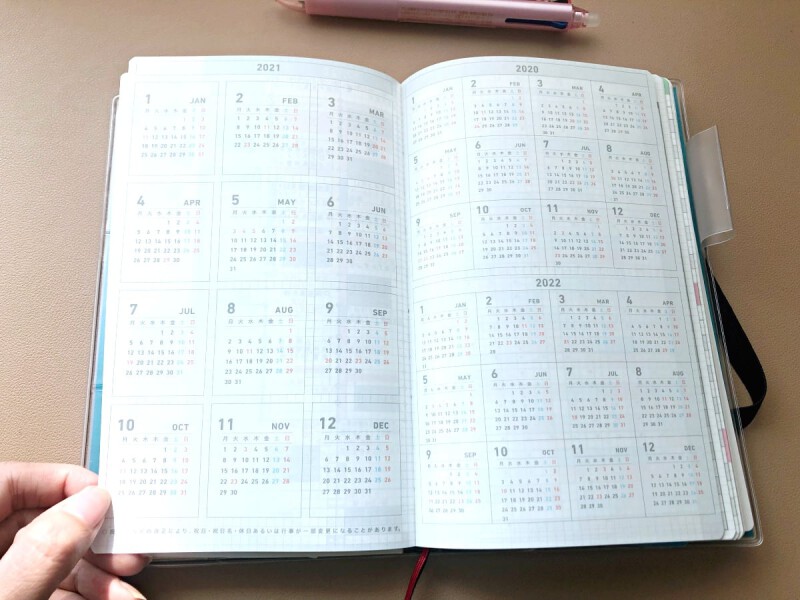 I will use the Yearly Schedule as a health/fitness tracker - will primarily use it for period and sleep tracking. I'll probably use color-coded pens to fit the space. I'm excited about this.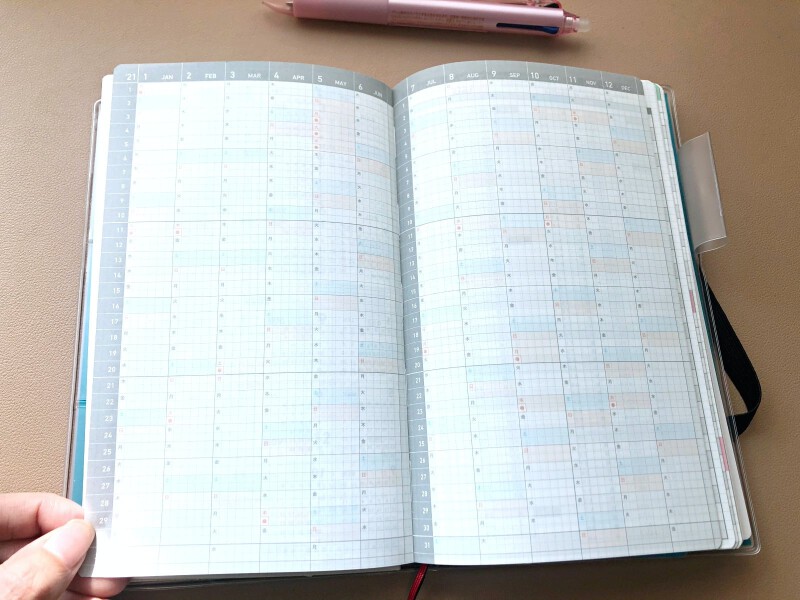 I still haven't figured out how to use the Age Chart. For the My Dream 2021 page, I wrote down the English translations on the table. I find this part really cheesy because I never really fulfill things that I list on pages like these. I'm not sure what I want to do with it yet.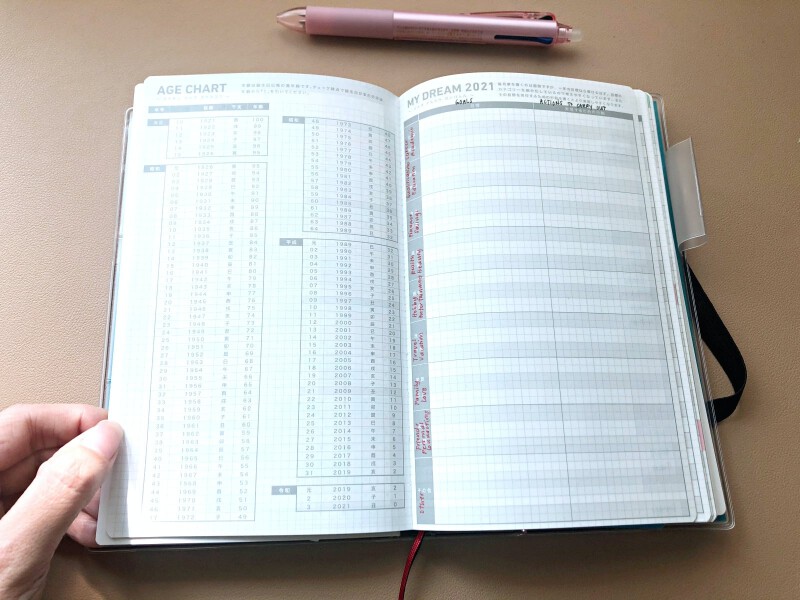 The Japan Map is probably something I won't be using this year. I would love to travel to more places in Japan. However, due to COVID-19, out of country travel is out of our plans for 2021. I might use the Money Plan pages to track my online expenses and personal savings but not my salary. The good thing about the texts being Japanese is because I can always just write something else in the boxes, and I won't be too bothered.

If you read the translations, the 100 Wishes List is supposed to be a bucket list. However, I'll be using it as an online purchases tracker.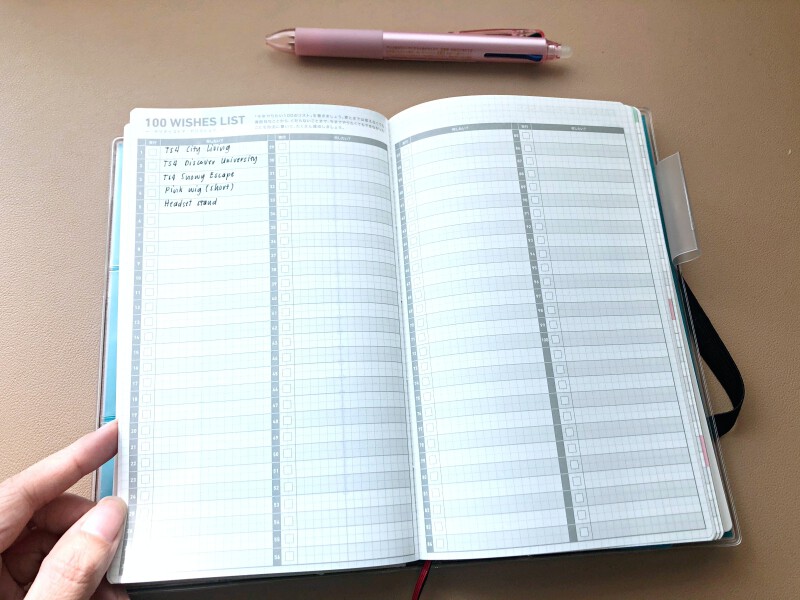 It also comes with many other list type pages, some that I really like and some I'm not sure about.
Favorite Phrases - I'll write book quotes here
Recommendation List - for any recommendations for books, movies, shows, food, etc.
Book List - I'm an avid book reader. In fact, I read around 50 books per year, and this has enough space for 50+ books. Yey!
Movie List - Since this is a 2-page spread, I'll probably use the 2nd page to list TV shows.
Gifts Received - not sure about this page yet. I might repurpose it for another list.
Gifts Given - for gift planning
Promise List - another spread that might be repurposed.
Free List - sadly, there's only one free list in the Diary book.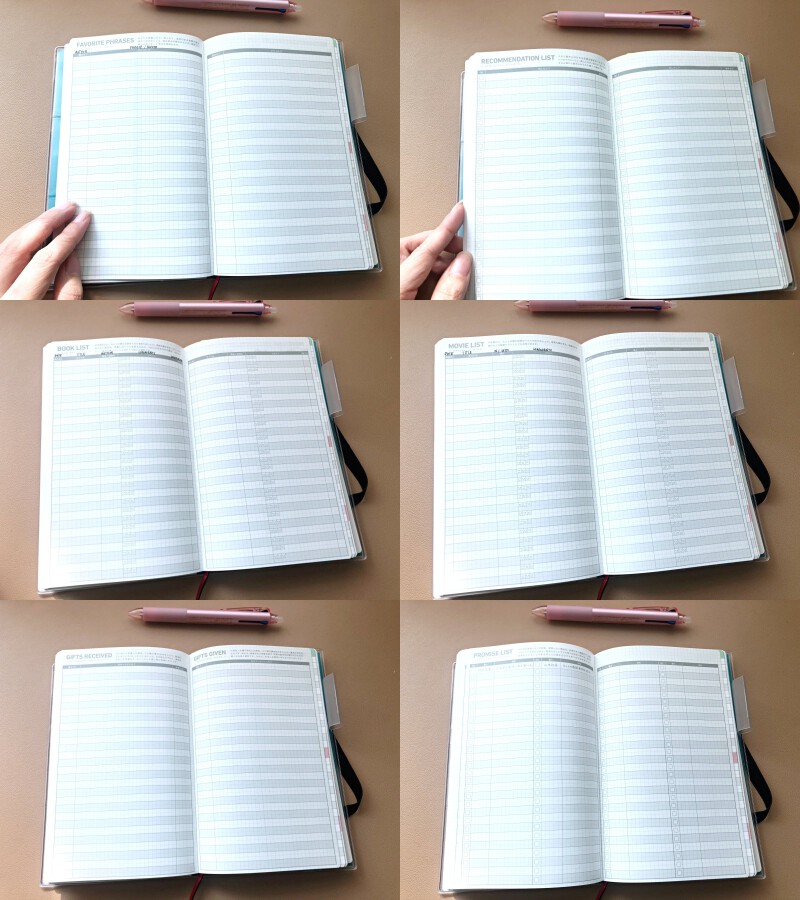 I'm really excited to start using the Monthly Project pages. These are Gantt Chart type pages that I can use to track habits and projects! I use Gantt chart pages for my work, and this one I'm sure I'll be able to utilize to plan and track my knitting projects.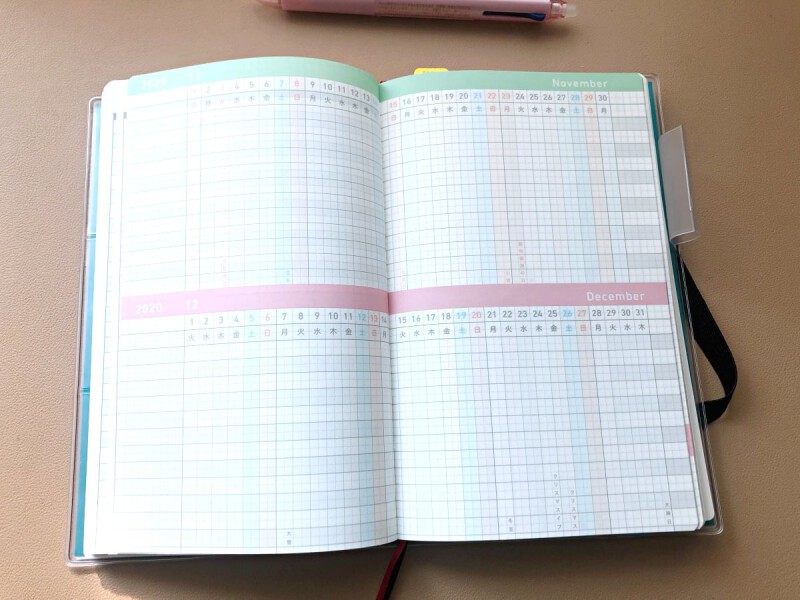 The Monthly Schedule layout is quite similar to any monthly layout. I'll probably use it the same way I've been doing it for years. I'm sure most of my planner stickers fit in the boxes.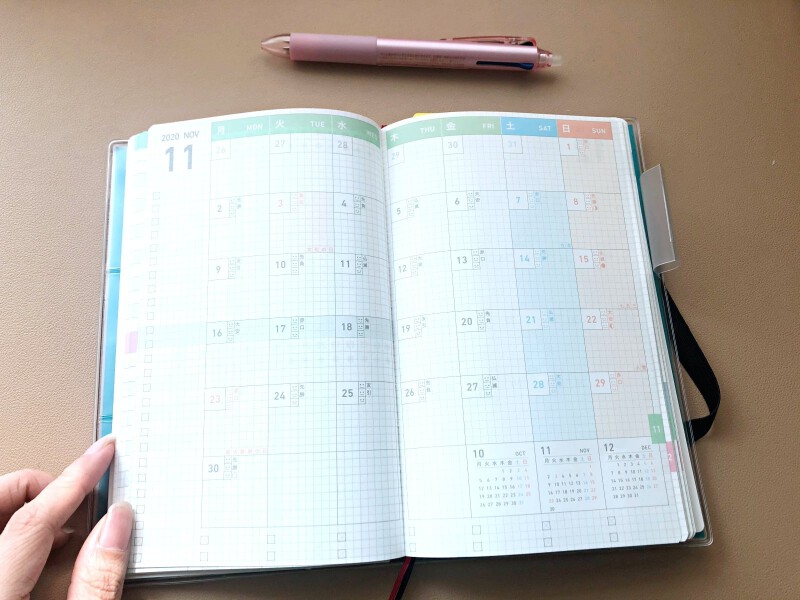 Lastly, we have the Weekly Schedule. There's a to-do list on the left for my tasks. I'm not sure if there's enough, but I have to-do list sticky notes for the extra tasks that won't fit. I'll be using the vertical time layout for time tracking my tasks. I'm planning on writing tiny snippets and thoughts in some of the spaces. I'll also track my meals at the bottom of the page.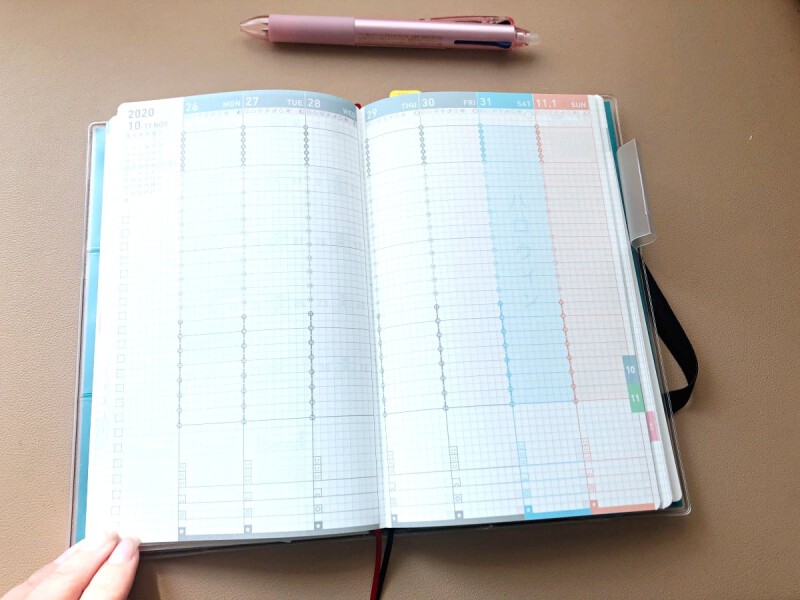 I'm sure my use for this page will evolve over time, but so far, I'm loving it. It's a perfect way to memory-keep and to track the time I'm spending on tasks. Here's a sample page where I list down the times my husband needs to take his medicines. Once it's done, I would highlight it with a Pilot Frixion highlighter. I'm still using the Hobonichi Weeks shitajiki (writing board).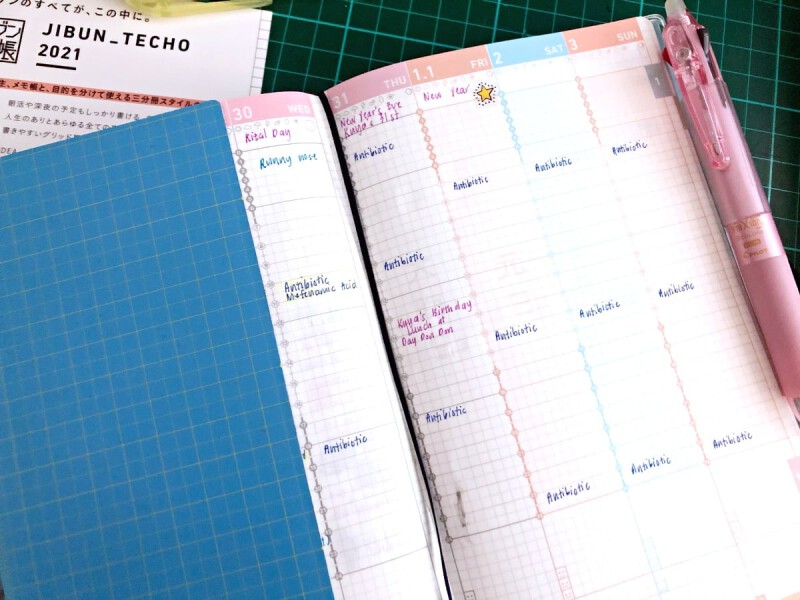 So far, I am quite happy with everything that I've tried in the Jibun Techo. There's something about the smaller grid and the slightly bigger space that feels really good. I'm so excited to start using this once work resumes. That's when I can see how much I'll be able to integrate it into my daily life.