The most visited post in my old blog were always about yarns and where to find them, which was written in 2012. Fast forward six years later, we now have a bigger community of crocheters and knitters. And with that, there are now more stores that offer a wide variety of yarns, from local to imported to even having their own yarn lines. We have come a long way from what it was like to start this hobby when I started it ten years ago.
Take note that this is a list of stores that I ordered from. There are a lot more out there, but I'd like to focus on the ones I've actually transacted with.
Gantsilyo Guru Selections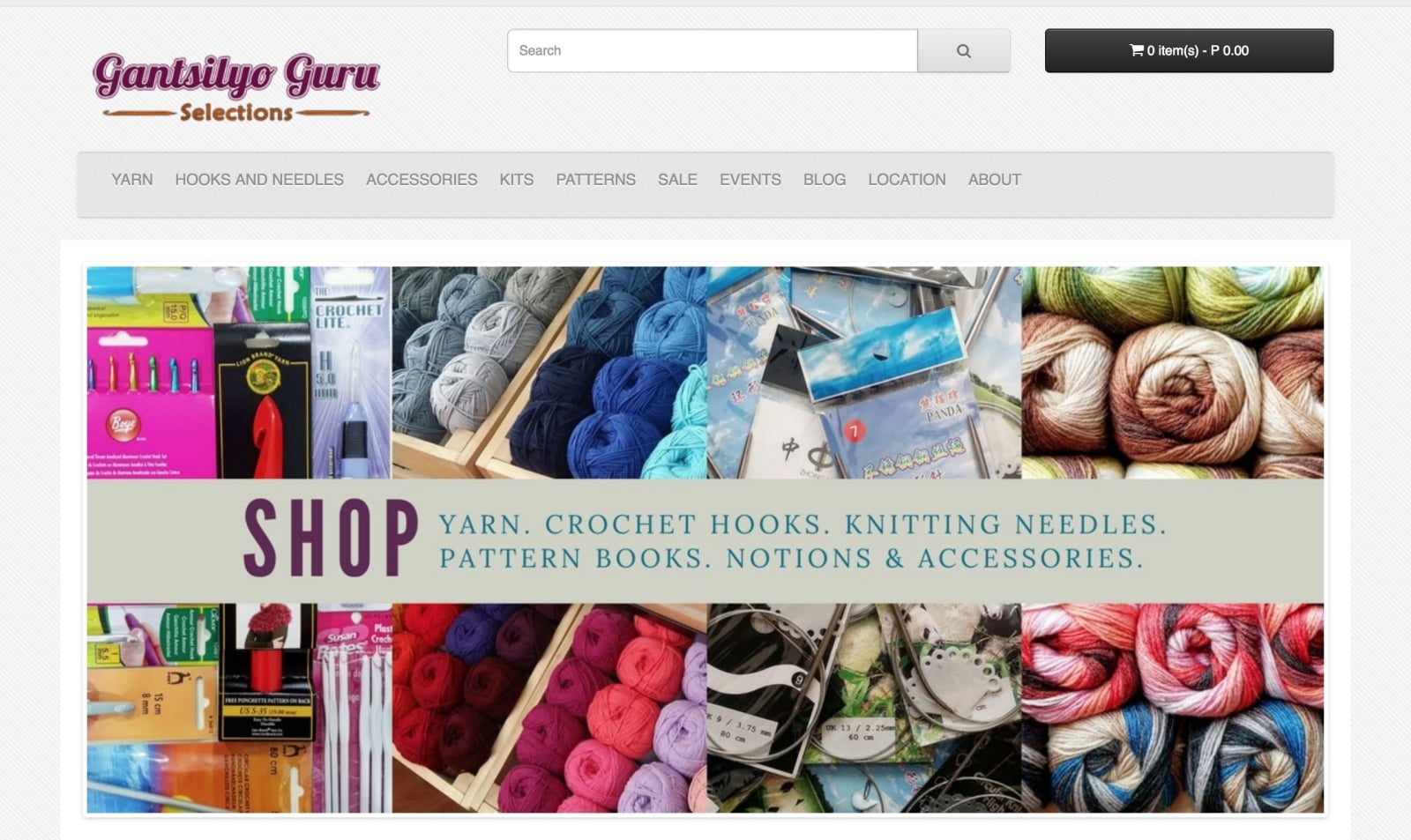 Where to find it
Physical Store: Unit 306 Emerald Place, 604 Shaw Blvd., Brgy. Kapitolyo, Pasig City
What to find
Currently, my favorite and probably the most popular and most established yarn store in Manila.
For yarns, they carry well loved local brands like Cannon and Monaco. They also carry imported brands like Aunt Lydias, Caron, Lion Brand, and Red Heart. What I love most are their Dapper Dreamer and Gantsilyo Guru lines. Browse thru their online catalog and you will find every kind of yarn that you would need for any of your projects. These yarns are specifically distributed and manufactured for them. The best part: they give bulk discounts for Gantsilyo Guru brand yarns!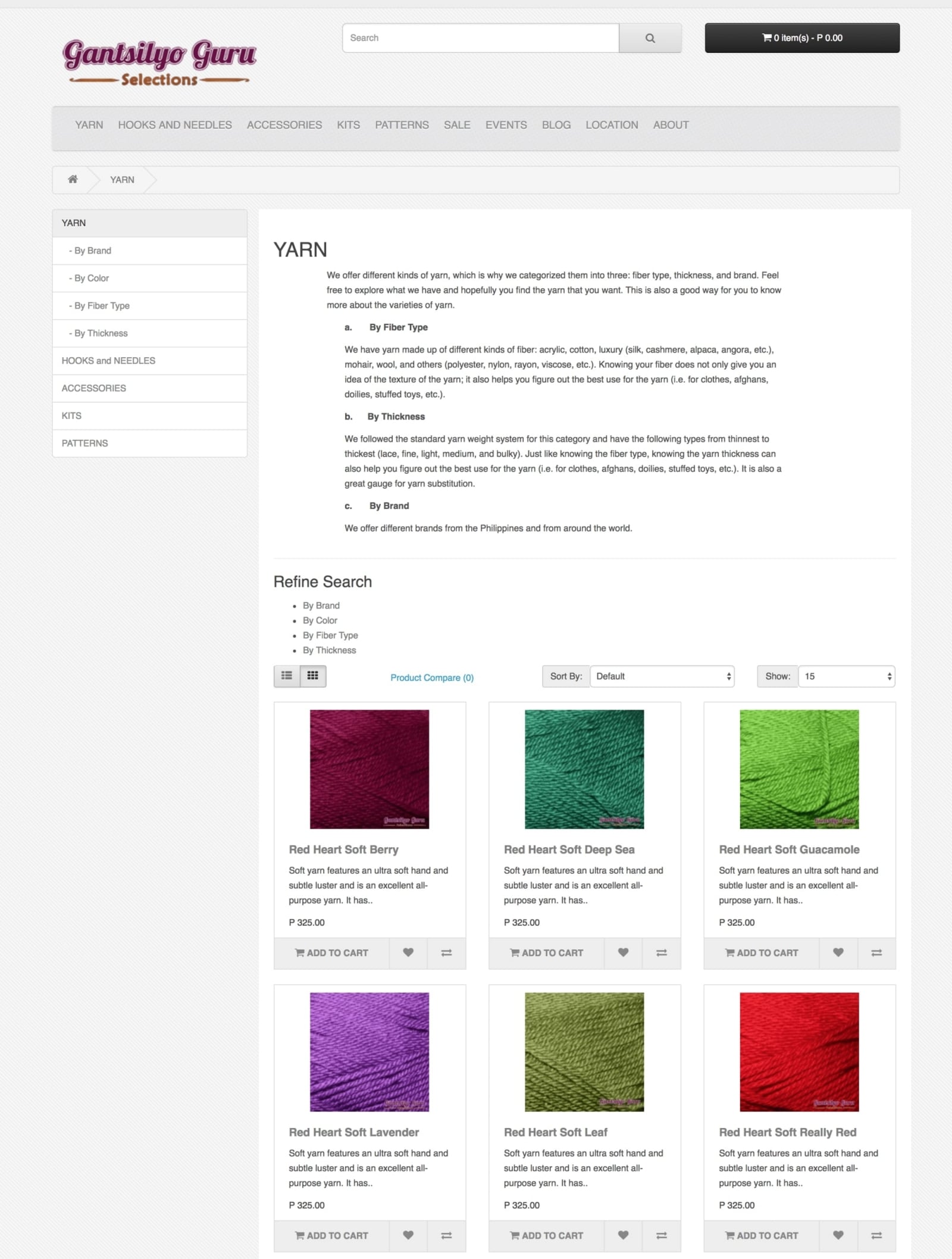 Their site is really well made and very easy to use. All the information are listed out: yardage, weight, thickness, and fiber content. You can filter or view by brand, yarn thickness, fiber, and color. There's a search feature to make things faster. I spend most of my time browsing their page, queue up projects on Ravelry, and list down all the yarns I'd like to buy. I always wait for a sale because I always have enough yarns and projects on queue to keep me busy for months.
They also carry crochet hooks, knitting needles, tatting shuttles, and accessories like stitch holders, row counters, stitch markers, and yarn winder. Recently, they started selling HiyaHiya, a very popular knitting needles and accessories in the US. They also have a physical store and they host knitting and crochet workshops.
What I've purchased
Basic Raglan Knitting Workshop

I joined a knitting workshop and met some really nice knitters! Spot me in the photo below.

Dapper Dreamer Combed Cotton

Yarn Description

This worsted 100% combed cotton yarn (10-ply) is especially ideal for projects that require a good shape - like amigurumis, accents, or home décor (i.e. coasters, placemats, etc.). Cotton is absorbent so this could also be used for dishcloths or washcloths. This is also a good yarn for accessories like bags and purses because of its sturdier material compared to acrylic. It's pretty much an all-around yarn!

I bought 5 cones of this super soft 100% cotton yarn for a big blanket I'm making. The leftover yarns I will use for a cozy wrap.

Yarn Winder

Photo grabbed from Gantsilyo Guru

Product Description

This hand-operated yarn winder is for making pull thread balls up to 4 ounces without requiring any cones or tubes. The yarn feeder provides an even flow and prevents tangling. This 7x4x5.5-inch package contains one yarn ball winder.
The Attic Yarn and Craftery

Where to find it
What to find
The Attic Yarn and Craftery carries their own brand of yarn. They carry everything from lace weight to jumbo weight yarns, in different fibers from cotton to acrylic to even silk.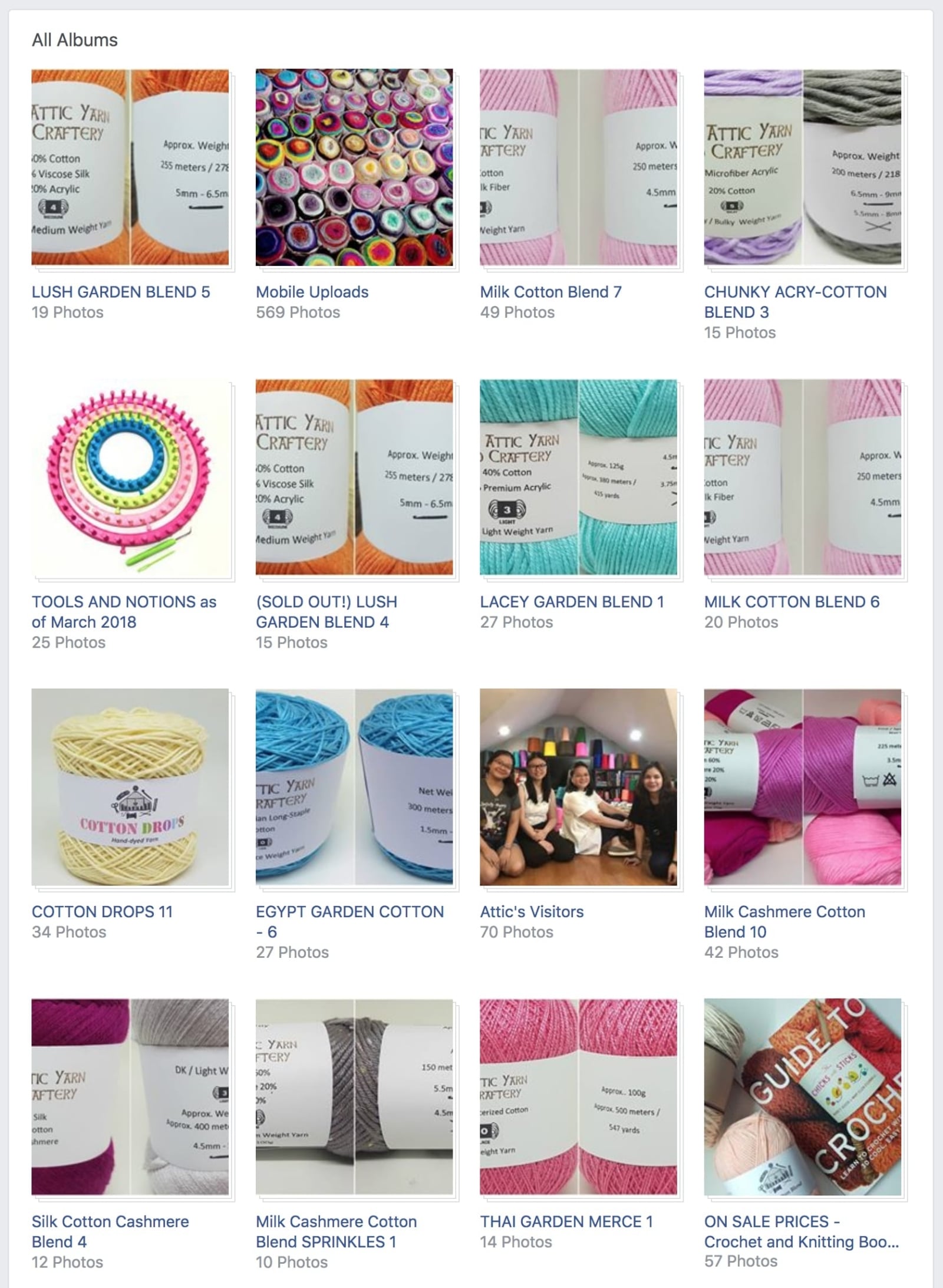 They also sell some crochet hooks and needles, as well as some tools. They're the only ones to carry 20mm knitting needles, if you'll ever need those for the extra bulky yarns that they carry. They also sell crochet and knitting books bundled together with yarns.
As a bonus, uou get a membership card on your first purchase that entitles you for member exclusive discounts.
What I've purchased
I've purchased two yarns I'm using for a few knitted tops. Also thinking of purchasing their Silk Cotton Cashmere Blend yarn for some luxurious feeling tops.
Milk Cashmere Cotton Blend

Yarn Description

Milk Cashmere Cotton Blend php180/skein -75g net weight -246 yards/225 meters -fine/sport weight >from Thailand >soft and silky

Soft Garden Blend

Yarn Description

NEW!!!!! SOFT GARDEN BLEND php250/ball baby-soft yarn, perfect for baby projects, blankets, scarves, shawls, etc.
Yarnia
Where to find it

What to find
For an assortment of goodies, I always go to Yarnia. They sell items usually found in Japan surplus shops from yarns to buttons to sewing knick knacks and stationery items. I frequent this store to buy very affordable wool yarns.
I usually just guess the yarn weight for the labeled ones using this yarn weights guide and use the wraps per inch method for the ones with no label. I plan to use these yarns for small projects like hats and for practicing sock knitting.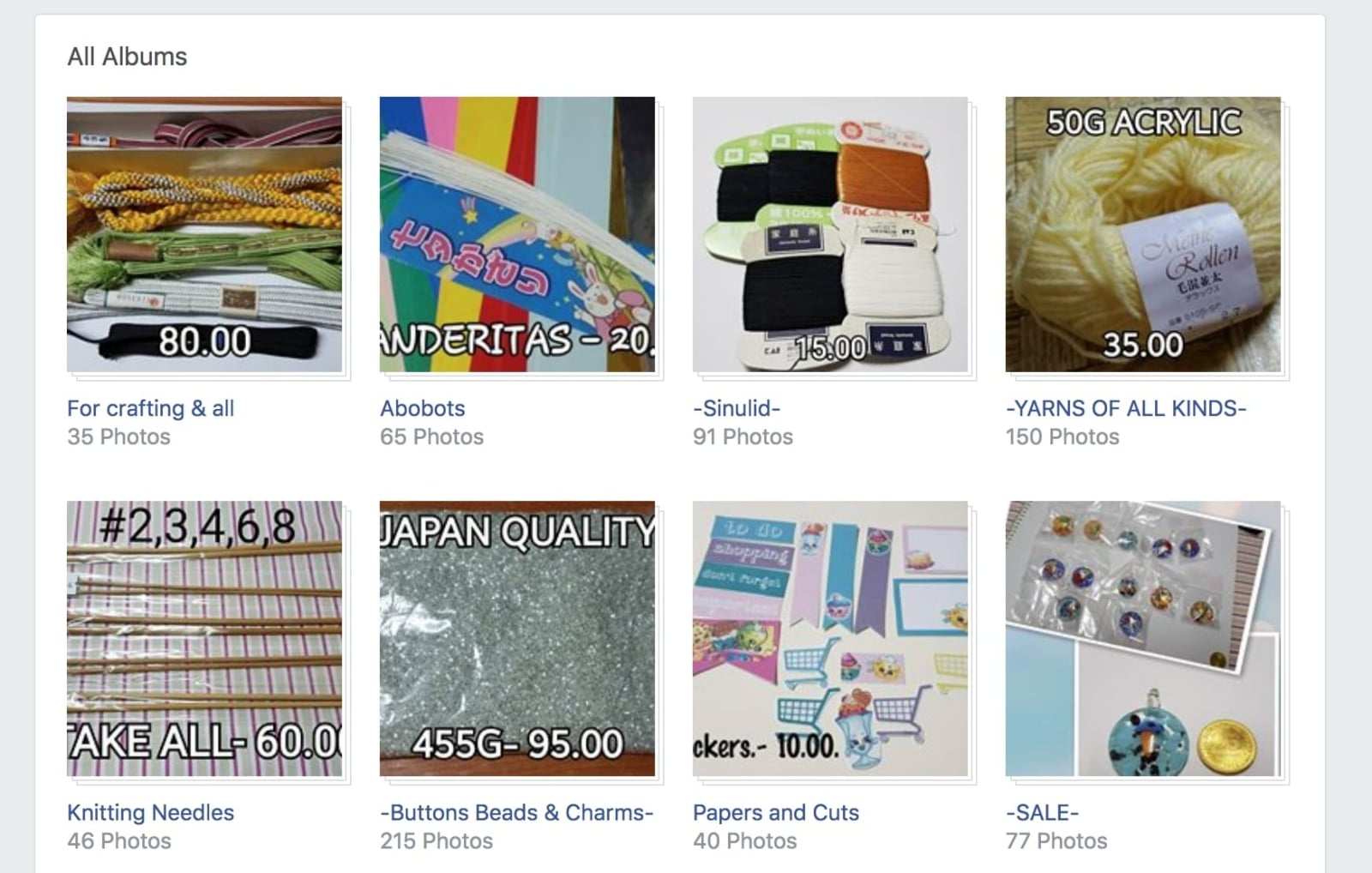 I have ordered from this store multiple times, and I look like I'm hoarding. Haha. Here's a group photo of my latest purchase: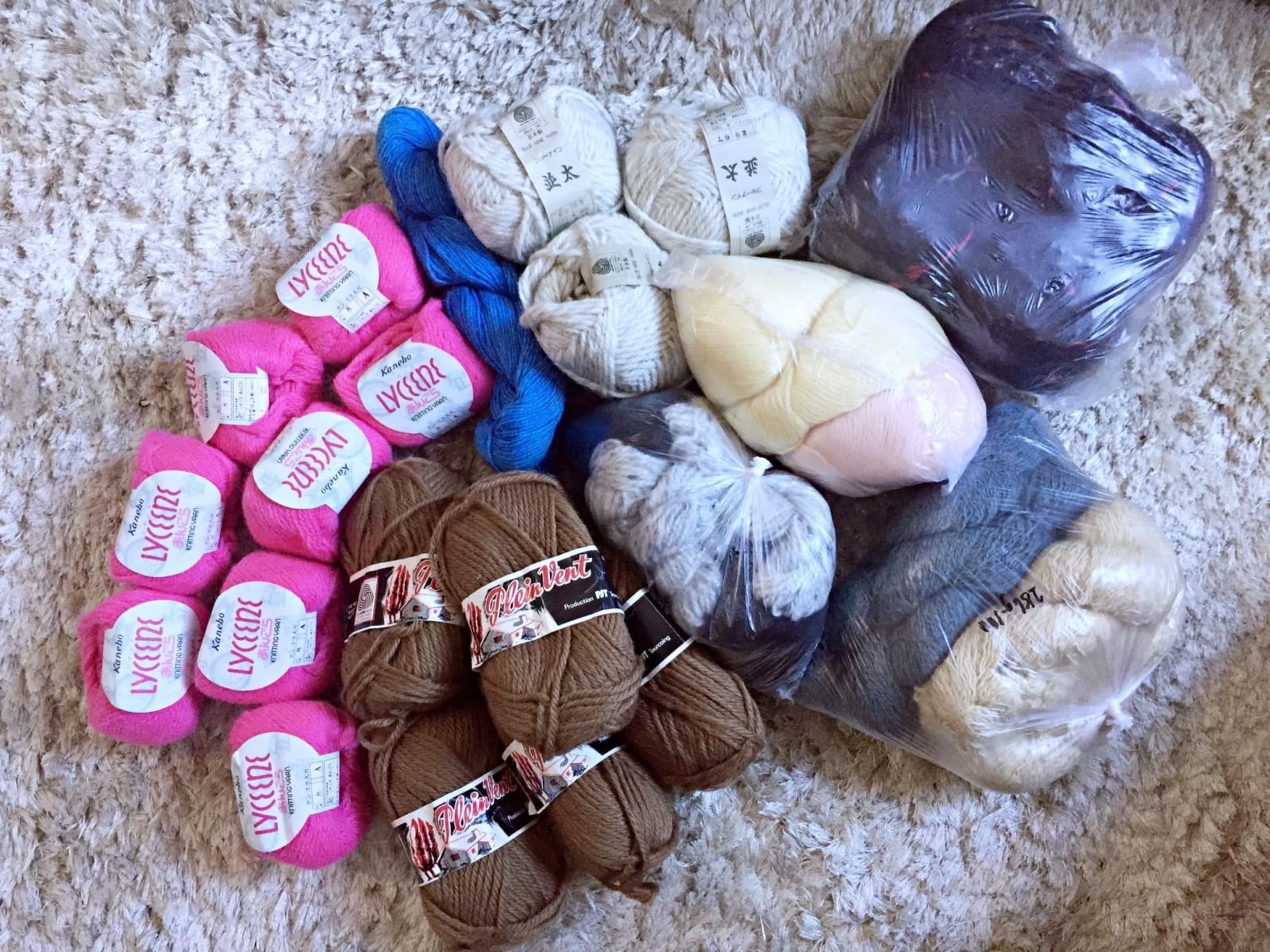 What I've purchased
A few bulky weight wool

A few worsted weight wool

A lot of double knit weight wool

A lot of fingering and sport weight wool

A few lace weight wool
Yarn Garden
Where to find it
What to find
They're one of the many stores that sell Ice Yarn brand yarns at a really affordable price. They sell each skein for around P80 each. What a steal!bu
What I've purchased
Ice Yarns Linen Blend (80% Cotton 20% Linene)

I can't wait to use this for one of my most ambitious projects this year!
Ashley's Crochet
Where to find it
What to find
Custom yarn mixes and ombre colored yarns from Baguio. I can't really tell the difference of most of their products because I was only able to purchase one type of ombre. And getting a stock is hard.
I remember this same frenzy a few years ago when Yarn Source Manila started selling Baguio yarns and people were hoarding it like crazy.
What I've purchased
I was able to score a few balls amidst the chaos and thanks to 50mbps fiber internet lol. These are more light fingering weight than fingering and perfect for shawls and dresses. These are multi-strand yarns and I find it hard to knit with them, so I'll be using these for crochet.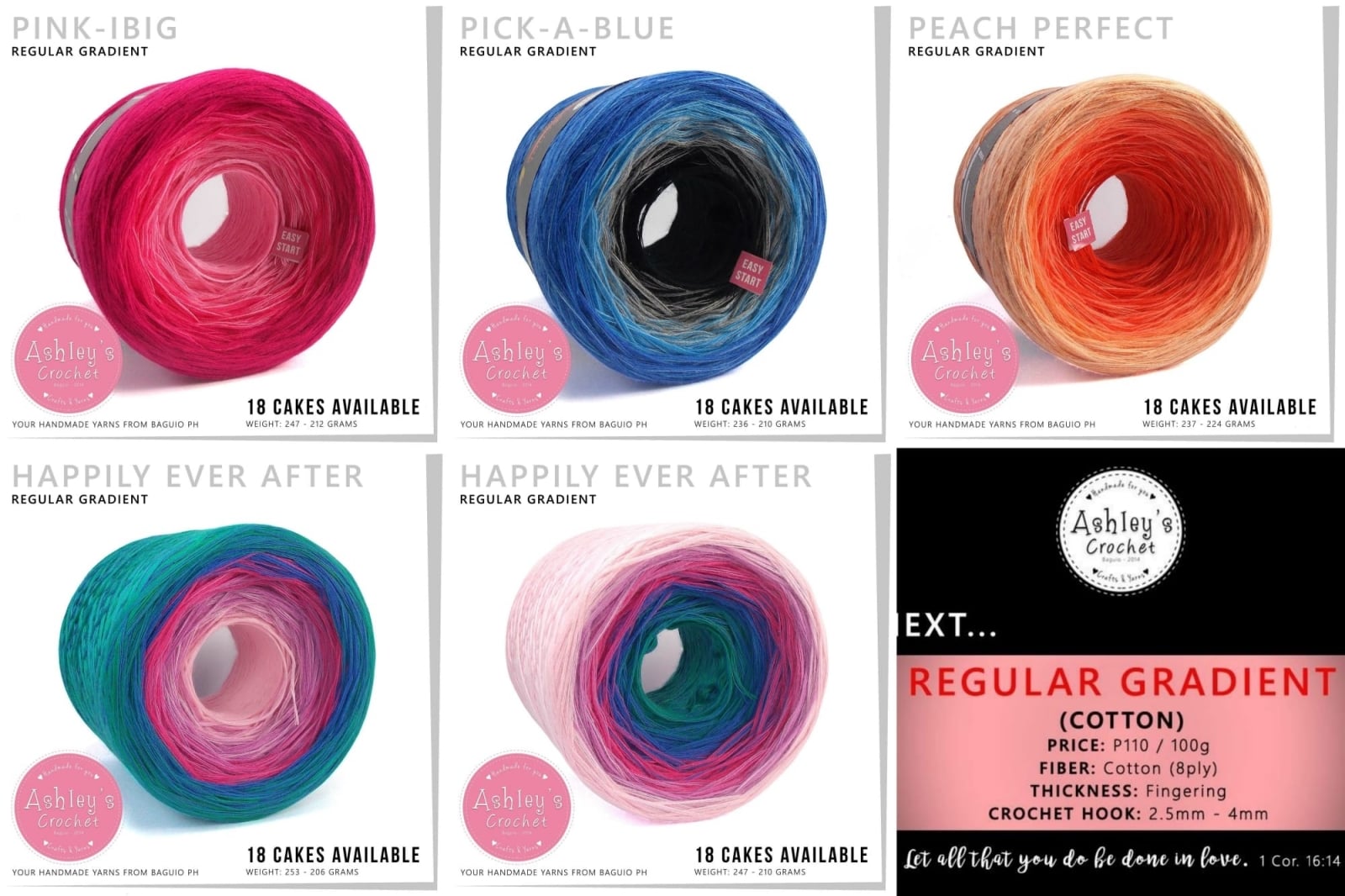 I feel like I've accumulated a healthy amount of yarns recently. These are enough to use for my queued projects and I'll start taking a break from hoarding. For now.
What are your favorite stores to get yarns from? Do you also enjoy buying yarns online like I do?