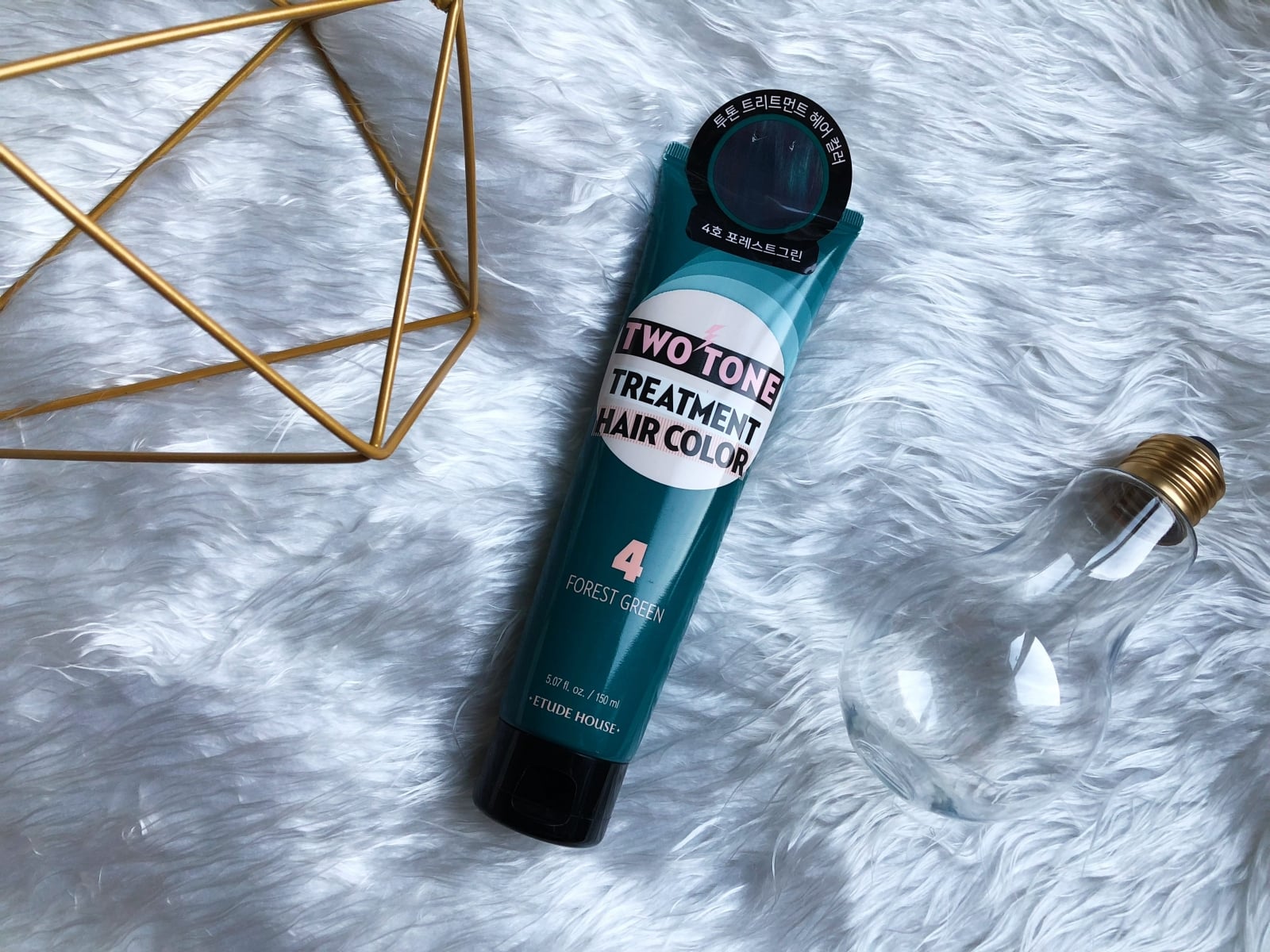 I've been growing bored of my hair recently. I decided to grow out my color because my hair is just dead. It's been almost a year since it was last bleached when I got a balayage for the wedding. Recently, I was looking into changing it up a bit, thinking of getting highlights or something. I just happened to drop by Etude House to swatch an eyeshadow palette I've been eyeing and walked out with this instead. Oh, what a day.
I'm a little experimental with hair. I have been extremely blonde before, then got a balayage and went almost unnoticeable deep purple, but I've never had an unnatural color like green.
Etude House Two Tone Treatment Hair Color in 04 Forest Green details
Available at

This retails for P478 for 5.07 fl oz. / 150 ml of product. It's available in all Etude House branches nationwide.

Description

What it is:

Two-toned hair for vivid, mystical color in 10 minutes

How to apply

After shampooing hair, towel-dry hair without using rinse or hair treatment.
Wear disposable plastic gloves and evenly apply color treatment on hair.
After 5-10 minutes, thoroughly wash off with lukewarm water without using shampoo or rinse. For more vivid color, leave it on for a couple more hours.
Completely dry hair with a hairdryer. (When using a towel, take care not to stain the towel.)

Caution

Do not use the product on scars or any area of skin irritation such as dermatitis and eczema.
Keep the product clean for next use.
Do not share with others.
Avoid extremely high and low temperatures and keep out of direct sunlight.
Keep the product out of the reach of children and babies.

Source

Ingredients

Water, Cetearyl Alcohol, Benzyl alcohol, Stearamidopropyl Dimethylamine, Glycerin, Cetrimonium Methosulfate, Quaternium-87, Isopropyl Alcohol, Propylene Glycol, Citric Acid, Glyceryl Stearate, PEG-100 Stearate, Caprylyl Glycol, Polyquaternium-10, Disodium EDTA, Macadamia Ternifolia Seed Oil, Linum Usitatissimum (Linseed) Seed Oil, Adansonia Digitata Seed Oil, Theobroma Cacao (Cocoa) Seed Butter, Astrocaryum Murumuru Seed Butter, Sodium Chloride, Tocopherol Fragrance, HC Blue No. 15, Basic Yellow 87

Source

Cruelty-Free

No. Etude House states that they are cruelty free but they also sell in mainland China. Although their products are made in Korea, "the Chinese versions maybe tested on animals".

Source
It is available in 5 colors: Spicy Red, Pale Pink, Mystery Purple, Forest Green and Fantasy Blue. The SM Megamall branch only had Spicy Red and Forest Green in stock when I dropped by.
Packaging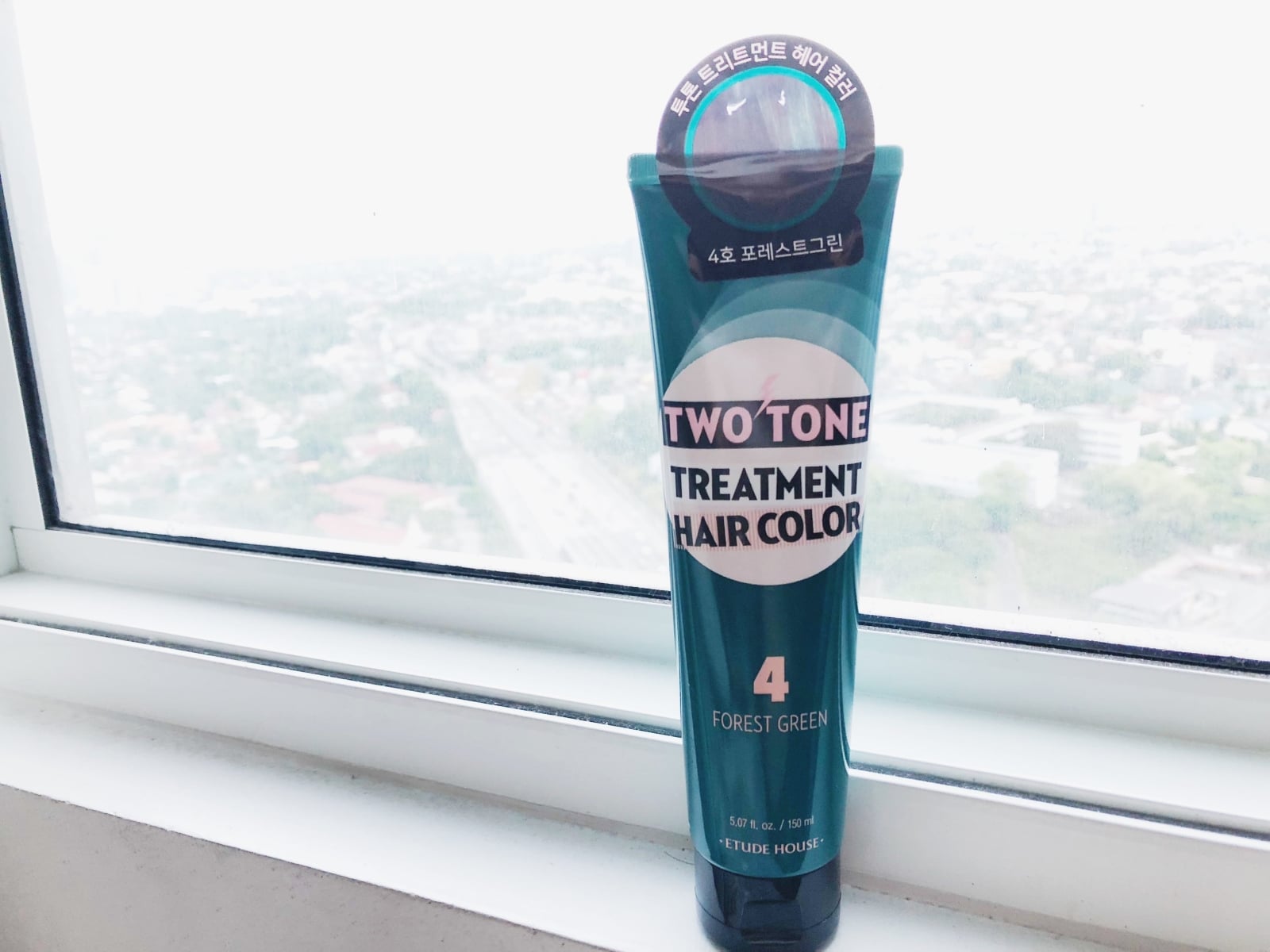 To be honest, the packaging is a little bland. It's not the cute, eye-catching packaging we're used to from Etude House.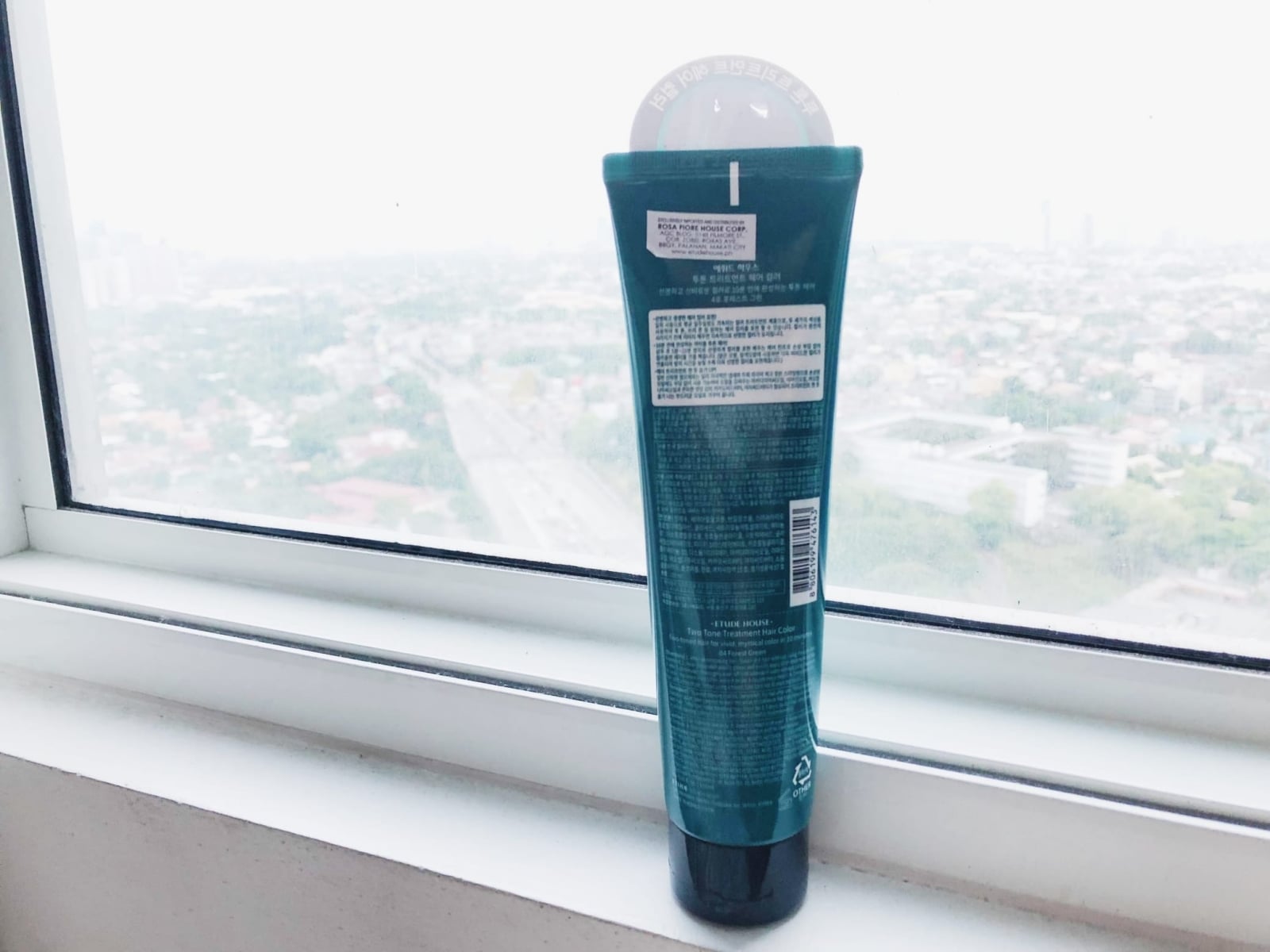 My Experience
Before
I forgot to take a photo of the back of my hair before dyeing. But here are some photos of what my hair looked like before application: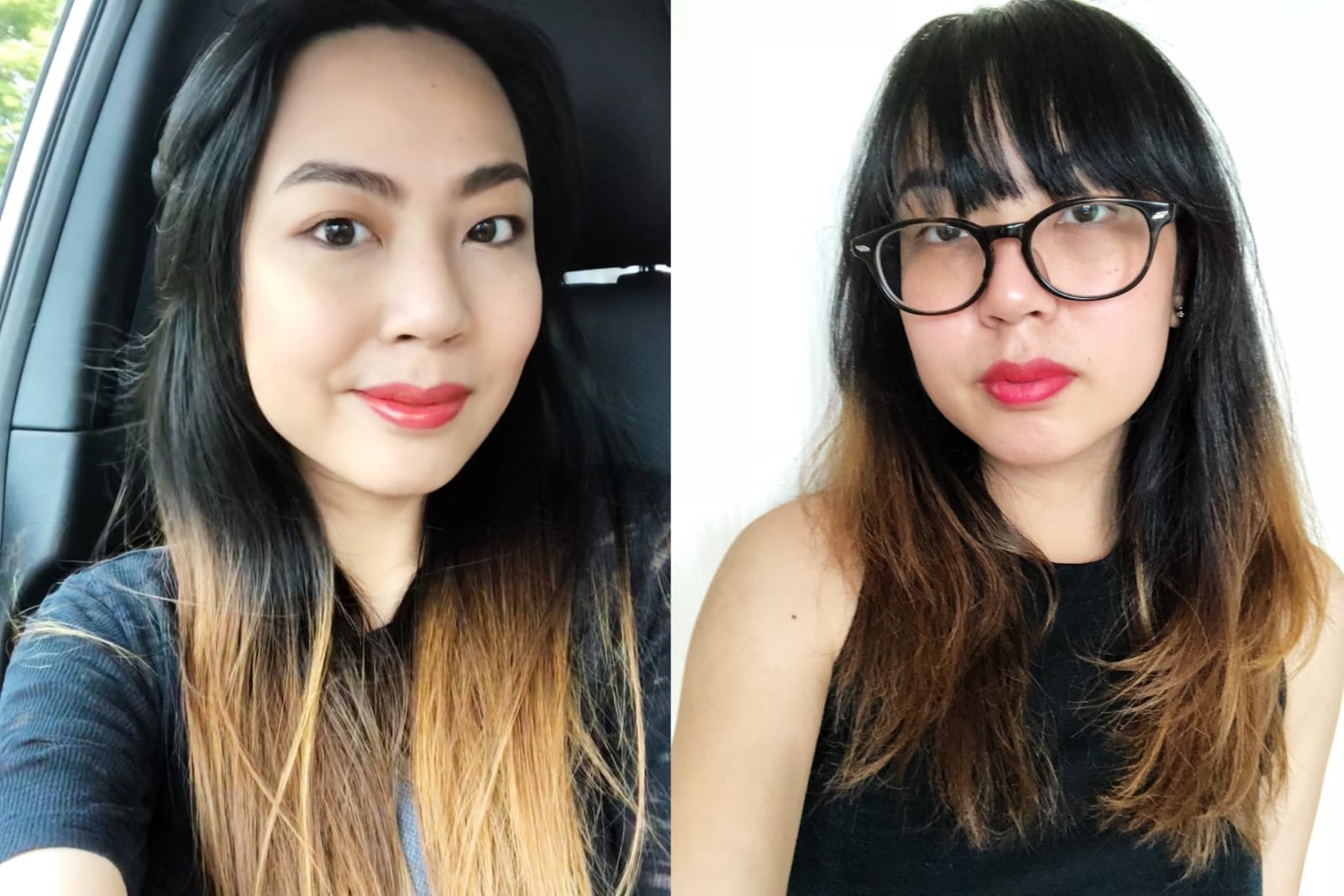 These photos were taken a week apart, and I got a haircut in between.
Application
Here's what you'll need to apply the dye: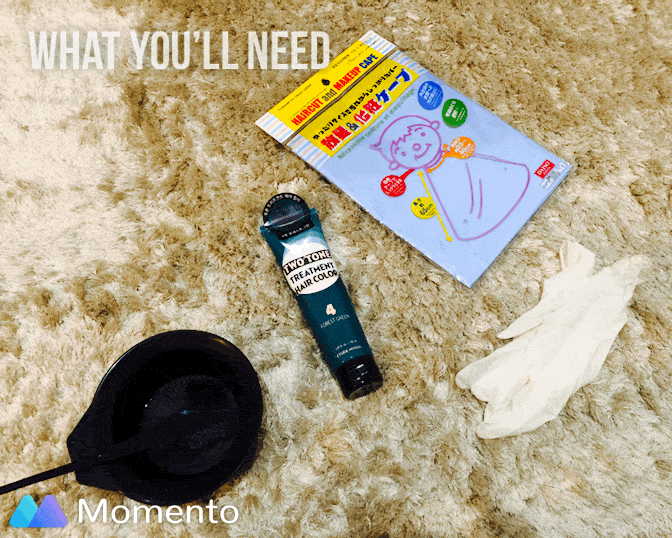 Hair color (duh)
A cape - I got mine from Daiso. You can also use an old towel or an old shirt, but this is better.
Gloves - To protect your fingers and nails from stains.
Bowl and brush - this is entirely optional. However, it's easier just to pour out all you'll need instead of squeezing it out every time you need to color.
Someone to help you dye your hair - not in the photo, but my husband dyed my hair. (If you're reading this Mr. Husband, I love you!)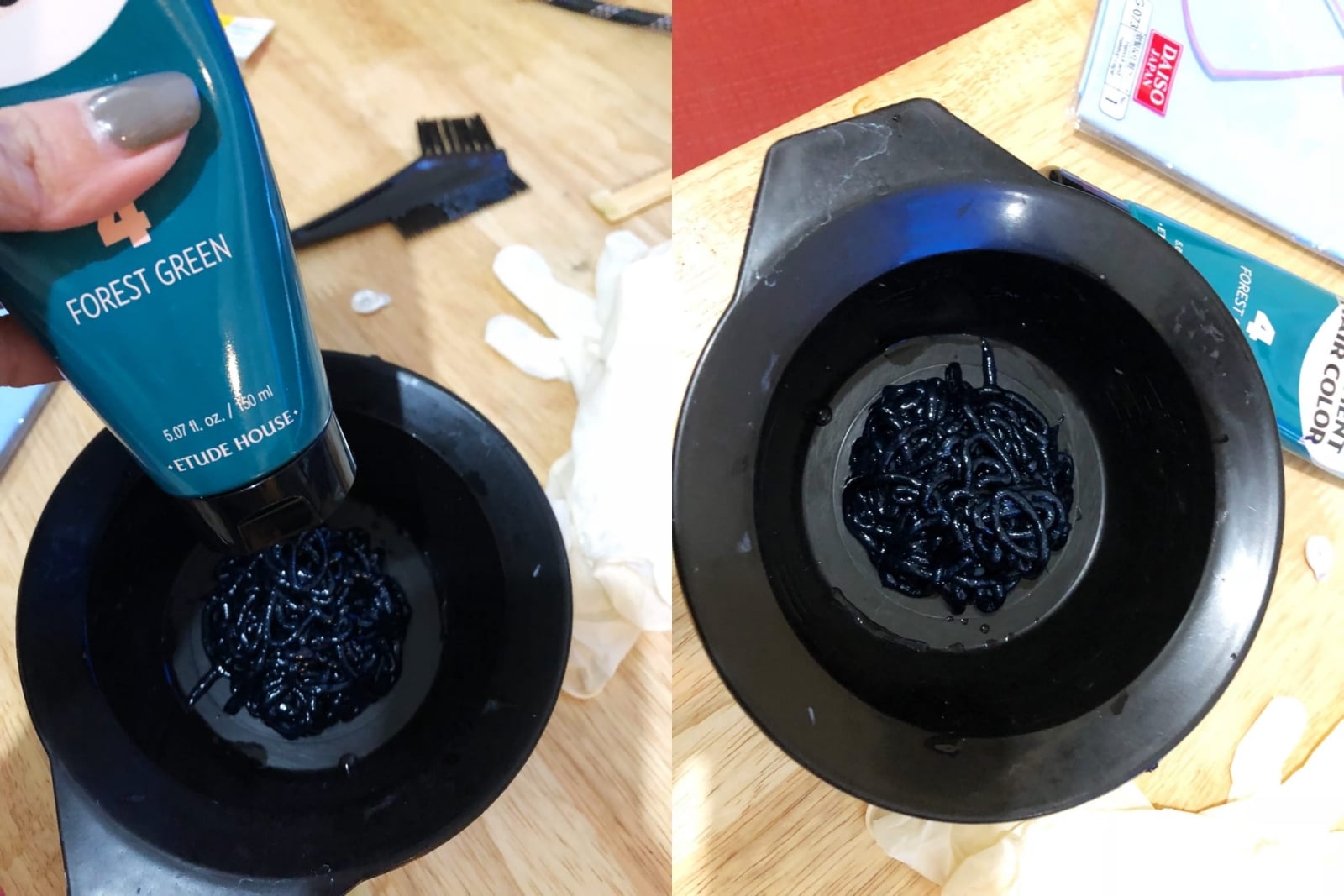 We used half a bottle to cover out the bleached parts of my hair completely. Be careful when applying this, everything the dye touches turns green. Apply oil or lotion to your neck and wear something to cover your ears (I didn't!). Do not touch your hair without gloves (I did, and now my gel nails are tinged with green.)
After
Here's the final look: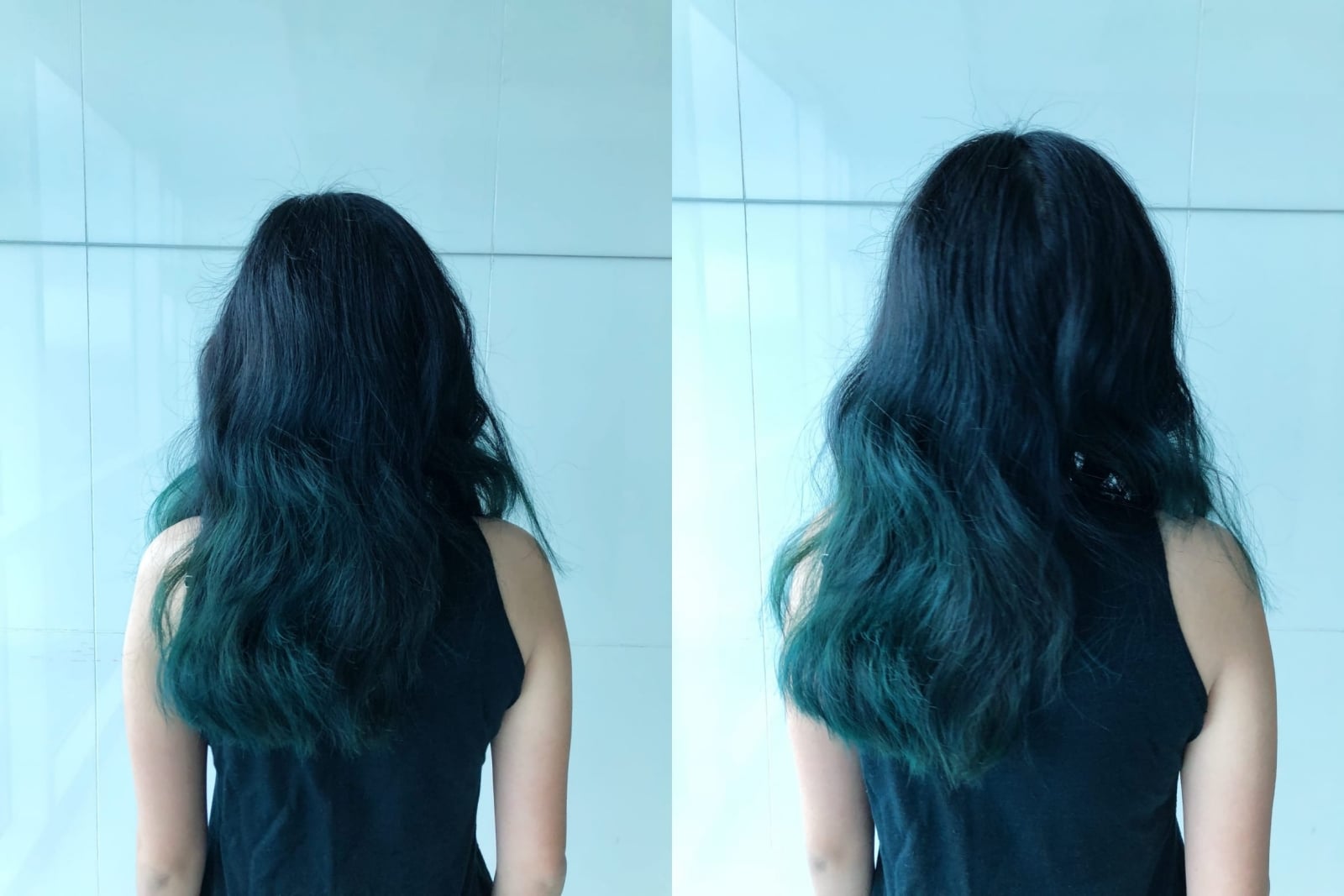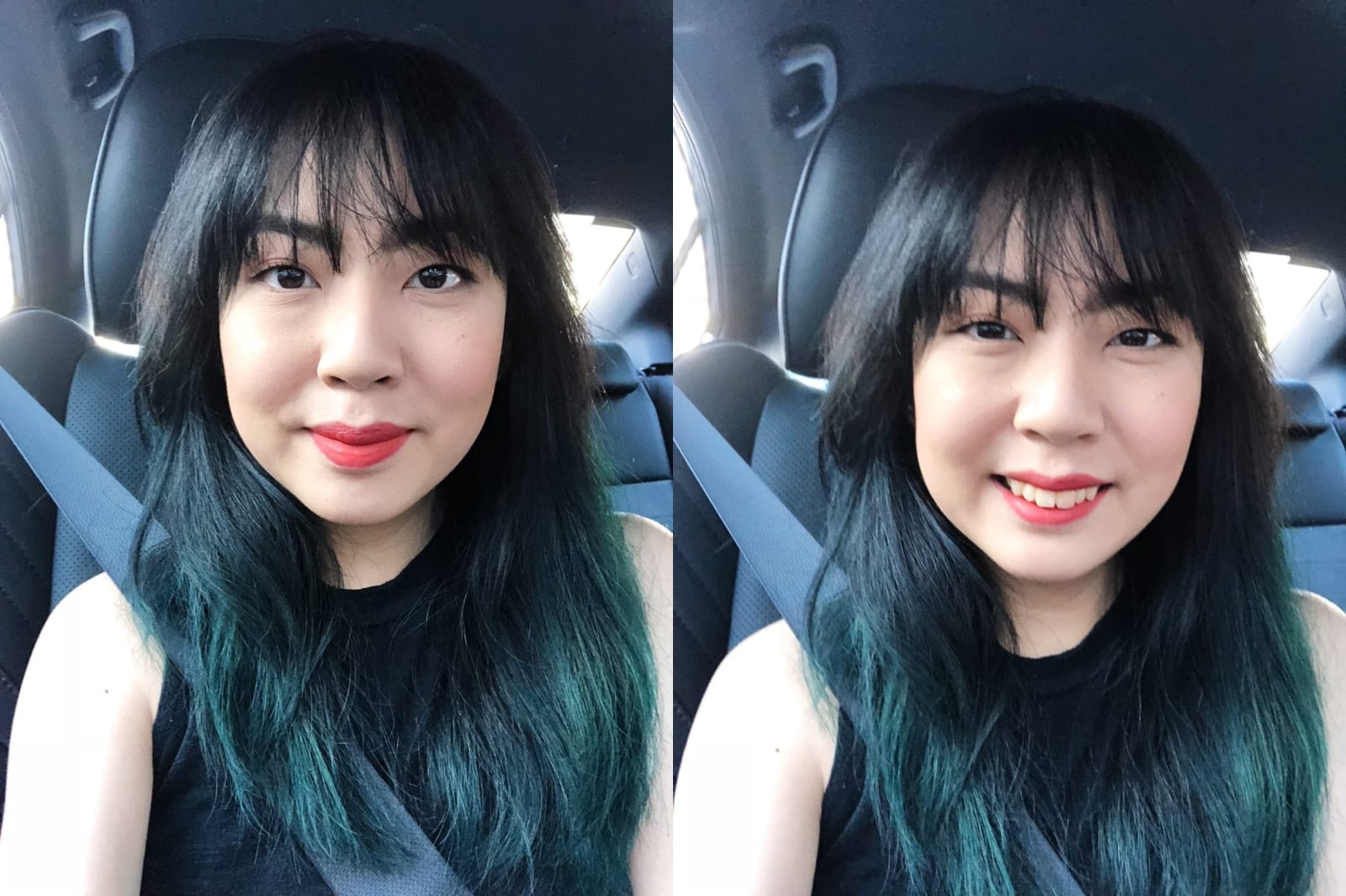 I love it! I have dark green hair! I like that it's subtle enough, but when the sunlight hits it, the color is so vivid.
Claims
1. Rich, vivid color - As with all bright hair dyes, the color will only show up on bleached hair. My natural hair is around a level 4, and my balayage is around level 6 to 7. My hair color turned out a little bit closer to the photo below on light hair.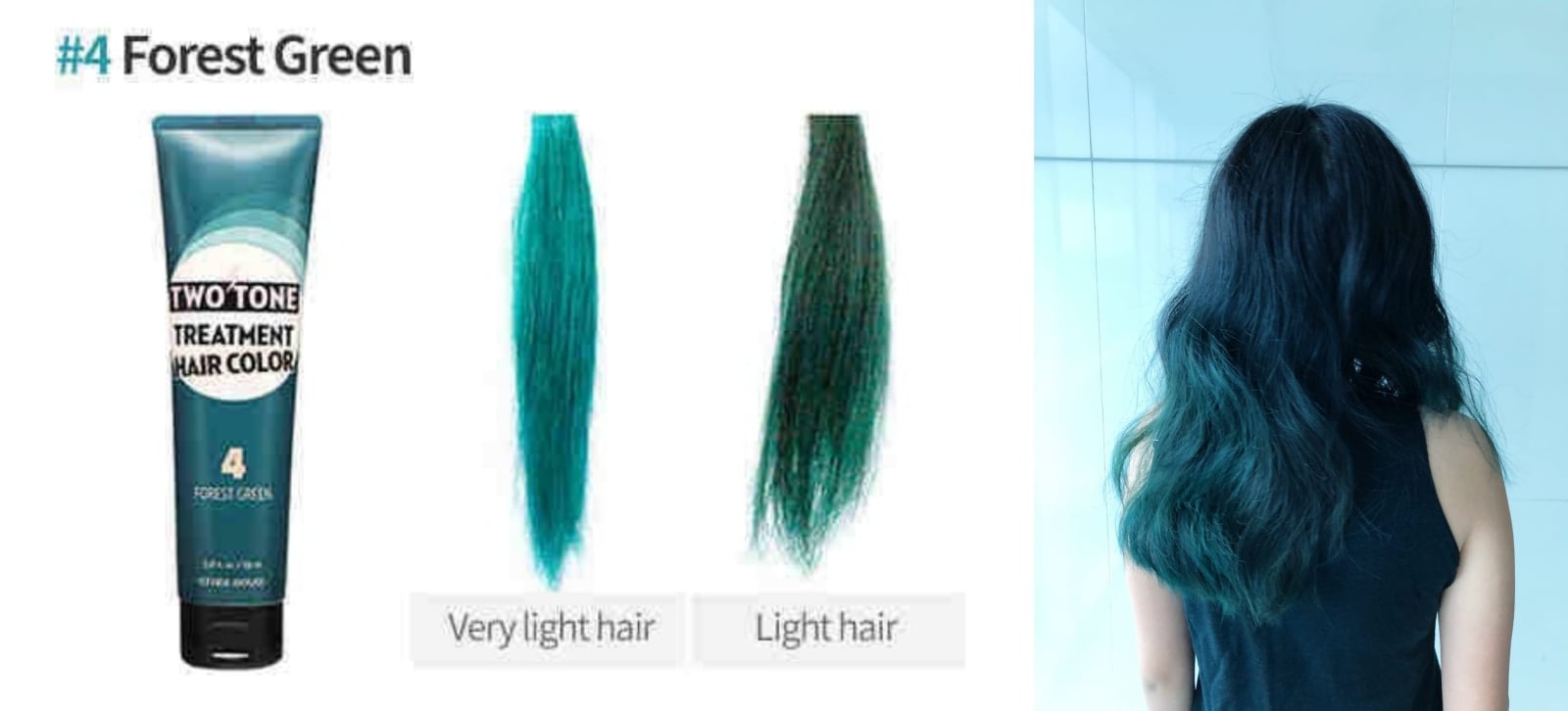 For those with hair darker than mine, this will not show up unless you lighten your hair first. Yep, you need to bleach it first.
2. Get K-pop star's hair in 10 minutes - Not really sure about this because I left mine in for an hour.
3. Semi-permanent for a week on average - It's been a week since I dyed my hair, and this is how my hair currently looks like now: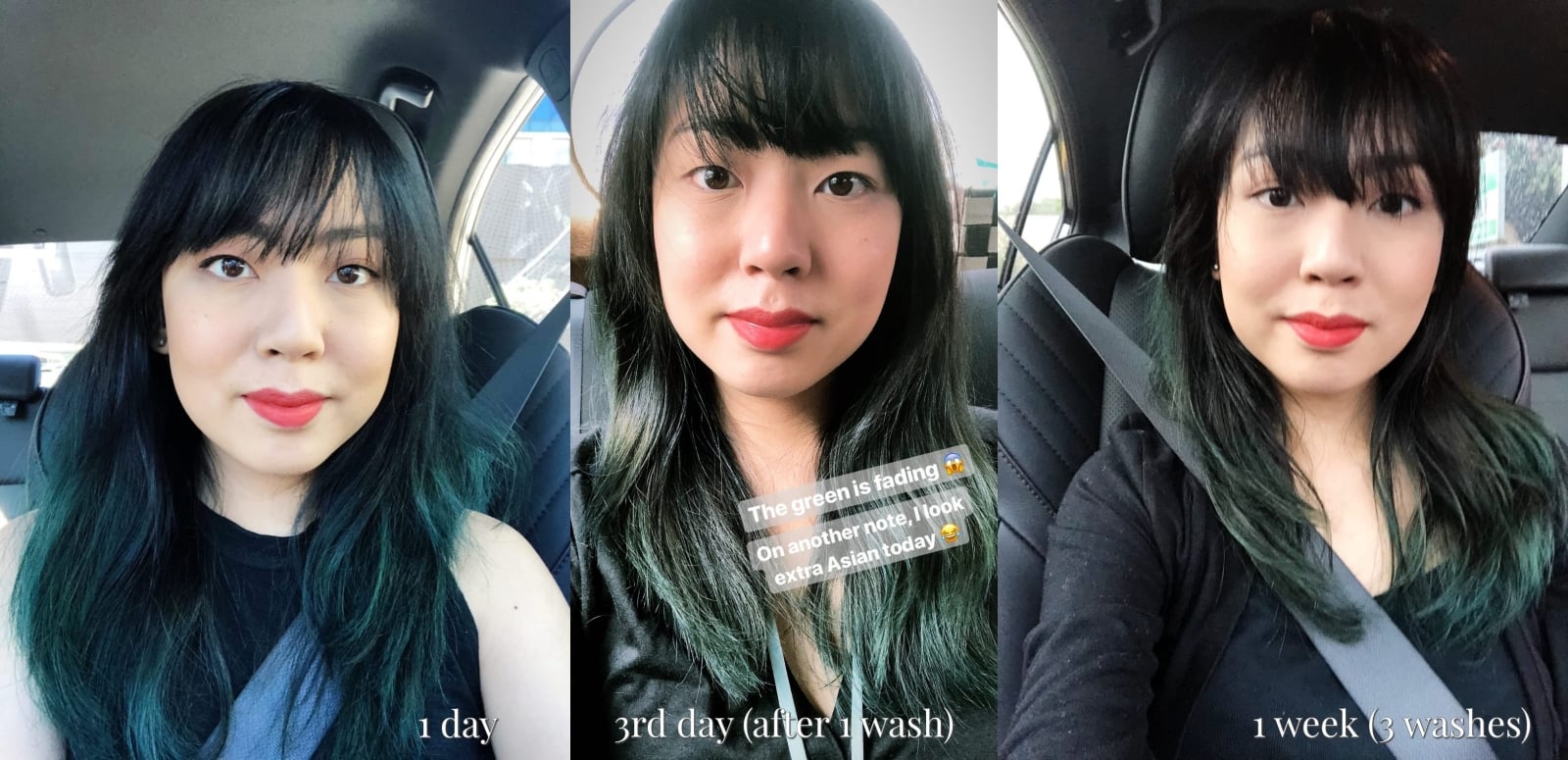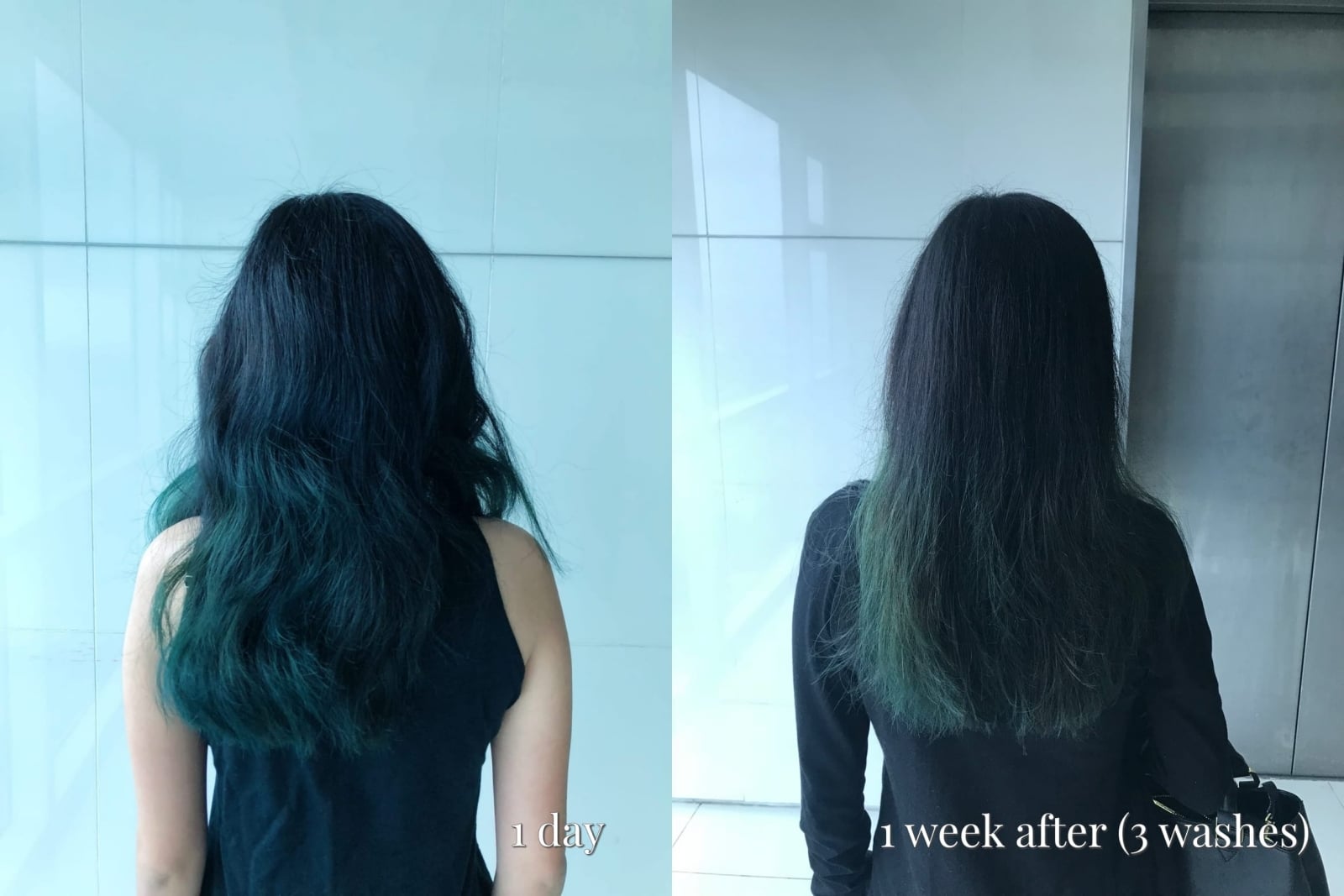 It's starting to fade a bit, but it's still green, though not as dark as the first application. You can start to see few blonde hair peeking through. Honestly, I thought it would be gone in a week because it bleeds like crazy when washing. I use sulfate-free shampoo and conditioner. I currently use the Professional Salon Care Shampoo and the Professional Salon Care Conditioner from Human Heart Nature.
4. Add healthy shine on your hair - After putting this on, my hair is super soft. I know that my hair is softer when it can't hold curls. I tried curling my hair, and the curls only lasted for an hour without hairspray. So it must be working. It still looks dry, though. My hair is beyond damaged already so I don't think this treatment would be enough to make it healthy-looking.
5. Minimized staining - Uhm, no it stains a lot, even after the hair is completely dry. After application, I stained my towel. While drying my hair with a hairdryer, I used a plastic glove, and it was stained green as well. A day after applying this, I finger combed my hair and ended up with green fingers. It stained my shoulders for the first few days, and I ended up sleeping with a turban for two nights.
I colored my hair purple using Manic Panic before, and it did not have this much staining. To be fair, on their website, it does say that "the color may bleed and stain your towel for two to three days." However, I am a week in, and it still bled like crazy when I take a bath. My bathroom floor walls, tiles, and curtain are stained green. My towels and pillowcases are also stained green, as well as my hair ties. I've been wearing black most of the time. Not that I didn't use to, but it's almost everyday now. This is driving me insane.
Verdict
PROS

It smells really lovely.
It's easy to apply.
Leaves the hair really soft and smooth after application.

NEUTRAL

Squeeze tube packaging makes it hard to apply the product straight from the packaging.

CONS
Etude House Two Tone Treatment Hair Color in 04 Forest Green
Packaging

Availability

Application

Performance

Price
Will I repurchase?
Probably not. Overall, this product delivers most of its claims. However, the bleeding and staining are driving me insane. Does it perform better than other temporary hair dyes I've tried like Manic Panic? It's about the same, although this one is more accessible and cheaper. For people wanting to try out bright hair colors, this is an excellent option.
Stay tuned for an update on how my hair color fades out!